Mercury is very different from zinc and cadmium. Mercury is the only metal that is liquid at 25 °C. Many metals dissolve in mercury, forming solutions called amalgams (see the feature on Amalgams), which are alloys of mercury with one or more other metals. Mercury, shown in [link] , is a nonreactive element that is more difficult to oxidize than hydrogen. Thus, it does not displace hydrogen from acids; however, it will react with strong oxidizing acids, such as nitric acid:
The clear NO initially formed quickly undergoes further oxidation to the reddish brown NO 2 .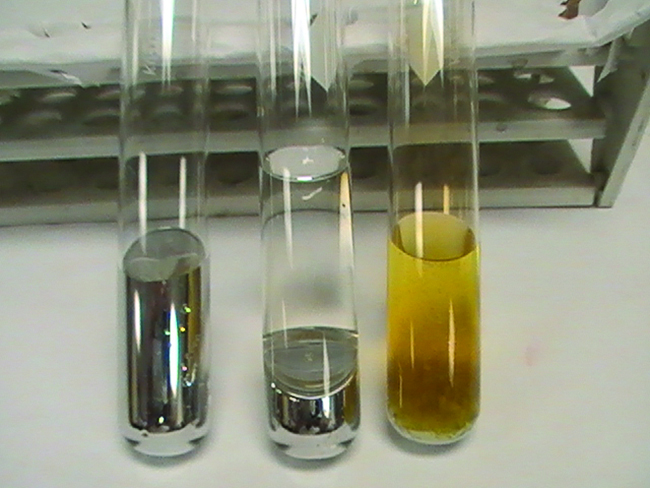 Most mercury compounds decompose when heated. Most mercury compounds contain mercury with a 2+-oxidation state. When there is a large excess of mercury, it is possible to form compounds containing the ion. All mercury compounds are toxic, and it is necessary to exercise great care in their synthesis.
Amalgams
An amalgam is an alloy of mercury with one or more other metals. This is similar to considering steel to be an alloy of iron with other metals. Most metals will form an amalgam with mercury, with the main exceptions being iron, platinum, tungsten, and tantalum.
Due to toxicity issues with mercury, there has been a significant decrease in the use of amalgams. Historically, amalgams were important in electrolytic cells and in the extraction of gold. Amalgams of the alkali metals still find use because they are strong reducing agents and easier to handle than the pure alkali metals.
Prospectors had a problem when they found finely divided gold. They learned that adding mercury to their pans collected the gold into the mercury to form an amalgam for easier collection. Unfortunately, losses of small amounts of mercury over the years left many streams in California polluted with mercury.
Dentists use amalgams containing silver and other metals to fill cavities. There are several reasons to use an amalgam including low cost, ease of manipulation, and longevity compared to alternate materials. Dental amalgams are approximately 50% mercury by weight, which, in recent years, has become a concern due to the toxicity of mercury.
After reviewing the best available data, the Food and Drug Administration (FDA) considers amalgam-based fillings to be safe for adults and children over six years of age. Even with multiple fillings, the mercury levels in the patients remain far below the lowest levels associated with harm. Clinical studies have found no link between dental amalgams and health problems. Health issues may not be the same in cases of children under six or pregnant women. The FDA conclusions are in line with the opinions of the Environmental Protection Agency (EPA) and Centers for Disease Control (CDC). The only health consideration noted is that some people are allergic to the amalgam or one of its components.
Group 13
Group 13 contains the metalloid boron and the metals aluminum, gallium, indium, and thallium. The lightest element, boron, is semiconducting, and its binary compounds tend to be covalent and not ionic. The remaining elements of the group are metals, but their oxides and hydroxides change characters. The oxides and hydroxides of aluminum and gallium exhibit both acidic and basic behaviors. A substance, such as these two, that will react with both acids and bases is amphoteric. This characteristic illustrates the combination of nonmetallic and metallic behaviors of these two elements. Indium and thallium oxides and hydroxides exhibit only basic behavior, in accordance with the clearly metallic character of these two elements. The melting point of gallium is unusually low (about 30 °C) and will melt in your hand.