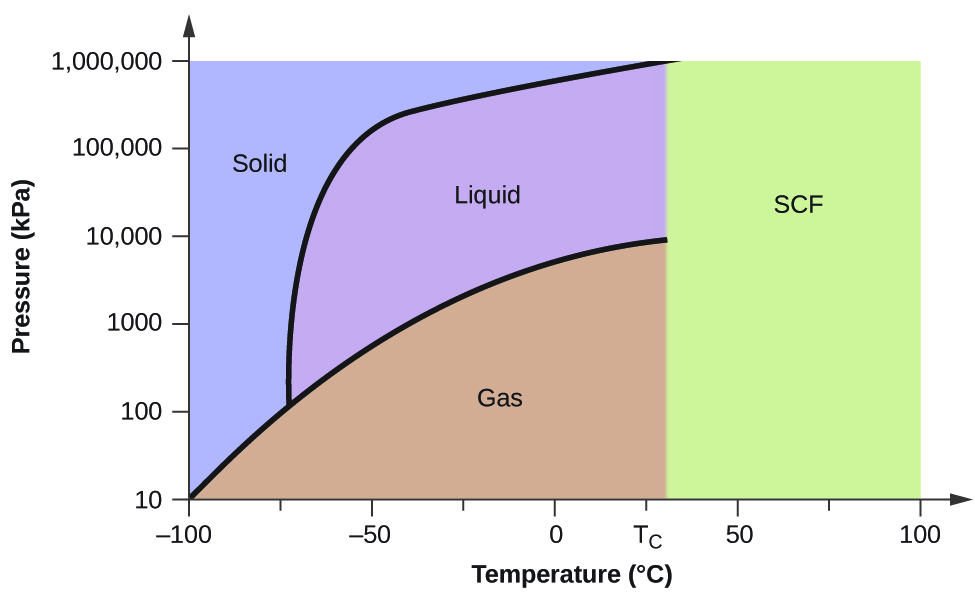 Determining the state of carbon dioxide
Using the phase diagram for carbon dioxide shown in
[link]
, determine the state of CO
2
at the following temperatures and pressures:
(a) −30 °C and 2000 kPa
(b) −60 °C and 1000 kPa
(c) −60 °C and 100 kPa
(d) 20 °C and 1500 kPa
(e) 0 °C and 100 kPa
(f) 20 °C and 100 kPa
Solution
Using the phase diagram for carbon dioxide provided, we can determine that the state of CO
2
at each temperature and pressure given are as follows: (a) liquid; (b) solid; (c) gas; (d) liquid; (e) gas; (f) gas.
Check your learning
Determine the phase changes carbon dioxide undergoes when its temperature is varied, thus holding its pressure constant at 1500 kPa? At 500 kPa? At what approximate temperatures do these phase changes occur?
Answer:
at 1500 kPa: at −45 °C, at −10 °C;
at 500 kPa: at −58 °C
Got questions? Get instant answers now!
Supercritical fluids
If we place a sample of water in a sealed container at 25 °C, remove the air, and let the vaporization-condensation equilibrium establish itself, we are left with a mixture of liquid water and water vapor at a pressure of 0.03 atm. A distinct boundary between the more dense liquid and the less dense gas is clearly observed. As we increase the temperature, the pressure of the water vapor increases, as described by the liquid-gas curve in the phase diagram for water ( [link] ), and a two-phase equilibrium of liquid and gaseous phases remains. At a temperature of 374 °C, the vapor pressure has risen to 218 atm, and any further increase in temperature results in the disappearance of the boundary between liquid and vapor phases. All of the water in the container is now present in a single phase whose physical properties are intermediate between those of the gaseous and liquid states. This phase of matter is called a supercritical fluid , and the temperature and pressure above which this phase exists is the critical point ( [link] ). Above its critical temperature, a gas cannot be liquefied no matter how much pressure is applied. The pressure required to liquefy a gas at its critical temperature is called the critical pressure. The critical temperatures and critical pressures of some common substances are given in [link] .
| Substance | Critical Temperature (K) | Critical Pressure (atm) |
| --- | --- | --- |
| hydrogen | 33.2 | 12.8 |
| nitrogen | 126.0 | 33.5 |
| oxygen | 154.3 | 49.7 |
| carbon dioxide | 304.2 | 73.0 |
| ammonia | 405.5 | 111.5 |
| sulfur dioxide | 430.3 | 77.7 |
| water | 647.1 | 217.7 |

Questions & Answers
Receive real-time job alerts and never miss the right job again
Source:  OpenStax, Chemistry. OpenStax CNX. May 20, 2015 Download for free at http://legacy.cnx.org/content/col11760/1.9
Google Play and the Google Play logo are trademarks of Google Inc.
Notification Switch
Would you like to follow the 'Chemistry' conversation and receive update notifications?