Some of the benefits of VMI include:
lower customer inventories
better forecasts
reduced costs
improved services
strengthening competitive advantage
strengthening buyer-supplier relationships
Similar to SCM and VMI, Collaborative Planning, Forecasting, and Replenishment (CPFR) was developed to allow better communication of control information, which enables coordination and optimization of shared business processes. CPFR is defined as an initiative among all participants in the supply chain intended to improve the relationship among them through jointly managed planning processes and shared information (Seifert, 2003). When successful, it also improves relationships between producers and retailers.
One of the first CPFR projects was initiated by Wal-Mart and Warner-Lambert, which merged with Pfizer in 2000. This project was intended to reduce inventories across the supply chain. It provided comparisons of sales and order forecasts of each trading partner and highlighted any visible forecast differences early enough for the partners to resolve any potential issues. Warner-Lambert applied CPFR to the Listerine mouthwash products by sharing of forecasts and responding to inconsistencies between the collaboration partners' forecasts. In Warner-Lambert's case, Wal-Mart's promotions created large swings in consumer demand, which Warner-Lambert was unaware of prior to CPFR. Warner-Lambert maintained substantial inventory as a hedge in order to prevent supplies from running out of stock. Wal-Mart and Warner-Lambert independently calculated the demand they expected six months in advance. The partners shared this information, as well as the weekly forecast, and they worked together to resolve variations between their forecasts on a weekly basis. Wal-Mart began placing orders six months in advance, instead of nine days, so that Warner-Lambert was able to construct a smoother production plan. This allowed Warner-Lambert to maintain production based on consumer demand for Listerine rather than maintaining sufficient stock. Wal-Mart's in-stock position improved and sales increased, while inventories dropped. Additionally, Warner-Lambert's supply management improved substantially. Optimal applications of CPFR occur when, for example, many other retailers join Wal-Mart in sharing their projected demand with Warner-Lambert. Combining demand forecasts from many retail customers makes it possible for Warner-Lambert's production plans to be much better aligned with total market demands.
Benefits of using CPFR are:
drastically improved reaction times to consumer demand
higher precision of sales forecasts
direct and lasting communication
improved sales
inventory reduction
reduced costs
The CPFR process model is divided into three phases: planning, forecasting, and replenishment. The exhibit below provides an overview of the phases and activities in the CPFR model.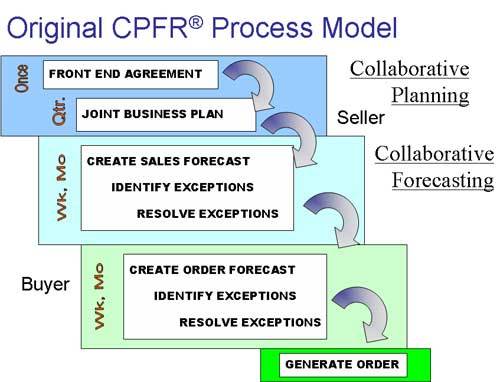 Planning consists of identifying an opportunity for collaboration, then developing an agreement to collaborate, as well as forming a collaborative business plan. Forecasting is the most important part of the model. It provides the mechanism through which needs are determined. It is improvement of this aspect of the supply chain through which all of these strategies provide advantages over more traditional methods. Replenishment involves making and delivering the product consistent with the needs schedule developed by the forecast. More accurate forecasts lead to production of only the needed products, which smooths the production schedule and results in price stability. This allows for existing capacity to be used to enable other products or to develop markets for additional production.