By the end of this section, you will be able to:
Describe the levels of organization among living things
State the domain, kingdom, genus, and species for humans
The diversity of life
In the 18th century, a scientist named Carl Linnaeus first proposed organizing the known species of organisms into a hierarchical taxonomy. In this system, species that are most similar to each other are put together within a grouping known as a genus. Furthermore, similar genera (the plural of genus) are put together within a family. This grouping continues until all organisms are collected together into groups at the highest level. The current taxonomic system now has eight levels in its hierarchy, from lowest to highest: species, genus, family, order, class, phylum, kingdom, domain. Thus species are grouped within genera, genera are grouped within families, families are grouped within orders, and so on ( [link] ).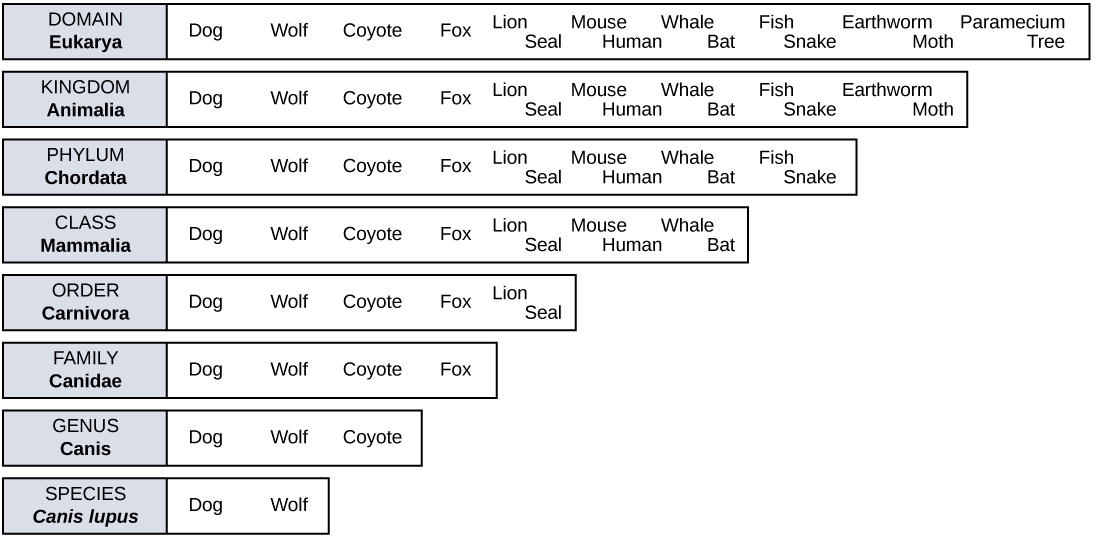 In addition to the hierarchical taxonomic system, Linnaeus was the first to name organisms using two unique names, now called the binomial naming system. Before Linnaeus, the use of common names to refer to organisms caused confusion because there were regional differences in these common names. Binomial names (also called scientific names) consist of the genus name (which is capitalized) and the species name (all lower-case). Both names are set in italics when they are printed. Every species is given a unique binomial which is recognized the world over, so that a scientist in any location can know which organism is being referred to. For example, the North American blue jay is known uniquely as Cyanocitta cristata . Our own species is Homo sapiens .