Recall that cells of the immune system originate from stem cells in the bone marrow. B cell maturation occurs in the bone marrow, whereas progenitor cells migrate from the bone marrow and develop and mature into naïve T cells in the organ called the thymus.
On maturation, T and B lymphocytes circulate to various destinations. Lymph nodes scattered throughout the body house large populations of T and B cells, dendritic cells, and macrophages ( [link] ). Lymph gathers antigens as it drains from tissues. These antigens then are filtered through lymph nodes before the lymph is returned to circulation. APCs in the lymph nodes capture and process antigens and inform nearby lymphocytes about potential pathogens.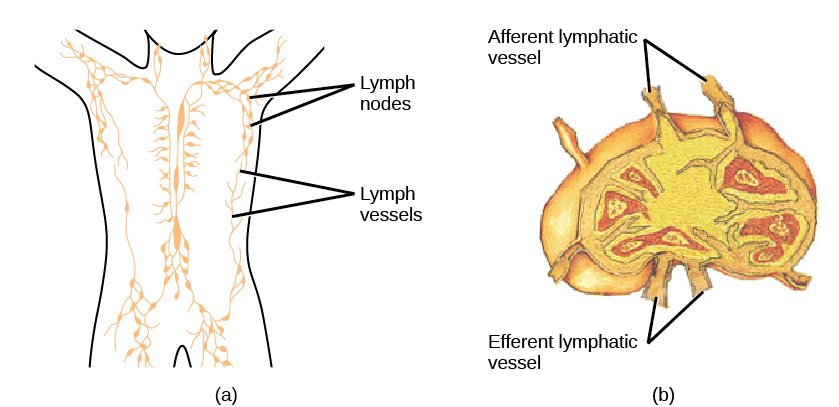 The spleen houses B and T cells, macrophages, dendritic cells, and NK cells ( [link] ). The spleen is the site where APCs that have trapped foreign particles in the blood can communicate with lymphocytes. Antibodies are synthesized and secreted by activated plasma cells in the spleen, and the spleen filters foreign substances and antibody-complexed pathogens from the blood. Functionally, the spleen is to the blood as lymph nodes are to the lymph.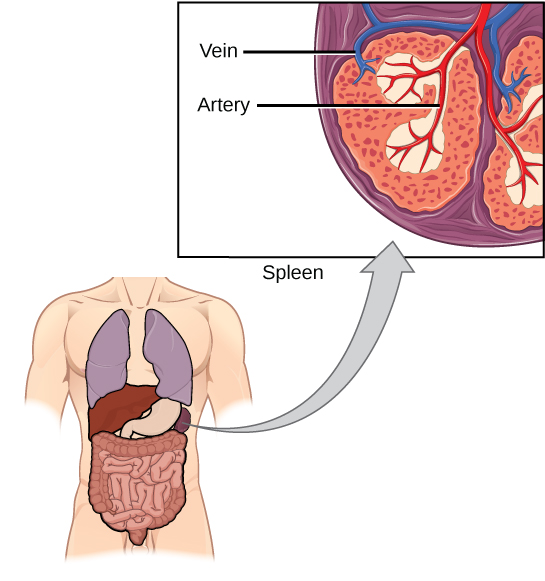 Section summary
The adaptive immune response is a slower-acting, longer-lasting, and more specific response than the innate response. However, the adaptive response requires information from the innate immune system to function. APCs display antigens on MHC molecules to naïve T cells. T cells with cell-surface receptors that bind a specific antigen will bind to that APC. In response, the T cells differentiate and proliferate, becoming T H cells or T C cells. T H cells stimulate B cells that have engulfed and presented pathogen-derived antigens. B cells differentiate into plasma cells that secrete antibodies, whereas T C cells destroy infected or cancerous cells. Memory cells are produced by activated and proliferating B and T cells and persist after a primary exposure to a pathogen. If re-exposure occurs, memory cells differentiate into effector cells without input from the innate immune system.
Art connections
[link] The Rh antigen is found on Rh-positive red blood cells. An Rh-negative female can usually carry an Rh-positive fetus to term without difficulty. However, if she has a second Rh-positive fetus, her body may launch an immune attack that causes hemolytic disease of the newborn. Why do you think hemolytic disease is only a problem during the second or subsequent pregnancies?
[link] If the blood of the mother and fetus mixes, memory cells that recognize the Rh antigen of the fetus can form in the mother late in the first pregnancy. During subsequent pregnancies, these memory cells launch an immune attack on the fetal blood cells of an Rh-positive fetus. Injection of anti-Rh antibody during the first pregnancy prevents the immune response from occurring.
Got questions? Get instant answers now!