Physiological processes of flatworms
The free-living species of flatworms are predators or scavengers. Parasitic forms feed on the tissues of their hosts. Most flatworms, such as the planarian shown in [link] , have a gastrovascular cavity rather than a complete digestive system. In such animals, the "mouth" is also used to expel waste materials from the digestive system. Some species also have an anal opening. The gut may be a simple sac or highly branched. Digestion is extracellular, with digested materials taken in to the cells of the gut lining by phagocytosis. One group, the cestodes, lacks a digestive system. Flatworms have an excretory system with a network of tubules throughout the body with openings to the environment and nearby flame cells, whose cilia beat to direct waste fluids concentrated in the tubules out of the body. The system is responsible for the regulation of dissolved salts and the excretion of nitrogenous wastes. The nervous system consists of a pair of nerve cords running the length of the body with connections between them and a large ganglion or concentration of nerves at the anterior end of the worm, where there may also be a concentration of photosensory and chemosensory cells.
There is neither a circulatory nor respiratory system, with gas and nutrient exchange dependent on diffusion and cell-cell junctions. This necessarily limits the thickness of the body in these organisms, constraining them to be "flat" worms.
Most flatworm species are monoecious, and fertilization is typically internal. Asexual reproduction is common in some groups.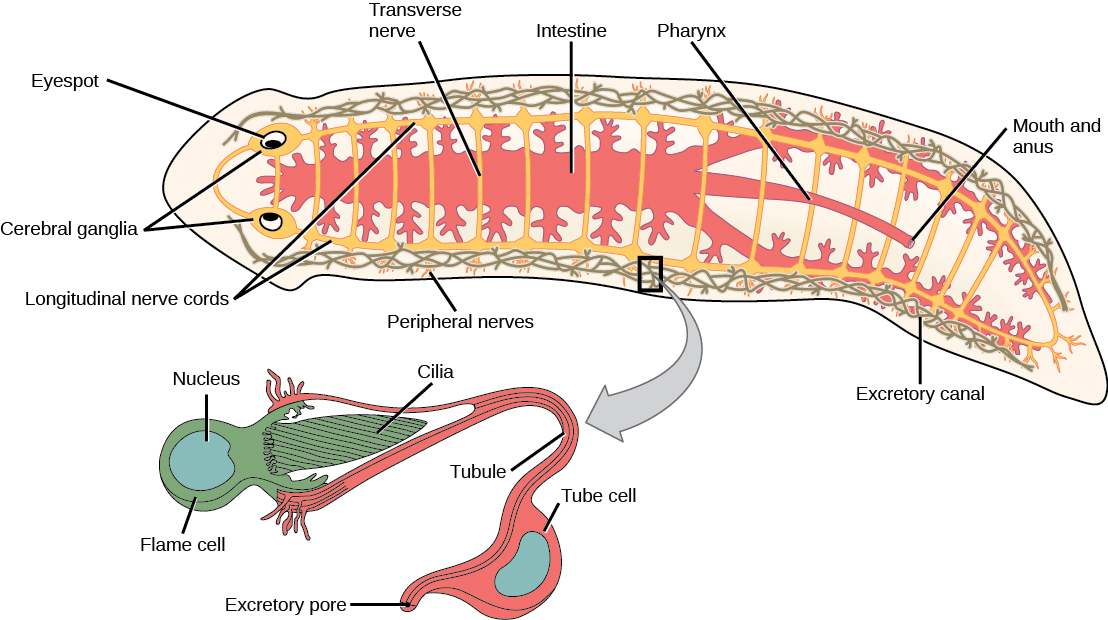 Diversity of flatworms
Platyhelminthes are traditionally divided into four classes: Turbellaria, Monogenea, Trematoda, and Cestoda ( [link] ). As discussed above, the relationships among members of these classes is being reassessed, with the turbellarians in particular now viewed as a paraphyletic group, a group that does not have a single common ancestor.