A tendon sheath is similar in structure to a bursa, but smaller. It is a connective tissue sac that surrounds a muscle tendon at places where the tendon crosses a joint. It contains a lubricating fluid that allows for smooth motions of the tendon during muscle contraction and joint movements.
Homeostatic imbalances
Bursitis
Bursitis is the inflammation of a bursa near a joint. This will cause pain, swelling, or tenderness of the bursa and surrounding area, and may also result in joint stiffness. Bursitis is most commonly associated with the bursae found at or near the shoulder, hip, knee, or elbow joints. At the shoulder, subacromial bursitis may occur in the bursa that separates the acromion of the scapula from the tendon of a shoulder muscle as it passes deep to the acromion. In the hip region, trochanteric bursitis can occur in the bursa that overlies the greater trochanter of the femur, just below the lateral side of the hip. Ischial bursitis occurs in the bursa that separates the skin from the ischial tuberosity of the pelvis, the bony structure that is weight bearing when sitting. At the knee, inflammation and swelling of the bursa located between the skin and patella bone is prepatellar bursitis ("housemaid's knee"), a condition more commonly seen today in roofers or floor and carpet installers who do not use knee pads. At the elbow, olecranon bursitis is inflammation of the bursa between the skin and olecranon process of the ulna. The olecranon forms the bony tip of the elbow, and bursitis here is also known as "student's elbow."
Bursitis can be either acute (lasting only a few days) or chronic. It can arise from muscle overuse, trauma, excessive or prolonged pressure on the skin, rheumatoid arthritis, gout, or infection of the joint. Repeated acute episodes of bursitis can result in a chronic condition. Treatments for the disorder include antibiotics if the bursitis is caused by an infection, or anti-inflammatory agents, such as nonsteroidal anti-inflammatory drugs (NSAIDs) or corticosteroids if the bursitis is due to trauma or overuse. Chronic bursitis may require that fluid be drained, but additional surgery is usually not required.
Types of synovial joints
Synovial joints are subdivided based on the shapes of the articulating surfaces of the bones that form each joint. The six types of synovial joints are pivot, hinge, condyloid, saddle, plane, and ball-and socket-joints ( [link] ).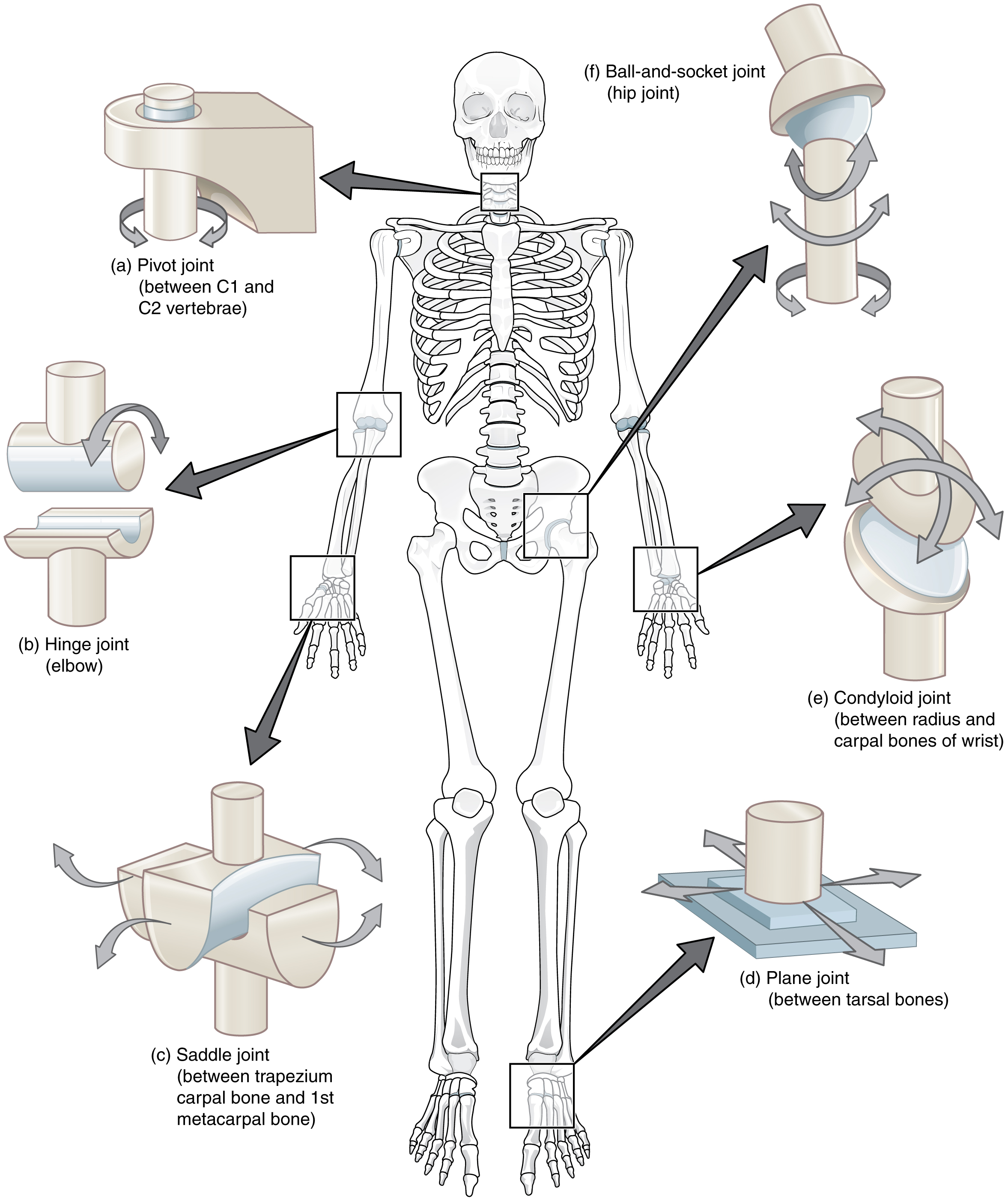 Questions & Answers
Receive real-time job alerts and never miss the right job again
Source:  OpenStax, Anatomy & Physiology. OpenStax CNX. Feb 04, 2016 Download for free at http://legacy.cnx.org/content/col11496/1.8
Google Play and the Google Play logo are trademarks of Google Inc.
Notification Switch
Would you like to follow the 'Anatomy & Physiology' conversation and receive update notifications?