After phagocytosis by APCs, the phagocytic vesicle fuses with an intracellular lysosome forming phagolysosome. Within the phagolysosome, the components are broken down into fragments; the fragments are then loaded onto MHC class I or MHC class II molecules and are transported to the cell surface for antigen presentation, as illustrated in [link] . Note that T lymphocytes cannot properly respond to the antigen unless it is processed and embedded in an MHC II molecule. APCs express MHC on their surfaces, and when combined with a foreign antigen, these complexes signal a "non-self" invader. Once the fragment of antigen is embedded in the MHC II molecule, the immune cell can respond. Helper T- cells are one of the main lymphocytes that respond to antigen-presenting cells. Recall that all other nucleated cells of the body expressed MHC I molecules, which signal "healthy" or "normal."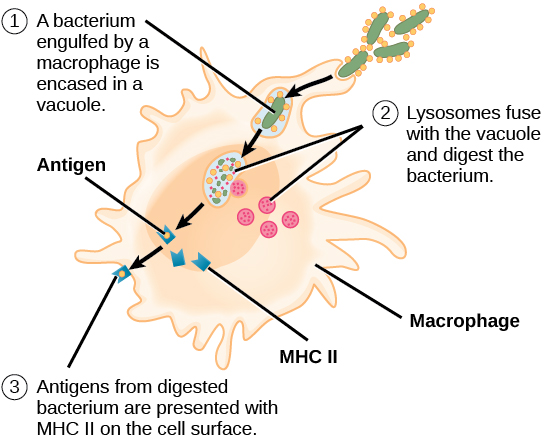 Link to learning
This animation from Rockefeller University shows how dendritic cells act as sentinels in the body's immune system.
T and b lymphocytes
Lymphocytes in human circulating blood are approximately 80 to 90 percent T cells, shown in [link] , and 10 to 20 percent B cells. Recall that the T cells are involved in the cell-mediated immune response, whereas B cells are part of the humoral immune response.
T cells encompass a heterogeneous population of cells with extremely diverse functions. Some T cells respond to APCs of the innate immune system, and indirectly induce immune responses by releasing cytokines. Other T cells stimulate B cells to prepare their own response. Another population of T cells detects APC signals and directly kills the infected cells. Other T cells are involved in suppressing inappropriate immune reactions to harmless or "self" antigens.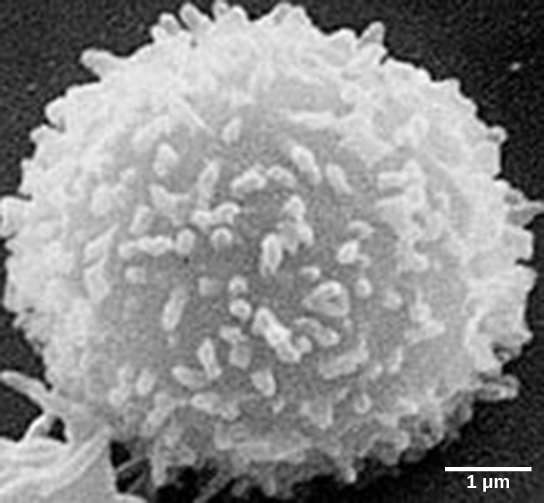 T and B cells exhibit a common theme of recognition/binding of specific antigens via a complementary receptor, followed by activation and self-amplification/maturation to specifically bind to the particular antigen of the infecting pathogen. T and B lymphocytes are also similar in that each cell only expresses one type of antigen receptor. Any individual may possess a population of T and B cells that together express a near limitless variety of antigen receptors that are capable of recognizing virtually any infecting pathogen. T and B cells are activated when they recognize small components of antigens, called epitopes , presented by APCs, illustrated in [link] . Note that recognition occurs at a specific epitope rather than on the entire antigen; for this reason, epitopes are known as "antigenic determinants." In the absence of information from APCs, T and B cells remain inactive, or naïve, and are unable to prepare an immune response. The requirement for information from the APCs of innate immunity to trigger B cell or T cell activation illustrates the essential nature of the innate immune response to the functioning of the entire immune system.