Populations of species share a gene pool: a collection of all the variants of genes in the species. Again, the basis to any changes in a group or population of organisms must be genetic for this is the only way to share and pass on traits. When variations occur within a species, they can only be passed to the next generation along two main pathways: asexual reproduction or sexual reproduction. The change will be passed on asexually simply if the reproducing cell possesses the changed trait. For the changed trait to be passed on by sexual reproduction, a gamete, such as a sperm or egg cell, must possess the changed trait. In other words, sexually-reproducing organisms can experience several genetic changes in their body cells, but if these changes do not occur in a sperm or egg cell, the changed trait will never reach the next generation. Only heritable traits can evolve. Therefore, reproduction plays a paramount role for genetic change to take root in a population or species. In short, organisms must be able to reproduce with each other to pass new traits to offspring.
Speciation
The biological definition of species, which works for sexually reproducing organisms, is a group of actually or potentially interbreeding individuals. There are exceptions to this rule. Many species are similar enough that hybrid offspring are possible and may often occur in nature, but for the majority of species this rule generally holds. In fact, the presence in nature of hybrids between similar species suggests that they may have descended from a single interbreeding species, and the speciation process may not yet be completed.
Given the extraordinary diversity of life on the planet there must be mechanisms for speciation : the formation of two species from one original species. Darwin envisioned this process as a branching event and diagrammed the process in the only illustration found in On the Origin of Species ( [link] a ). Compare this illustration to the diagram of elephant evolution ( [link] b ), which shows that as one species changes over time, it branches to form more than one new species, repeatedly, as long as the population survives or until the organism becomes extinct.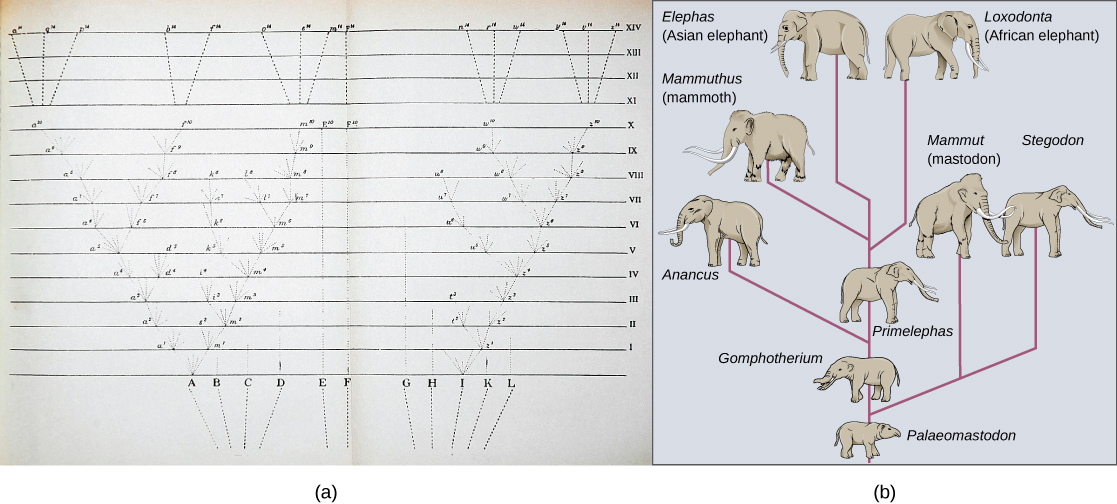 For speciation to occur, two new populations must be formed from one original population and they must evolve in such a way that it becomes impossible for individuals from the two new populations to interbreed. Biologists have proposed mechanisms by which this could occur that fall into two broad categories. Allopatric speciation (allo- = "other"; -patric = "homeland") involves geographic separation of populations from a parent species and subsequent evolution. Sympatric speciation (sym- = "same"; -patric = "homeland") involves speciation occurring within a parent species remaining in one location.