Art connection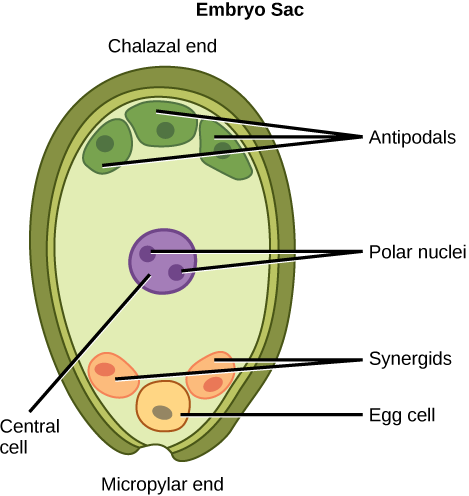 An embryo sac is missing the synergids. What specific impact would you expect this to have on fertilization?
The pollen tube will be unable to form.
The pollen tube will form but will not be guided toward the egg.
Fertilization will not occur because the synergid is the egg.
Fertilization will occur but the embryo will not be able to grow.
Sexual reproduction in gymnosperms
As with angiosperms, the lifecycle of a gymnosperm is also characterized by alternation of generations. In conifers such as pines, the green leafy part of the plant is the sporophyte, and the cones contain the male and female gametophytes ( [link] ). The female cones are larger than the male cones and are positioned towards the top of the tree; the small, male cones are located in the lower region of the tree. Because the pollen is shed and blown by the wind, this arrangement makes it difficult for a gymnosperm to self-pollinate.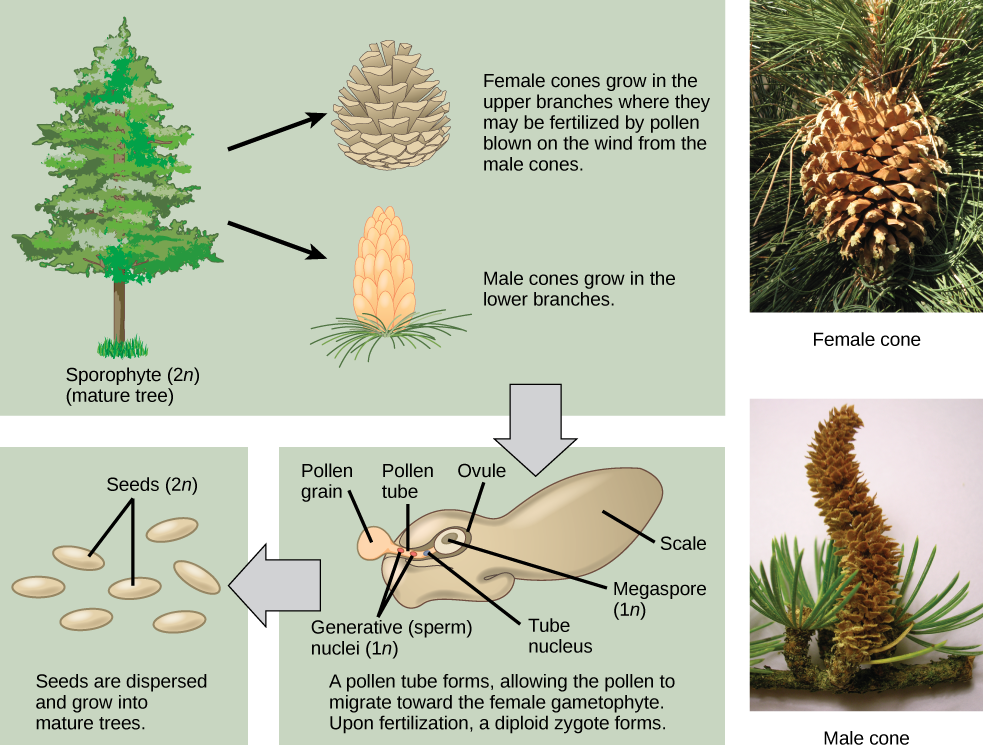 Male gametophyte
A male cone has a central axis on which bracts, a type of modified leaf, are attached. The bracts are known as microsporophylls ( [link] ) and are the sites where microspores will develop. The microspores develop inside the microsporangium. Within the microsporangium, cells known as microsporocytes divide by meiosis to produce four haploid microspores. Further mitosis of the microspore produces two nuclei: the generative nucleus, and the tube nucleus. Upon maturity, the male gametophyte (pollen) is released from the male cones and is carried by the wind to land on the female cone.
Link to learning
Watch this video to see a cedar releasing its pollen in the wind.
Female gametophyte
The female cone also has a central axis on which bracts known as megasporophylls ( [link] ) are present. In the female cone, megaspore mother cells are present in the megasporangium. The megaspore mother cell divides by meiosis to produce four haploid megaspores. One of the megaspores divides to form the multicellular female gametophyte, while the others divide to form the rest of the structure. The female gametophyte is contained within a structure called the archegonium.