Primary centers of the immune system
Although the immune system is characterized by circulating cells throughout the body, the regulation, maturation, and intercommunication of immune factors occur at specific sites. The blood circulates immune cells, proteins, and other factors through the body. Approximately 0.1 percent of all cells in the blood are leukocytes, which encompass monocytes (the precursor of macrophages) and lymphocytes. The majority of cells in the blood are erythrocytes (red blood cells). Lymph is a watery fluid that bathes tissues and organs with protective white blood cells and does not contain erythrocytes. Cells of the immune system can travel between the distinct lymphatic and blood circulatory systems, which are separated by interstitial space, by a process called extravasation (passing through to surrounding tissue).
The cells of the immune system originate from hematopoietic stem cells in the bone marrow. Cytokines stimulate these stem cells to differentiate into immune cells. B cell maturation occurs in the bone marrow, whereas naïve T cells transit from the bone marrow to the thymus for maturation. In the thymus, immature T cells that express TCRs complementary to self-antigens are destroyed. This process helps prevent autoimmune responses.
On maturation, T and B lymphocytes circulate to various destinations. Lymph nodes scattered throughout the body, as illustrated in [link] , house large populations of T and B cells, dendritic cells, and macrophages. Lymph gathers antigens as it drains from tissues. These antigens then are filtered through lymph nodes before the lymph is returned to circulation. APCs in the lymph nodes capture and process antigens and inform nearby lymphocytes about potential pathogens.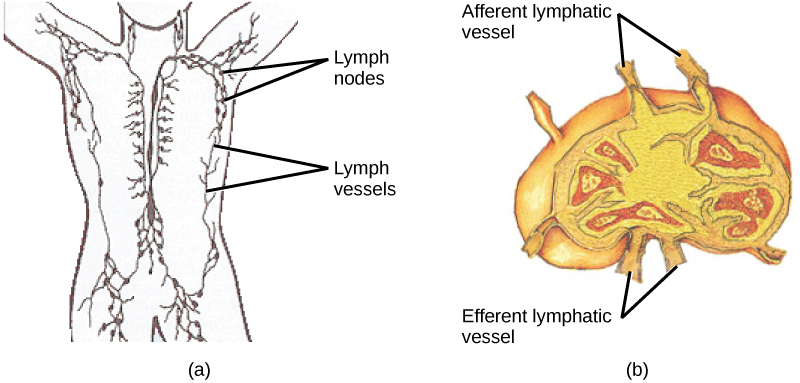 The spleen houses B and T cells, macrophages, dendritic cells, and NK cells. The spleen, shown in [link] , is the site where APCs that have trapped foreign particles in the blood can communicate with lymphocytes. Antibodies are synthesized and secreted by activated plasma cells in the spleen, and the spleen filters foreign substances and antibody-complexed pathogens from the blood. Functionally, the spleen is to the blood as lymph nodes are to the lymph.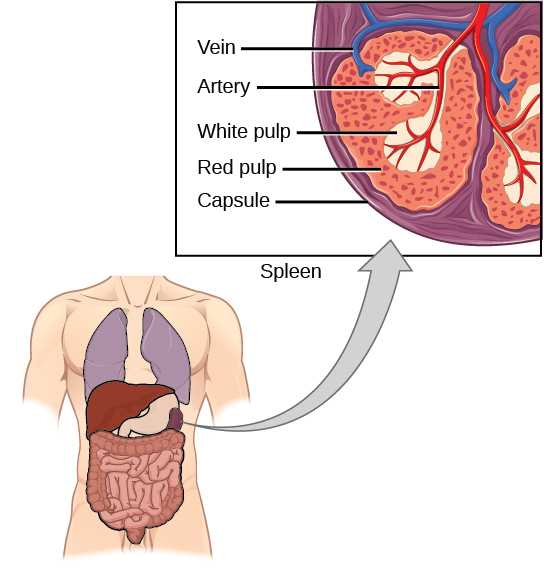 Section summary
The adaptive immune response is a slower-acting, longer-lasting, and more specific response than the innate response. However, the adaptive response requires information from the innate immune system to function. APCs display antigens via MHC molecules to complementary naïve T cells. In response, the T cells differentiate and proliferate, becoming T H cells or CTLs. T H cells stimulate B cells that have engulfed and presented pathogen-derived antigens. B cells differentiate into plasma cells that secrete antibodies, whereas CTLs induce apoptosis in intracellularly infected or cancerous cells. Memory cells persist after a primary exposure to a pathogen. If re-exposure occurs, memory cells differentiate into effector cells without input from the innate immune system. The mucosal immune system is largely independent from the systemic immune system but functions in a parallel fashion to protect the extensive mucosal surfaces of the body.
Art connections
[link] Which of the following statements about T cells is false?
Helper T cells release cytokines while cytotoxic T cells kill the infected cell.
Helper T cells are CD4+, while cytotoxic T cells are CD8 + .
MHC II is a receptor found on most body cells, while MHC I is a receptor found on immune cells only.
The T cell receptor is found on both CD4 + and CD8 + T cells.
Got questions? Get instant answers now!
[link] Based on what you know about MHC receptors, why do you think an organ transplanted from an incompatible donor to a recipient will be rejected?
[link] MHC receptors differ from person to person. Thus, MHC receptors on an incompatible donor are considered "non-self" and are rejected by the immune system.
Got questions? Get instant answers now!
[link] The Rh antigen is found on Rh-positive red blood cells. An Rh-negative female can usually carry an Rh-positive fetus to term without difficulty. However, if she has a second Rh-positive fetus, her body may launch an immune attack that causes hemolytic disease of the newborn. Why do you think hemolytic disease is only a problem during the second or subsequent pregnancies?
[link] If the blood of the mother and fetus mixes, memory cells that recognize the Rh antigen can form late in the first pregnancy. During subsequent pregnancies, these memory cells launch an immune attack on the fetal blood cells. Injection of anti-Rh antibody during the first pregnancy prevents the immune response from occurring.
Got questions? Get instant answers now!