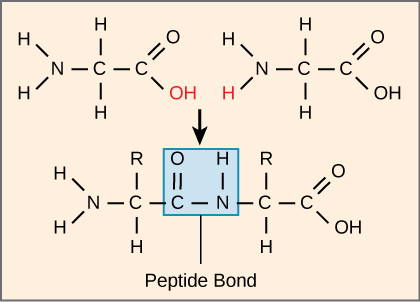 The products formed by such linkages are called peptides. As more amino acids join to this growing chain, the resulting chain is known as a polypeptide. Each polypeptide has a free amino group at one end. This end is called the N terminal, or the amino terminal, and the other end has a free carboxyl group, also known as the C or carboxyl terminal. While the terms polypeptide and protein are sometimes used interchangeably, a polypeptide is technically a polymer of amino acids, whereas the term protein is used for a polypeptide or polypeptides that have combined together, often have bound non-peptide prosthetic groups, have a distinct shape, and have a unique function. After protein synthesis (translation), most proteins are modified. These are known as post-translational modifications. They may undergo cleavage, phosphorylation, or may require the addition of other chemical groups. Only after these modifications is the protein completely functional.
Evolution connection
The evolutionary significance of cytochrome c
Cytochrome c is an important component of the electron transport chain, a part of cellular respiration, and it is normally found in the cellular organelle, the mitochondrion. This protein has a heme prosthetic group, and the central ion of the heme gets alternately reduced and oxidized during electron transfer. Because this essential protein's role in producing cellular energy is crucial, it has changed very little over millions of years. Protein sequencing has shown that there is a considerable amount of cytochrome c amino acid sequence homology among different species; in other words, evolutionary kinship can be assessed by measuring the similarities or differences among various species' DNA or protein sequences.
Scientists have determined that human cytochrome c contains 104 amino acids. For each cytochrome c molecule from different organisms that has been sequenced to date, 37 of these amino acids appear in the same position in all samples of cytochrome c. This indicates that there may have been a common ancestor. On comparing the human and chimpanzee protein sequences, no sequence difference was found. When human and rhesus monkey sequences were compared, the single difference found was in one amino acid. In another comparison, human to yeast sequencing shows a difference in the 44th position.
Protein structure
As discussed earlier, the shape of a protein is critical to its function. For example, an enzyme can bind to a specific substrate at a site known as the active site. If this active site is altered because of local changes or changes in overall protein structure, the enzyme may be unable to bind to the substrate. To understand how the protein gets its final shape or conformation, we need to understand the four levels of protein structure: primary, secondary, tertiary, and quaternary.