Control of transpiration
The atmosphere to which the leaf is exposed drives transpiration, but also causes massive water loss from the plant. Up to 90 percent of the water taken up by roots may be lost through transpiration.
Leaves are covered by a waxy cuticle on the outer surface that prevents the loss of water. Regulation of transpiration, therefore, is achieved primarily through the opening and closing of stomata on the leaf surface. Stomata are surrounded by two specialized cells called guard cells, which open and close in response to environmental cues such as light intensity and quality, leaf water status, and carbon dioxide concentrations. Stomata must open to allow air containing carbon dioxide and oxygen to diffuse into the leaf for photosynthesis and respiration. When stomata are open, however, water vapor is lost to the external environment, increasing the rate of transpiration. Therefore, plants must maintain a balance between efficient photosynthesis and water loss.
Plants have evolved over time to adapt to their local environment and reduce transpiration( [link] ). Desert plant (xerophytes) and plants that grow on other plants (epiphytes) have limited access to water. Such plants usually have a much thicker waxy cuticle than those growing in more moderate, well-watered environments (mesophytes). Aquatic plants (hydrophytes) also have their own set of anatomical and morphological leaf adaptations.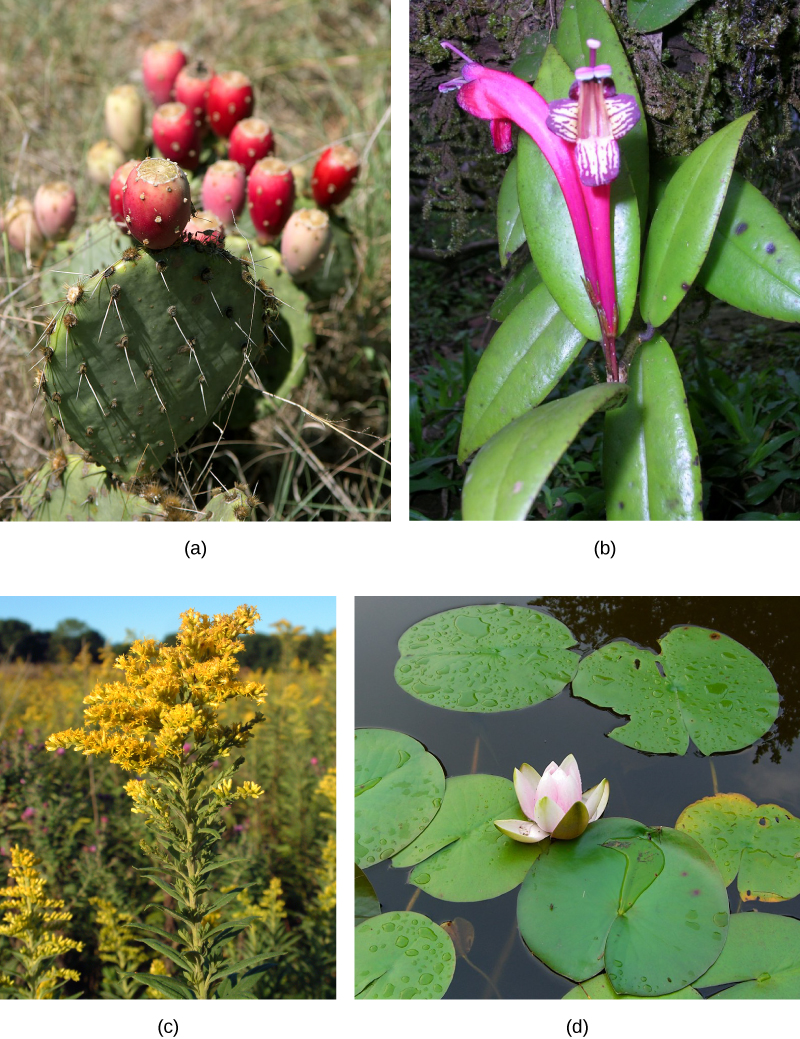 Xerophytes and epiphytes often have a thick covering of trichomes or of stomata that are sunken below the leaf's surface. Trichomes are specialized hair-like epidermal cells that secrete oils and substances. These adaptations impede air flow across the stomatal pore and reduce transpiration. Multiple epidermal layers are also commonly found in these types of plants.
Transportation of photosynthates in the phloem
Plants need an energy source to grow. In seeds and bulbs, food is stored in polymers (such as starch) that are converted by metabolic processes into sucrose for newly developing plants. Once green shoots and leaves are growing, plants are able to produce their own food by photosynthesizing. The products of photosynthesis are called photosynthates, which are usually in the form of simple sugars such as sucrose.