Plant parasites and pathogens
The production of enough good-quality crops is essential to our existence. Plant diseases have ruined crops, bringing widespread famine. Most plant pathogens are fungi that cause tissue decay and eventual death of the host ( [link] ). In addition to destroying plant tissue directly, some plant pathogens spoil crops by producing potent toxins. Fungi are also responsible for food spoilage and the rotting of stored crops. For example, the fungus Claviceps purpurea causes ergot, a disease of cereal crops (especially of rye). Although the fungus reduces the yield of cereals, the effects of the ergot's alkaloid toxins on humans and animals are of much greater significance: In animals, the disease is referred to as ergotism. The most common signs and symptoms are convulsions, hallucination, gangrene, and loss of milk in cattle. The active ingredient of ergot is lysergic acid, which is a precursor of the drug LSD. Smuts, rusts, and powdery or downy mildew are other examples of common fungal pathogens that affect crops.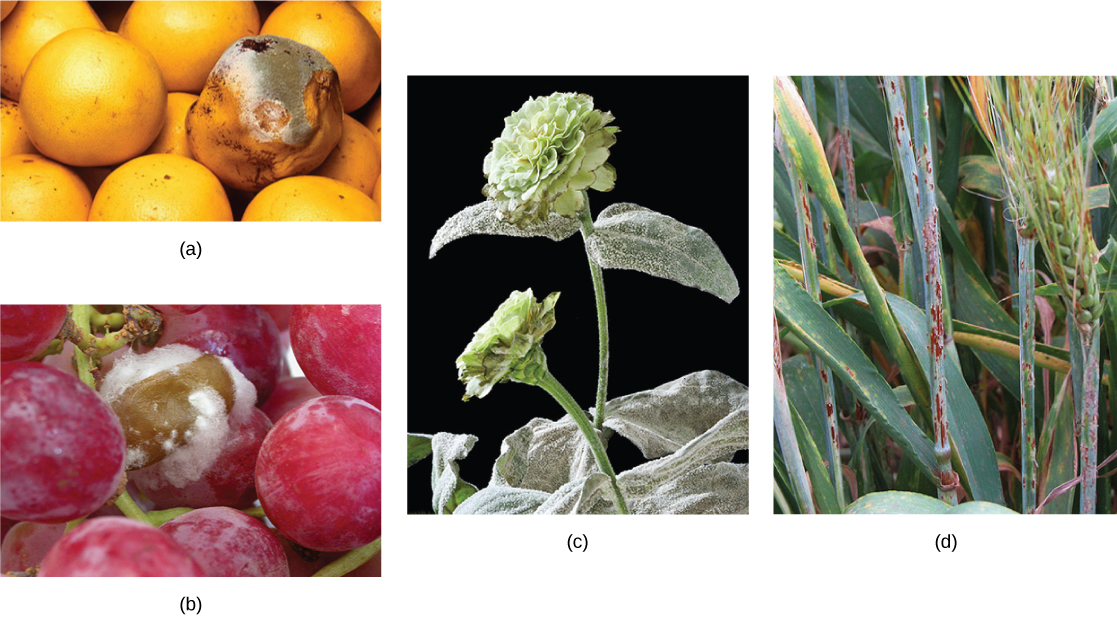 Aflatoxins are toxic and carcinogenic compounds released by fungi of the genus Aspergillus . Periodically, harvests of nuts and grains are tainted by aflatoxins, leading to massive recall of produce, sometimes ruining producers, and causing food shortages in developing countries.
Animal and human parasites and pathogens
Fungi can affect animals, including humans, in several ways. Fungi attack animals directly by colonizing and destroying tissues. Humans and other animals can be poisoned by eating toxic mushrooms or foods contaminated by fungi. In addition, individuals who display hypersensitivity to molds and spores develop strong and dangerous allergic reactions. Fungal infections are generally very difficult to treat because, unlike bacteria, fungi are eukaryotes. Antibiotics only target prokaryotic cells, whereas compounds that kill fungi also adversely affect the eukaryotic animal host.
Many fungal infections ( mycoses ) are superficial and termed cutaneous (meaning "skin") mycoses. They are usually visible on the skin of the animal. Fungi that cause the superficial mycoses of the epidermis, hair, and nails rarely spread to the underlying tissue ( [link] ). These fungi are often misnamed "dermatophytes" from the Greek dermis skin and phyte plant, but they are not plants. Dermatophytes are also called "ringworms" because of the red ring that they cause on skin (although the ring is caused by fungi, not a worm). These fungi secrete extracellular enzymes that break down keratin (a protein found in hair, skin, and nails), causing a number of conditions such as athlete's foot, jock itch, and other cutaneous fungal infections. These conditions are usually treated with over-the-counter topical creams and powders, and are easily cleared. More persistent, superficial mycoses may require prescription oral medications.