In other cases, similar phenotypes evolve independently in distantly related species. For example, flight has evolved in both bats and insects, and they both have structures we refer to as wings, which are adaptations to flight. However, the wings of bats and insects have evolved from very different original structures. This phenomenon is called convergent evolution , where similar traits evolve independently in species that do not share a common ancestry. The two species came to the same function, flying, but did so separately from each other.
These physical changes occur over enormous spans of time and help explain how evolution occurs. Natural selection acts on individual organisms, which in turn can shape an entire species. Although natural selection may work in a single generation on an individual, it can take thousands or even millions of years for the genotype of an entire species to evolve. It is over these large time spans that life on earth has changed and continues to change.
Evidence of evolution
The evidence for evolution is compelling and extensive. Looking at every level of organization in living systems, biologists see the signature of past and present evolution. Darwin dedicated a large portion of his book, On the Origin of Species , to identifying patterns in nature that were consistent with evolution, and since Darwin, our understanding has become clearer and broader.
Fossils
Fossils provide solid evidence that organisms from the past are not the same as those found today, and fossils show a progression of evolution. Scientists determine the age of fossils and categorize them from all over the world to determine when the organisms lived relative to each other. The resulting fossil record tells the story of the past and shows the evolution of form over millions of years ( [link] ). For example, scientists have recovered highly detailed records showing the evolution of humans and horses ( [link] ). The whale flipper shares a similar morphology to appendages of birds and mammals ( [link] ) indicating that these species share a common ancestor.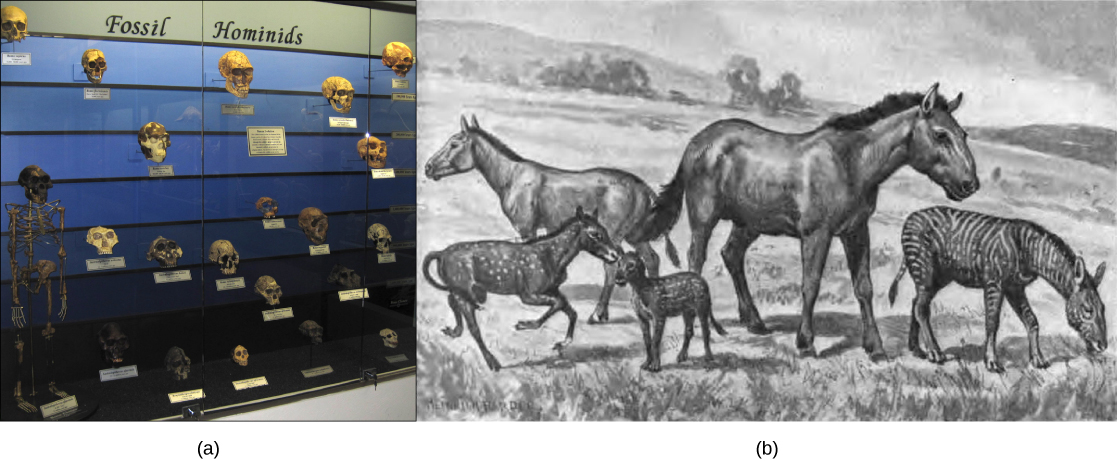 Anatomy and embryology
Another type of evidence for evolution is the presence of structures in organisms that share the same basic form. For example, the bones in the appendages of a human, dog, bird, and whale all share the same overall construction ( [link] ) resulting from their origin in the appendages of a common ancestor. Over time, evolution led to changes in the shapes and sizes of these bones in different species, but they have maintained the same overall layout. Scientists call these synonymous parts homologous structures .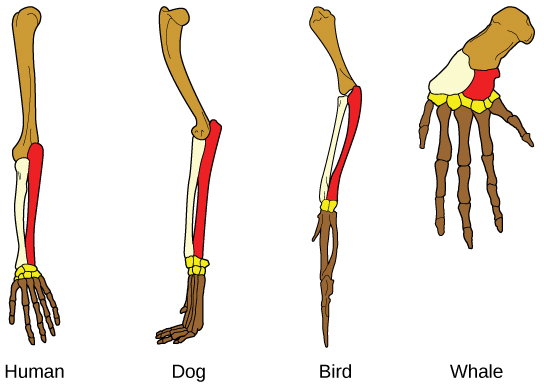 Some structures exist in organisms that have no apparent function at all, and appear to be residual parts from a past common ancestor. These unused structures without function are called vestigial structures . Other examples of vestigial structures are wings on flightless birds, leaves on some cacti, and hind leg bones in whales.