By the end of this section, you will be able to:
Explain cross-reactivity
Describe the structure and function of antibodies
Discuss antibody production
An antibody , also known as an immunoglobulin (Ig), is a protein that is produced by plasma cells after stimulation by an antigen. Antibodies are the functional basis of humoral immunity. Antibodies occur in the blood, in gastric and mucus secretions, and in breast milk. Antibodies in these bodily fluids can bind pathogens and mark them for destruction by phagocytes before they can infect cells.
Antibody structure
An antibody molecule is comprised of four polypeptides: two identical heavy chains (large peptide units) that are partially bound to each other in a "Y" formation, which are flanked by two identical light chains (small peptide units), as illustrated in [link] . Bonds between the cysteine amino acids in the antibody molecule attach the polypeptides to each other. The areas where the antigen is recognized on the antibody are variable domains and the antibody base is composed of constant domains.
In germ-line B cells, the variable region of the light chain gene has 40 variable (V) and five joining (J) segments. An enzyme called DNA recombinase randomly excises most of these segments out of the gene, and splices one V segment to one J segment. During RNA processing, all but one V and J segment are spliced out. Recombination and splicing may result in over 10 6 possible VJ combinations. As a result, each differentiated B cell in the human body typically has a unique variable chain. The constant domain, which does not bind antibody, is the same for all antibodies.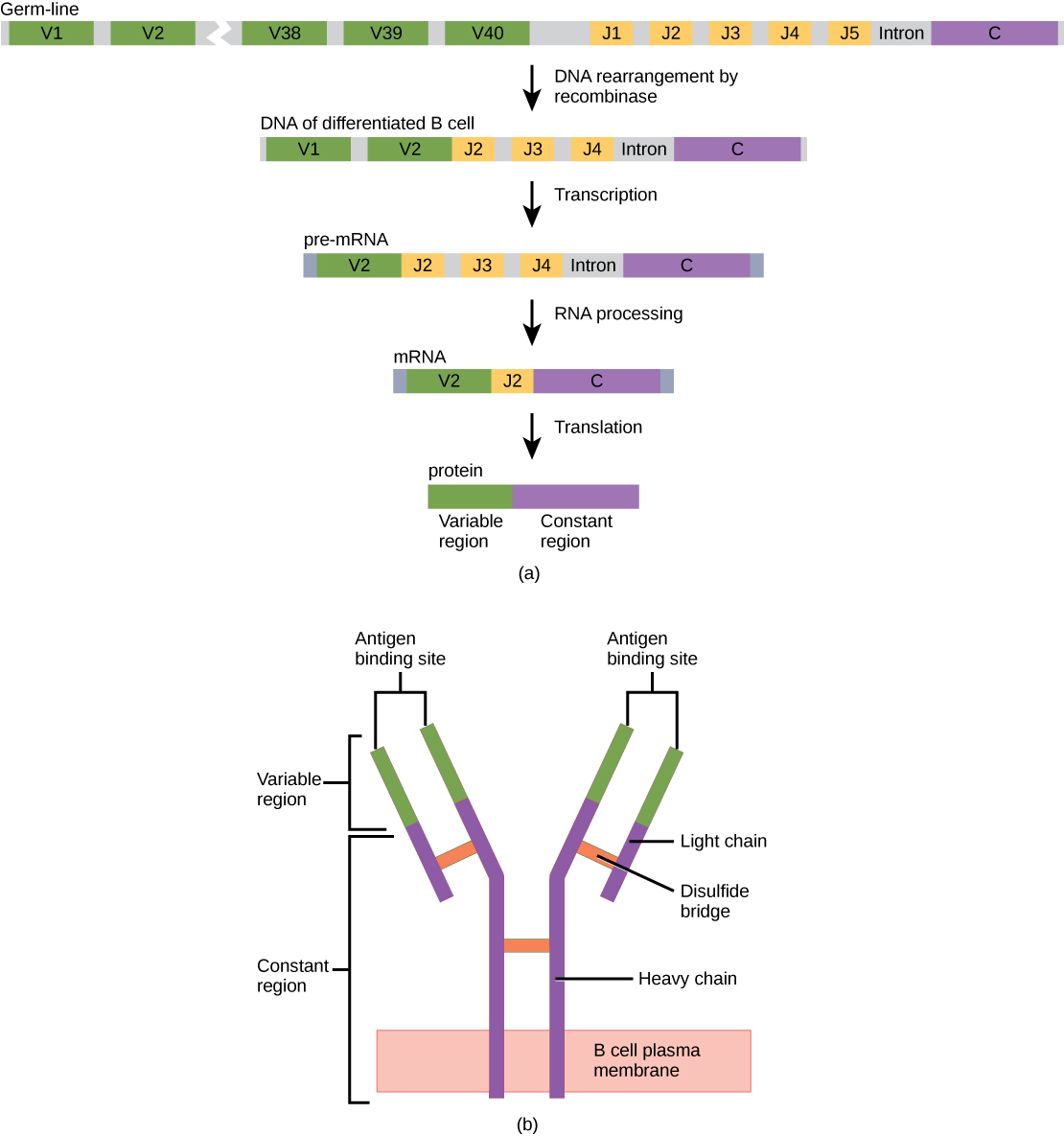 Similar to TCRs and BCRs, antibody diversity is produced by the mutation and recombination of approximately 300 different gene segments encoding the light and heavy chain variable domains in precursor cells that are destined to become B cells. The variable domains from the heavy and light chains interact to form the binding site through which an antibody can bind a specific epitope on an antigen. The numbers of repeated constant domains in Ig classes are the same for all antibodies corresponding to a specific class. Antibodies are structurally similar to the extracellular component of the BCRs, and B cell maturation to plasma cells can be visualized in simple terms as the cell acquires the ability to secrete the extracellular portion of its BCR in large quantities.
Antibody classes
Antibodies can be divided into five classes—IgM, IgG, IgA, IgD, IgE—based on their physiochemical, structural, and immunological properties. IgGs, which make up about 80 percent of all antibodies, have heavy chains that consist of one variable domain and three identical constant domains. IgA and IgD also have three constant domains per heavy chain, whereas IgM and IgE each have four constant domains per heavy chain. The variable domain determines binding specificity and the constant domain of the heavy chain determines the immunological mechanism of action of the corresponding antibody class. It is possible for two antibodies to have the same binding specificities but be in different classes and, therefore, to be involved in different functions.