By the end of this section, you will be able to:
Describe the role of fungi in the ecosystem
Describe mutualistic relationships of fungi with plant roots and photosynthetic organisms
Describe the beneficial relationship between some fungi and insects
Fungi play a crucial role in the balance of ecosystems. They colonize most habitats on Earth, preferring dark, moist conditions. They can thrive in seemingly hostile environments, such as the tundra, thanks to a most successful symbiosis with photosynthetic organisms like algae to produce lichens. Fungi are not obvious in the way large animals or tall trees appear. Yet, like bacteria, they are the major decomposers of nature. With their versatile metabolism, fungi break down organic matter, which would not otherwise be recycled.
Habitats
Although fungi are primarily associated with humid and cool environments that provide a supply of organic matter, they colonize a surprising diversity of habitats, from seawater to human skin and mucous membranes. Chytrids are found primarily in aquatic environments. Other fungi, such as Coccidioides immitis , which causes pneumonia when its spores are inhaled, thrive in the dry and sandy soil of the southwestern United States. Fungi that parasitize coral reefs live in the ocean. However, most members of the Kingdom Fungi grow on the forest floor, where the dark and damp environment is rich in decaying debris from plants and animals. In these environments, fungi play a major role as decomposers and recyclers, making it possible for members of the other kingdoms to be supplied with nutrients and live.
Decomposers and recyclers
The food web would be incomplete without organisms that decompose organic matter ( [link] ). Some elements—such as nitrogen and phosphorus—are required in large quantities by biological systems, and yet are not abundant in the environment. The action of fungi releases these elements from decaying matter, making them available to other living organisms. Trace elements present in low amounts in many habitats are essential for growth, and would remain tied up in rotting organic matter if fungi and bacteria did not return them to the environment via their metabolic activity.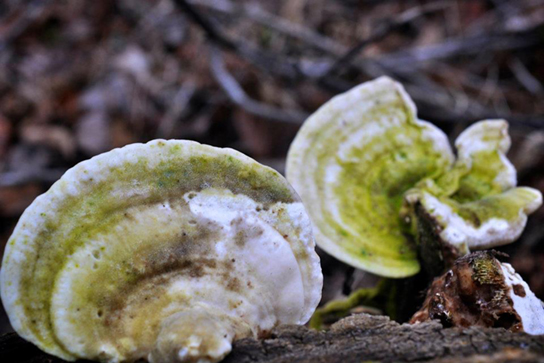 The ability of fungi to degrade many large and insoluble molecules is due to their mode of nutrition. As seen earlier, digestion precedes ingestion. Fungi produce a variety of exoenzymes to digest nutrients. The enzymes are either released into the substrate or remain bound to the outside of the fungal cell wall. Large molecules are broken down into small molecules, which are transported into the cell by a system of protein carriers embedded in the cell membrane. Because the movement of small molecules and enzymes is dependent on the presence of water, active growth depends on a relatively high percentage of moisture in the environment.