By the end of this section, you will be able to:
Describe the cell structure characteristics of protists
Describe the metabolic diversity of protists
Describe the life cycle diversity of protists
There are over 100,000 described living species of protists, and it is unclear how many undescribed species may exist. Since many protists live as commensals or parasites in other organisms and these relationships are often species-specific, there is a huge potential for protist diversity that matches the diversity of hosts. As the catchall term for eukaryotic organisms that are not animal, plant, or fungi, it is not surprising that very few characteristics are common to all protists.
Cell structure
The cells of protists are among the most elaborate of all cells. Most protists are microscopic and unicellular, but some true multicellular forms exist. A few protists live as colonies that behave in some ways as a group of free-living cells and in other ways as a multicellular organism. Still other protists are composed of enormous, multinucleate, single cells that look like amorphous blobs of slime, or in other cases, like ferns. In fact, many protist cells are multinucleated; in some species, the nuclei are different sizes and have distinct roles in protist cell function.
Single protist cells range in size from less than a micrometer to three meters in length to hectares. Protist cells may be enveloped by animal-like cell membranes or plant-like cell walls. Others are encased in glassy silica-based shells or wound with pellicles of interlocking protein strips. The pellicle functions like a flexible coat of armor, preventing the protist from being torn or pierced without compromising its range of motion.
Protists exhibit many forms of nutrition and may be aerobic or anaerobic. Protists that store energy by photosynthesis belong to a group of photoautotrophs and are characterized by the presence of chloroplasts. Other protists are heterotrophic and consume organic materials (such as other organisms) to obtain nutrition. Amoebas and some other heterotrophic protist species ingest particles by a process called phagocytosis, in which the cell membrane engulfs a food particle and brings it inward, pinching off an intracellular membranous sac, or vesicle, called a food vacuole ( [link] ). The vesicle containing the ingested particle, the phagosome, then fuses with a lysosome containing hydrolytic enzymes to produce a phagolysosome , and the food particle is broken down into small molecules that can diffuse into the cytoplasm and be used in cellular metabolism. Undigested remains ultimately are expelled from the cell via exocytosis.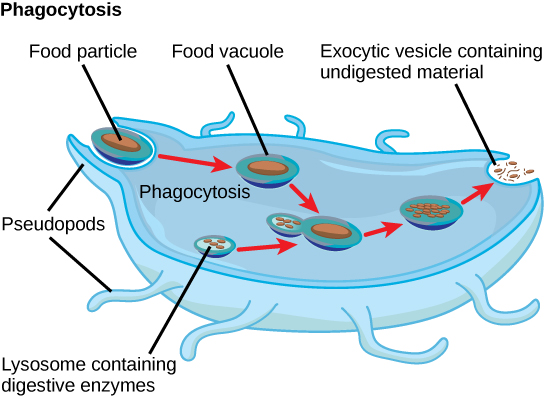 Subtypes of heterotrophs, called saprobes, absorb nutrients from dead organisms or their organic wastes. Some protists can function as mixotrophs , obtaining nutrition by photoautotrophic or heterotrophic routes, depending on whether sunlight or organic nutrients are available.