The second electron shell may contain eight electrons. This shell contains another spherical s orbital and three "dumbbell" shaped p orbitals, each of which can hold two electrons, as shown in [link] . After the 1 s orbital is filled, the second electron shell is filled, first filling its 2 s orbital and then its three p orbitals. When filling the p orbitals, each takes a single electron; once each p orbital has an electron, a second may be added. Lithium (Li) contains three electrons that occupy the first and second shells. Two electrons fill the 1 s orbital, and the third electron then fills the 2 s orbital. Its electron configuration is 1 s 2 2 s 1 . Neon (Ne), on the other hand, has a total of ten electrons: two are in its innermost 1 s orbital and eight fill its second shell (two each in the 2 s and three p orbitals); thus, it is an inert gas and energetically stable as a single atom that will rarely form a chemical bond with other atoms. Larger elements have additional orbitals, making up the third electron shell. While the concepts of electron shells and orbitals are closely related, orbitals provide a more accurate depiction of the electron configuration of an atom because the orbital model specifies the different shapes and special orientations of all the places that electrons may occupy.
Chemical reactions and molecules
All elements are most stable when their outermost shell is filled with electrons according to the octet rule. This is because it is energetically favorable for atoms to be in that configuration and it makes them stable. However, since not all elements have enough electrons to fill their outermost shells, atoms form chemical bonds with other atoms thereby obtaining the electrons they need to attain a stable electron configuration. When two or more atoms chemically bond with each other, the resultant chemical structure is a molecule. The familiar water molecule, H 2 O, consists of two hydrogen atoms and one oxygen atom; these bond together to form water, as illustrated in [link] . Atoms can form molecules by donating, accepting, or sharing electrons to fill their outer shells.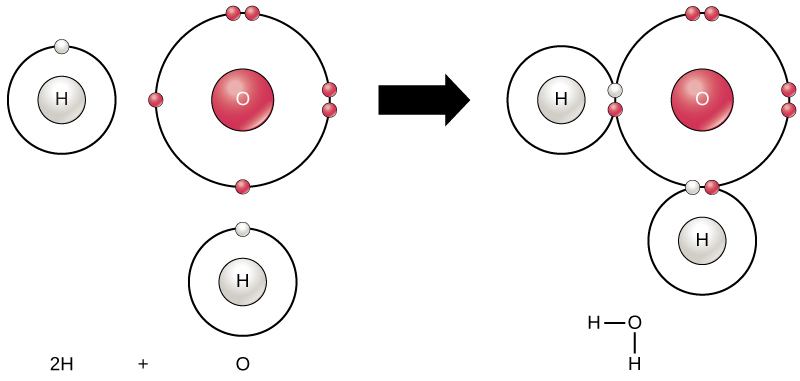 Chemical reactions occur when two or more atoms bond together to form molecules or when bonded atoms are broken apart. The substances used in the beginning of a chemical reaction are called the reactants (usually found on the left side of a chemical equation), and the substances found at the end of the reaction are known as the products (usually found on the right side of a chemical equation). An arrow is typically drawn between the reactants and products to indicate the direction of the chemical reaction; this direction is not always a "one-way street." For the creation of the water molecule shown above, the chemical equation would be:
An example of a simple chemical reaction is the breaking down of hydrogen peroxide molecules, each of which consists of two hydrogen atoms bonded to two oxygen atoms (H 2 O 2 ). The reactant hydrogen peroxide is broken down into water, containing one oxygen atom bound to two hydrogen atoms (H 2 O), and oxygen, which consists of two bonded oxygen atoms (O 2 ). In the equation below, the reaction includes two hydrogen peroxide molecules and two water molecules. This is an example of a balanced chemical equation , wherein the number of atoms of each element is the same on each side of the equation. According to the law of conservation of matter, the number of atoms before and after a chemical reaction should be equal, such that no atoms are, under normal circumstances, created or destroyed.