Link to learning
To learn more about atoms, isotopes, and how to tell one isotope from another, visit this site and run the simulation.
The periodic table
The different elements are organized and displayed in the periodic table . Devised by Russian chemist Dmitri Mendeleev (1834–1907) in 1869, the table groups elements that, although unique, share certain chemical properties with other elements. The properties of elements are responsible for their physical state at room temperature: they may be gases, solids, or liquids. Elements also have specific chemical reactivity , the ability to combine and to chemically bond with each other.
In the periodic table, shown in [link] , the elements are organized and displayed according to their atomic number and are arranged in a series of rows and columns based on shared chemical and physical properties. In addition to providing the atomic number for each element, the periodic table also displays the element's atomic mass. Looking at carbon, for example, its symbol (C) and name appear, as well as its atomic number of six (in the upper left-hand corner) and its atomic mass of 12.11.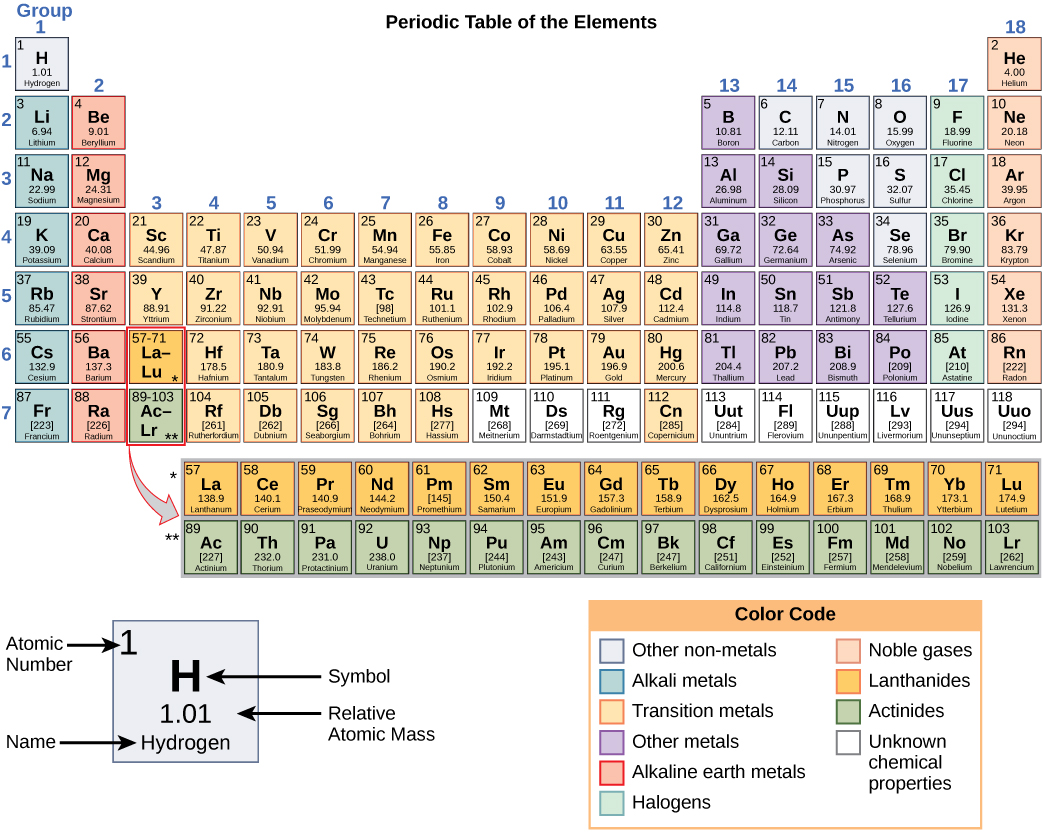 The periodic table groups elements according to chemical properties. The differences in chemical reactivity between the elements are based on the number and spatial distribution of an atom's electrons. Atoms that chemically react and bond to each other form molecules. Molecules are simply two or more atoms chemically bonded together. Logically, when two atoms chemically bond to form a molecule, their electrons, which form the outermost region of each atom, come together first as the atoms form a chemical bond.
Electron shells and the bohr model
It should be stressed that there is a connection between the number of protons in an element, the atomic number that distinguishes one element from another, and the number of electrons it has. In all electrically neutral atoms, the number of electrons is the same as the number of protons. Thus, each element, at least when electrically neutral, has a characteristic number of electrons equal to its atomic number.
An early model of the atom was developed in 1913 by Danish scientist Niels Bohr (1885–1962). The Bohr model shows the atom as a central nucleus containing protons and neutrons, with the electrons in circular orbitals at specific distances from the nucleus, as illustrated in [link] . These orbits form electron shells or energy levels, which are a way of visualizing the number of electrons in the outermost shells. These energy levels are designated by a number and the symbol "n." For example, 1n represents the first energy level located closest to the nucleus.