Learning objectives
By the end of this section, you will be able to:
Describe how Tycho Brahe and Johannes Kepler contributed to our understanding of how planets move around the Sun
Explain Kepler's three laws of planetary motion
At about the time that Galileo was beginning his experiments with falling bodies, the efforts of two other scientists dramatically advanced our understanding of the motions of the planets. These two astronomers were the observer Tycho Brahe and the mathematician Johannes Kepler. Together, they placed the speculations of Copernicus on a sound mathematical basis and paved the way for the work of Isaac Newton in the next century.
Tycho brahe's observatory
Three years after the publication of Copernicus' De Revolutionibus , Tycho Brahe was born to a family of Danish nobility. He developed an early interest in astronomy and, as a young man, made significant astronomical observations. Among these was a careful study of what we now know was an exploding star that flared up to great brilliance in the night sky. His growing reputation gained him the patronage of the Danish King Frederick II, and at the age of 30, Brahe was able to establish a fine astronomical observatory on the North Sea island of Hven ( [link] ). Brahe was the last and greatest of the pre-telescopic observers in Europe.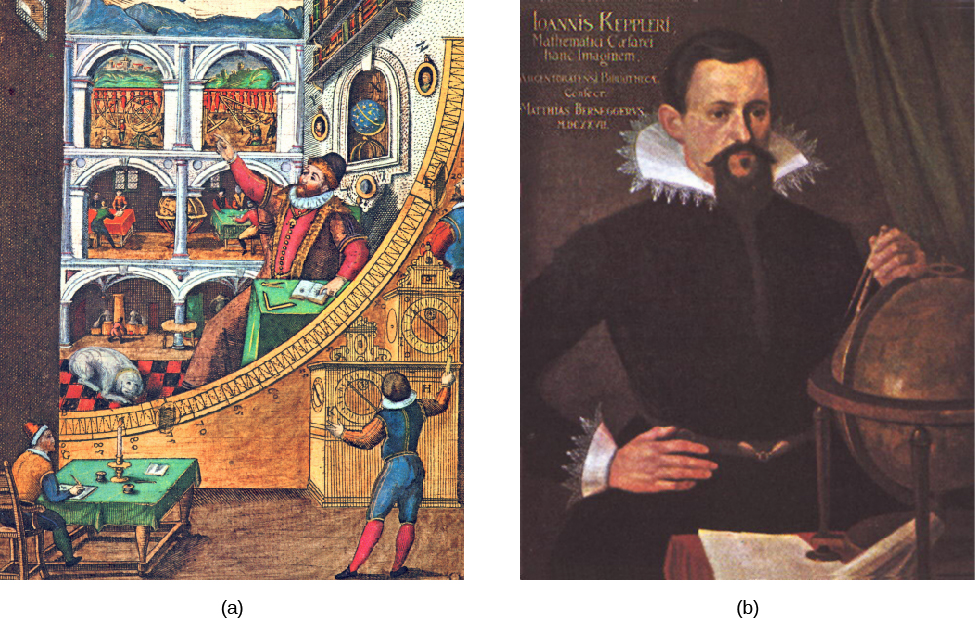 At Hven, Brahe made a continuous record of the positions of the Sun, Moon, and planets for almost 20 years. His extensive and precise observations enabled him to note that the positions of the planets varied from those given in published tables, which were based on the work of Ptolemy. These data were extremely valuable, but Brahe didn't have the ability to analyze them and develop a better model than what Ptolemy had published. He was further inhibited because he was an extravagant and cantankerous fellow, and he accumulated enemies among government officials. When his patron, Frederick II, died in 1597, Brahe lost his political base and decided to leave Denmark. He took up residence in Prague, where he became court astronomer to Emperor Rudolf of Bohemia. There, in the year before his death, Brahe found a most able young mathematician, Johannes Kepler, to assist him in analyzing his extensive planetary data.
Johannes kepler
Johannes Kepler was born into a poor family in the German province of Württemberg and lived much of his life amid the turmoil of the Thirty Years' War (see [link] ). He attended university at Tubingen and studied for a theological career. There, he learned the principles of the Copernican system and became converted to the heliocentric hypothesis. Eventually, Kepler went to Prague to serve as an assistant to Brahe, who set him to work trying to find a satisfactory theory of planetary motion—one that was compatible with the long series of observations made at Hven. Brahe was reluctant to provide Kepler with much material at any one time for fear that Kepler would discover the secrets of the universal motion by himself, thereby robbing Brahe of some of the glory. Only after Brahe's death in 1601 did Kepler get full possession of the priceless records. Their study occupied most of Kepler's time for more than 20 years.