These genetic analysis tools have allowed scientists to construct what is called the " tree of life " ( [link] ). This diagram illustrates the way organisms are related by examining one sequence of the nucleic acid RNA that all species have in common. This figure shows that life on Earth is dominated by microscopic creatures that you have probably never heard of. Note that the plant and animal kingdoms are just two little branches at the far right. Most of the diversity of life, and most of our evolution, has taken place at the microbial level. Indeed, it may surprise you to know that there are more microbes in a bucket of soil than there are stars in the Galaxy. You may want to keep this in mind when, later in this book, we turn to the search for life on other worlds. The "aliens" that are most likely to be out there are microbes.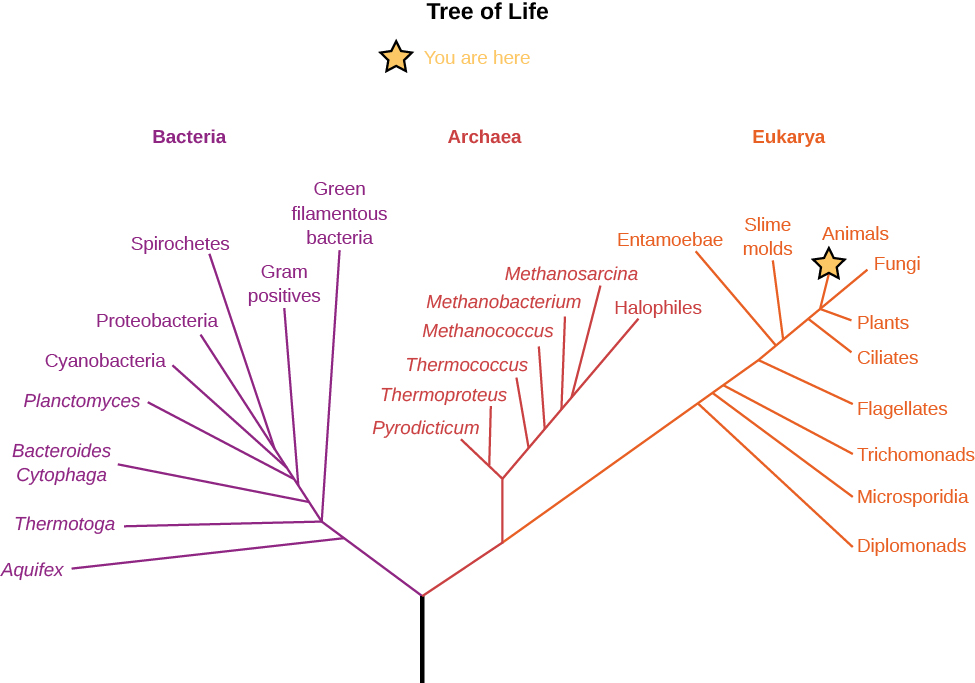 Such genetic studies lead to other interesting conclusions as well. For example, it appears that the earliest surviving terrestrial life-forms were all adapted to live at high temperatures. Some biologists think that life might actually have begun in locations on our planet that were extremely hot. Yet another intriguing possibility is that life began on Mars (which cooled sooner) rather than Earth and was "seeded" onto our planet by meteorites traveling from Mars to Earth. Mars rocks are still making their way to Earth, but so far none has shown evidence of serving as a "spaceship" to carry microorganisms from Mars to Earth.
The evolution of the atmosphere
One of the key steps in the evolution of life on Earth was the development of blue-green algae, a very successful life-form that takes in carbon dioxide from the environment and releases oxygen as a waste product. These successful microorganisms proliferated, giving rise to all the lifeforms we call plants. Since the energy for making new plant material from chemical building blocks comes from sunlight, we call the process photosynthesis .
Studies of the chemistry of ancient rocks show that Earth's atmosphere lacked abundant free oxygen until about 2 billion years ago, despite the presence of plants releasing oxygen by photosynthesis. Apparently, chemical reactions with Earth's crust removed the oxygen gas as quickly as it formed. Slowly, however, the increasing evolutionary sophistication of life led to a growth in the plant population and thus increased oxygen production. At the same time, it appears that increased geological activity led to heavy erosion on our planet's surface. Tthis buried much of the plant carbon before it could recombine with oxygen to form CO 2 .
Free oxygen began accumulating in the atmosphere about 2 billion years ago, and the increased amount of this gas led to the formation of Earth's ozone layer (recall that ozone is a triple molecule of oxygen, O 3 ), which protects the surface from deadly solar ultraviolet light. Before that, it was unthinkable for life to venture outside the protective oceans, so the landmasses of Earth were barren.