Learning objectives
By the end of this section, you will be able to:
Describe the general features of the surface of Venus
Explain what the study of craters on Venus tells us about the age of its surface
Compare tectonic activity and volcanoes on Venus with those of Earth
Explain why the surface of Venus is inhospitable to human life
Since Venus has about the same size and composition as Earth, we might expect its geology to be similar. This is partly true, but Venus does not exhibit the same kind of plate tectonics as Earth, and we will see that its lack of erosion results in a very different surface appearance.
Spacecraft exploration of venus
Nearly 50 spacecraft have been launched to Venus, but only about half were successful. Although the 1962 US Mariner 2 flyby was the first, the Soviet Union launched most of the subsequent missions to Venus. In 1970, Venera 7 became the first probe to land and broadcast data from the surface of Venus. It operated for 23 minutes before succumbing to the high surface temperature. Additional Venera probes and landers followed, photographing the surface and analyzing the atmosphere and soil.
To understand the geology of Venus, however, we needed to make a global study of its surface, a task made very difficult by the perpetual cloud layers surrounding the planet. The problem resembles the challenge facing air traffic controllers at an airport, when the weather is so cloudy or smoggy that they can't locate the incoming planes visually. The solution is similar in both cases: use a radar instrument to probe through the obscuring layer.
The first global radar map was made by the US Pioneer Venus orbiter in the late 1970s, followed by better maps from the twin Soviet Venera 15 and 16 radar orbiters in the early 1980s. However, most of our information on the geology of Venus is derived from the US Magellan spacecraft, which mapped Venus with a powerful imaging radar . Magellan produced images with a resolution of 100 meters, much better than that of previous missions, yielding our first detailed look at the surface of our sister planet ( [link] ). (The Magellan spacecraft returned more data to Earth than all previous planetary missions combined; each 100 minutes of data transmission from the spacecraft provided enough information, if translated into characters, to fill two 30-volume encyclopedias.)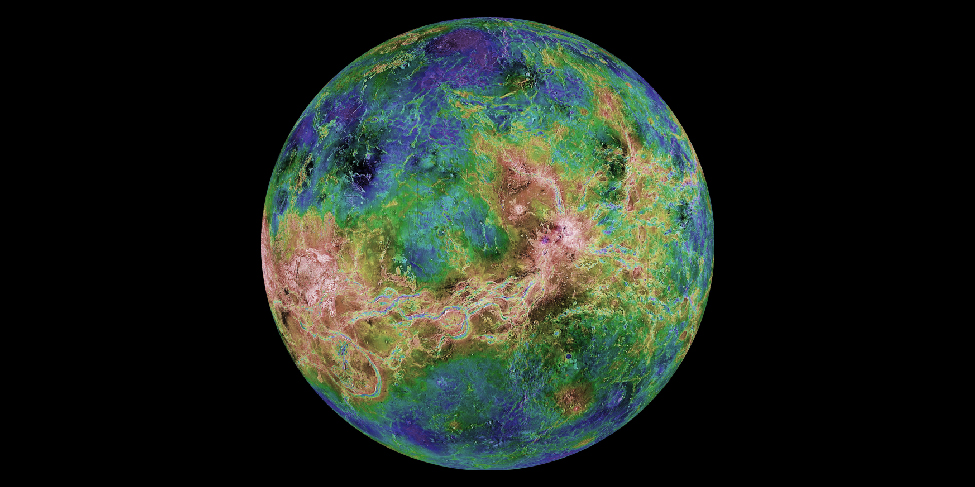 Consider for a moment how good Magellan 's resolution of 100 meters really is. It means the radar images from Venus can show anything on the surface larger than a football field. Suddenly, a whole host of topographic features on Venus became accessible to our view. As you look at the radar images throughout this chapter, bear in mind that these are constructed from radar reflections, not from visible-light photographs. For example, bright features on these radar images are an indication of rough terrain, whereas darker regions are smoother.