Learning objectives
By the end of this section, you will be able to:
Describe the components of Earth's interior and explain how scientists determined its structure
Specify the origin, size, and extent of Earth's magnetic field
Earth is a medium-size planet with a diameter of approximately 12,760 kilometers ( [link] ). As one of the inner or terrestrial planets, it is composed primarily of heavy elements such as iron, silicon, and oxygen—very different from the composition of the Sun and stars, which are dominated by the light elements hydrogen and helium. Earth's orbit is nearly circular, and Earth is warm enough to support liquid water on its surface. It is the only planet in our solar system that is neither too hot nor too cold, but "just right" for the development of life as we know it. Some of the basic properties of Earth are summarized in [link] .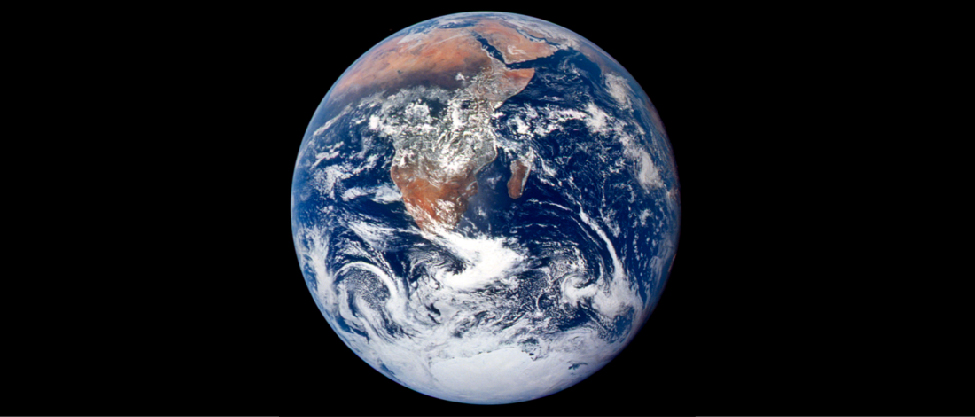 Some Properties of Earth
Property
Measurement
Semimajor axis
1.00 AU
Period
1.00 year
Mass
5.98 × 10 24 kg
Diameter
12,756 km
Radius
6378 km
Escape velocity
11.2 km/s
Rotational period
23 h 56 m 4 s
Surface area
5.1 × 10 8 km 2
Density
5.514 g/cm 3
Atmospheric pressure
1.00 bar
Earth's interior
The interior of a planet—even our own Earth—is difficult to study, and its composition and structure must be determined indirectly. Our only direct experience is with the outermost skin of Earth ' s crust, a layer no more than a few kilometers deep. It is important to remember that, in many ways, we know less about our own planet 5 kilometers beneath our feet than we do about the surfaces of Venus and Mars.
Earth is composed largely of metal and silicate rock (see the Composition and Structure of Planets section). Most of this material is in a solid state, but some of it is hot enough to be molten. The structure of material in Earth's interior has been probed in considerable detail by measuring the transmission of seismic waves through Earth. These are waves that spread through the interior of Earth from earthquakes or explosion sites.
Seismic waves travel through a planet rather like sound waves through a struck bell. Just as the sound frequencies vary depending on the material the bell is made of and how it is constructed, so a planet ' s response depends on its composition and structure. By monitoring the seismic waves in different locations, scientists can learn about the layers through which the waves have traveled. Some of these vibrations travel along the surface; others pass directly through the interior. Seismic studies have shown that Earth's interior consists of several distinct layers with different compositions, illustrated in [link] . As waves travel through different materials in Earth's interior, the waves—just like light waves in telescope lenses—bend (or refract) so that some seismic stations on Earth receive the waves and others are in "shadows." Detecting the waves in a network of seismographs helps scientists construct a model of Earth's interior, showing liquid and solid layers. This type of seismic imaging is not unlike that used in ultrasound, a type of imaging used to see inside the body.