Learning objectives
By the end of this section, you will be able to:
Describe the three basic components of a modern system for measuring astronomical sources
Describe the main functions of a telescope
Describe the two basic types of visible-light telescopes and how they form images
Systems for measuring radiation
There are three basic components of a modern system for measuring radiation from astronomical sources. First, there is a telescope , which serves as a "bucket" for collecting visible light (or radiation at other wavelengths, as shown in ( [link] ). Just as you can catch more rain with a garbage can than with a coffee cup, large telescopes gather much more light than your eye can. Second, there is an instrument attached to the telescope that sorts the incoming radiation by wavelength. Sometimes the sorting is fairly crude. For example, we might simply want to separate blue light from red light so that we can determine the temperature of a star. But at other times, we want to see individual spectral lines to determine what an object is made of, or to measure its speed (as explained in the Radiation and Spectra chapter). Third, we need some type of detector , a device that senses the radiation in the wavelength regions we have chosen and permanently records the observations.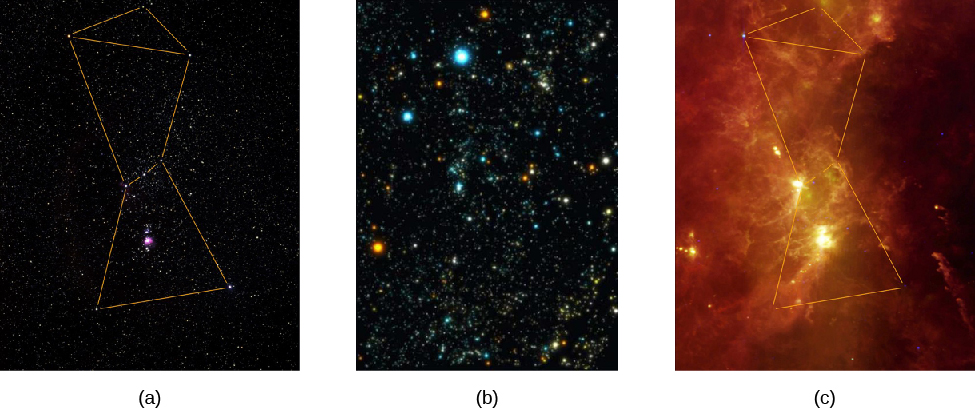 The history of the development of astronomical telescopes is about how new technologies have been applied to improve the efficiency of these three basic components: the telescopes, the wavelength-sorting device, and the detectors. Let's first look at the development of the telescope.
Many ancient cultures built special sites for observing the sky ( [link] ). At these ancient observatories , they could measure the positions of celestial objects, mostly to keep track of time and date. Many of these ancient observatories had religious and ritual functions as well. The eye was the only device available to gather light, all of the colors in the light were observed at once, and the only permanent record of the observations was made by human beings writing down or sketching what they saw.