Let's pause here for a moment of perspective. We are now discussing numbers by which even astronomers sometimes feel overwhelmed. The Coma cluster may have 10, 20, or 30 thousand galaxies, and each galaxy has billions and billions of stars. If you were traveling at the speed of light, it would still take you more than 10 million years (longer than the history of the human species) to cross this giant swarm of galaxies. And if you lived on a planet on the outskirts of one of these galaxies, many other members of the cluster would be close enough to be noteworthy sights in your nighttime sky.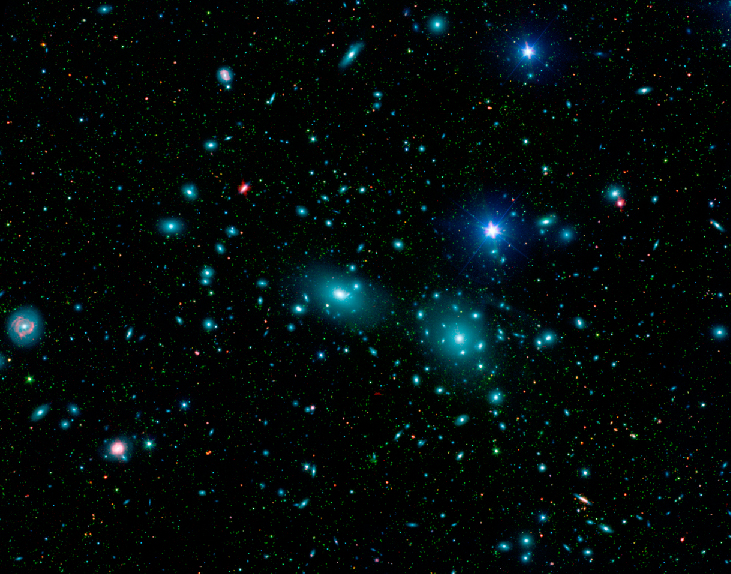 Really rich clusters such as Coma usually have a high concentration of galaxies near the center. We can see giant elliptical galaxies in these central regions but few, if any, spiral galaxies. The spirals that do exist generally occur on the outskirts of clusters.
We might say that ellipticals are highly "social": they are often found in groups and very much enjoy "hanging out" with other ellipticals in crowded situations. It is precisely in such crowds that collisions are most likely and, as we discussed earlier, we think that most large ellipticals are built through mergers of smaller galaxies.
Spirals, on the other hand, are more "shy": they are more likely to be found in poor clusters or on the edges of rich clusters where collisions are less likely to disrupt the spiral arms or strip out the gas needed for continued star formation.
Gravitational lensing
As we saw in Black Holes and Curved Spacetime , spacetime is more strongly curved in regions where the gravitational field is strong. Light passing very near a concentration of matter appears to follow a curved path. In the case of starlight passing close to the Sun, we measure the position of the distant star to be slightly different from its true position.
Now let's consider the case of light from a distant galaxy or quasar that passes near a concentration of matter such as a cluster of galaxies on its journey to our telescopes. According to general relativity, the light path may be bent in a variety of ways; as a result we can observe distorted and even multiple images ( [link] ).

Gravitational lenses can produce not only double images, as shown in [link] , but also multiple images, arcs, or rings. The first gravitational lens discovered, in 1979, showed two images of the same distant object. Eventually, astronomers used the Hubble Space Telescope to capture remarkable images of the effects of gravitational lenses. One example is shown in [link] .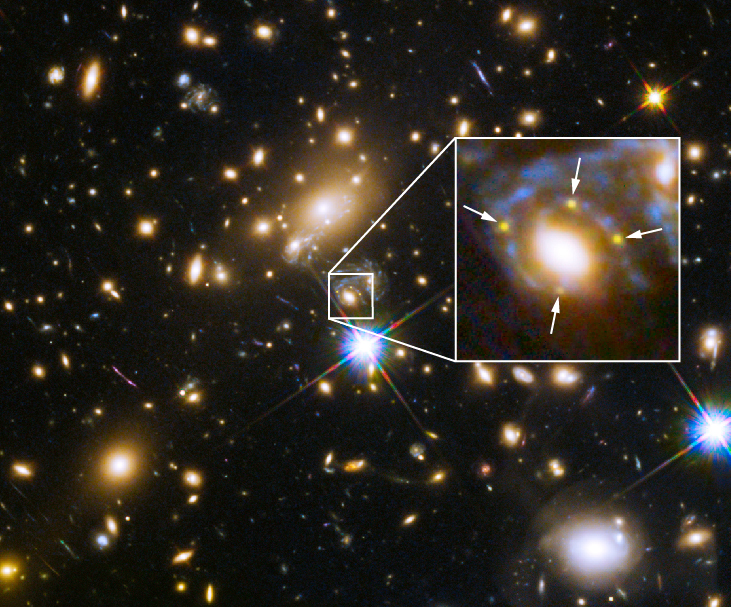 General relativity predicts that the light from a distant object may also be amplified by the lensing effect, thereby making otherwise invisible objects bright enough to detect. This is particularly useful for probing the earliest stages of galaxy formation, when the universe was young. [link] shows an example of a very distant faint galaxy that we can study in detail only because its light path passes through a large concentration of massive galaxies and we now see a brighter image of it.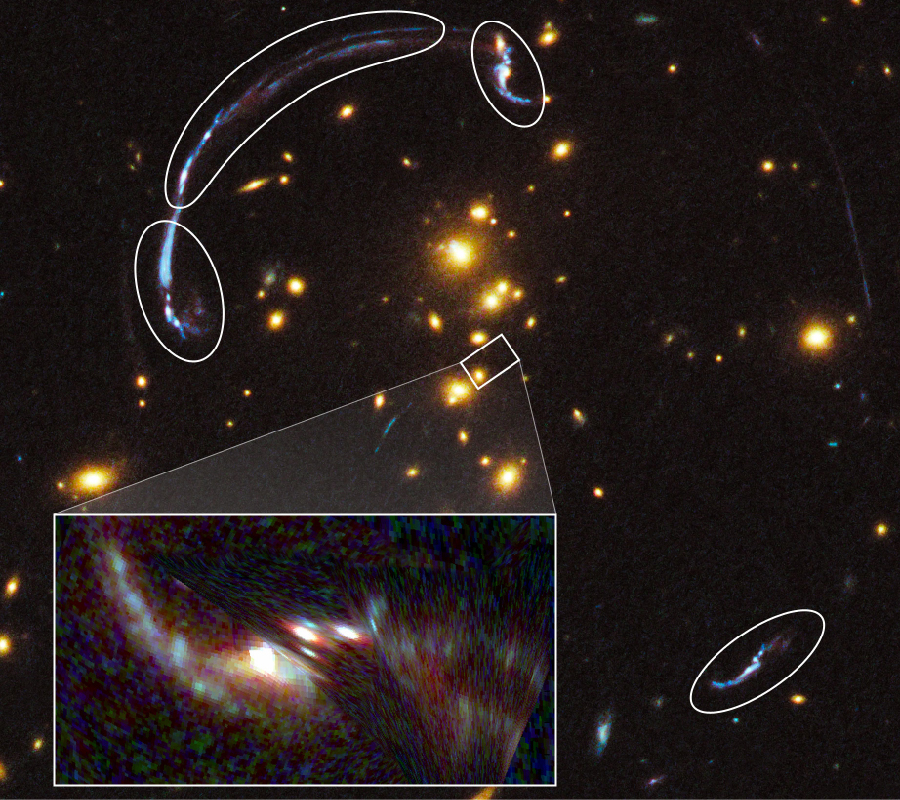 We should note that the visible mass in a galaxy is not the only possible gravitational lens. Dark matter can also reveal itself by producing this effect. Astronomers are using lensed images from all over the sky to learn more about where dark matter is located and how much of it exists.