Learning objectives
By the end of this section, you will be able to:
Explain how Copernicus developed the heliocentric model of the solar system
Explain the Copernican model of planetary motion and describe evidence or arguments in favor of it
Describe Galileo's discoveries concerning the study of motion and forces
Explain how Galileo's discoveries tilted the balance of evidence in favor of the Copernican model
Astronomy made no major advances in strife-torn medieval Europe. The birth and expansion of Islam after the seventh century led to a flowering of Arabic and Jewish cultures that preserved, translated, and added to many of the astronomical ideas of the Greeks. Many of the names of the brightest stars, for example, are today taken from the Arabic, as are such astronomical terms as "zenith."
As European culture began to emerge from its long, dark age, trading with Arab countries led to a rediscovery of ancient texts such as Almagest and to a reawakening of interest in astronomical questions. This time of rebirth (in French, " renaissance ") in astronomy was embodied in the work of Copernicus ( [link] ).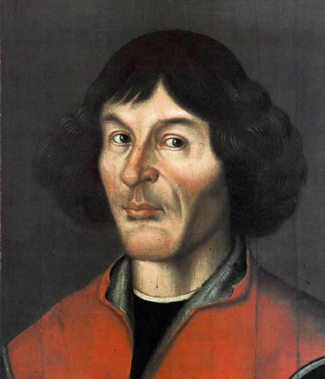 Copernicus
One of the most important events of the Renaissance was the displacement of Earth from the center of the universe, an intellectual revolution initiated by a Polish cleric in the sixteenth century. Nicolaus Copernicus was born in Torun, a mercantile town along the Vistula River. His training was in law and medicine, but his main interests were astronomy and mathematics. His great contribution to science was a critical reappraisal of the existing theories of planetary motion and the development of a new Sun-centered, or heliocentric , model of the solar system. Copernicus concluded that Earth is a planet and that all the planets circle the Sun. Only the Moon orbits Earth ( [link] ).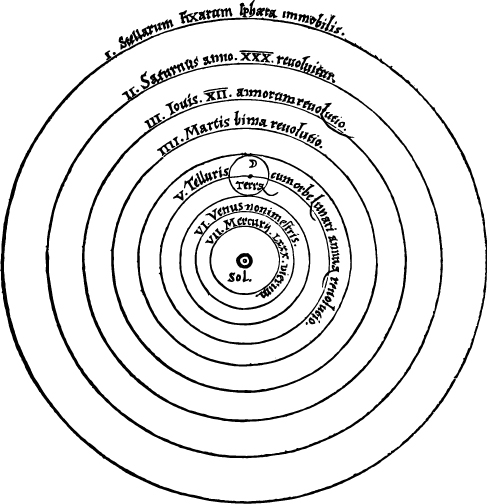 Copernicus described his ideas in detail in his book De Revolutionibus Orbium Coelestium ( On the Revolution of Celestial Orbs ), published in 1543, the year of his death. By this time, the old Ptolemaic system needed significant adjustments to predict the positions of the planets correctly. Copernicus wanted to develop an improved theory from which to calculate planetary positions, but in doing so, he was himself not free of all traditional prejudices.
He began with several assumptions that were common in his time, such as the idea that the motions of the heavenly bodies must be made up of combinations of uniform circular motions. But he did not assume (as most people did) that Earth had to be in the center of the universe, and he presented a defense of the heliocentric system that was elegant and persuasive. His ideas, although not widely accepted until more than a century after his death, were much discussed among scholars and, ultimately, had a profound influence on the course of world history.