Here is a touching video about Tombaugh's life as described by his children.
The nature of pluto
Using data from the New Horizons probe, astronomers have measured the diameter of Pluto as 2370 kilometers, only 60 perent as large as our Moon. From the diameter and mass, we find a density of 1.9 g/cm 3 , suggesting that Pluto is a mixture of rocky materials and water ice in about the same proportions as many outer-planet moons.
Parts of Pluto's surface are highly reflective, and its spectrum demonstrates the presence on its surface of frozen methane, carbon monoxide, and nitrogen. The maximum surface temperature ranges from about 50 K when Pluto is farthest from the Sun to 60 K when it is closest. Even this small difference is enough to cause a partial sublimation (going from solid to gas) of the methane and nitrogen ice. This generates an atmosphere when Pluto is close to the Sun, and it freezes out when Pluto is farther away. Observations of distant stars seen through this thin atmosphere indicate that the surface pressure is about a ten-thousandth of Earth's. Because Pluto is a few degrees warmer than Triton, its atmospheric pressure is about ten times greater. This atmosphere contains several distinct haze layers, presumably caused by photochemical reactions, like those in Titan's atmosphere ( [link] ).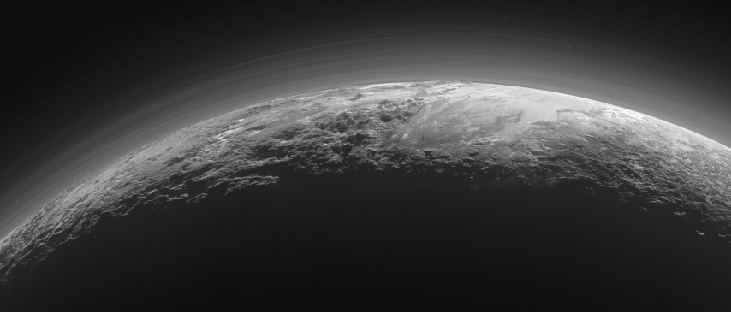 Reaching Pluto with a spacecraft was a major challenge, especially in an era when reduced NASA budgets could not support large, expensive missions like Galileo and Cassini. Yet like Galileo and Cassini, a Pluto mission would require a nuclear electric system that used the heat from plutonium to generate the energy to power the instruments and keep them operating far from the warmth of the Sun. NASA made available one of the last of its nuclear generators for such a mission. Assuming an affordable but highly capable spacecraft could be built, there was still the problem of getting to Pluto, nearly 5 billion kilometers from Earth, without waiting decades. The answer was to use Jupiter's gravity to slingshot the spacecraft toward Pluto.
The 2006 launch of New Horizons started the mission with a high speed, and the Jupiter flyby just a year later gave it the required additional boost. The New Horizons spacecraft arrived at Pluto in July 2015, traveling at a relative speed of 14 kilometers per second (or about 50,000 kilometers per hour). With this high speed, the entire flyby sequence was compressed into just one day. Most of the data recorded near closest approach could not be transmitted to Earth until many months later, but when it finally arrived, astronomers were rewarded with a treasure trove of images and data.