Clyde tombaugh: from the farm to fame
Clyde Tombaugh discovered Pluto when he was 24 years old, and his position as staff assistant at the Lowell Observatory was his first paying job. Tombaugh had been born on a farm in Illinois, but when he was 16, his family moved to Kansas. There, with his uncle's encouragement, he observed the sky through a telescope the family had ordered from the Sears catalog. Tombaugh later constructed a larger telescope on his own and devoted his nights (when he wasn't too tired from farm work) to making detailed sketches of the planets ( [link] ).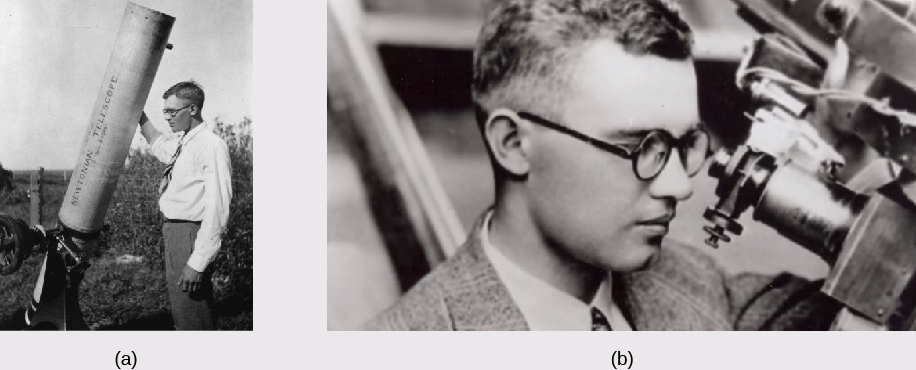 In 1928, after a hailstorm ruined the crop, Tombaugh decided he needed a job to help support his family. Although he had only a high school education, he thought of becoming a telescope builder. He sent his planet sketches to the Lowell Observatory, seeking advice about whether such a career choice was realistic. By a wonderful twist of fate, his query arrived just when the Lowell astronomers realized that a renewed search for a ninth planet would require a very patient and dedicated observer.
The large photographic plates (pieces of glass with photographic emulsion on them) that Tombaugh was hired to take at night and search during the day contained an average of about 160,000 star images each. How to find Pluto among them? The technique involved taking two photographs about a week apart. During that week, a planet would move a tiny bit, while the stars remained in the same place relative to each other. A new instrument called a "blink comparator" could quickly alternate the two images in an eyepiece. The stars, being in the same position on the two plates, would not appear to change as the two images were "blinked." But a moving object would appear to wiggle back and forth as the plates were alternated.
After examining more than 2 million stars (and many false alarms), Tombaugh found his planet on February 18, 1930. The astronomers at the observatory checked his results carefully, and the find was announced on March 13, the 149th anniversary of the discovery of Uranus. Congratulations and requests for interviews poured in from around the world. Visitors descended on the observatory in scores, wanting to see the place where the first new planet in almost a century had been discovered, as well as the person who had discovered it.
In 1932, Tombaugh took leave from Lowell, where he had continued to search and blink, to get a college degree. Eventually, he received a master's degree in astronomy and taught navigation for the Navy during World War II. In 1955, after working to develop a rocket-tracking telescope, he became a professor at New Mexico State University, where he helped found the astronomy department. He died in 1997; some of his ashes were placed inside the New Horizons spacecraft to Pluto.