From the time of its discovery, it was clear that Pluto was not a giant like the other four outer solar system planets. For a long time, it was thought that the mass of Pluto was similar to that of Earth, so that it was classed as a fifth terrestrial planet, somehow misplaced in the far outer reaches of the solar system. There were other anomalies, however, as Pluto's orbit was more eccentric and inclined to the plane of our solar system than that of any other planet. Only after the discovery of its moon Charon in 1978 could the mass of Pluto be measured, and it turned out to be far less than the mass of Earth.
In addition to Charon, Pluto has four small moons. Subsequent observations of Charon showed that this moon is in a retrograde orbit and has a diameter of about 1200 kilometers, more than half the size of Pluto itself ( [link] ). This makes Charon the moon whose size is the largest fraction of its parent planet. We could even think of Pluto and Charon as a double world. Seen from Pluto, Charon would be as large as eight full moons on Earth.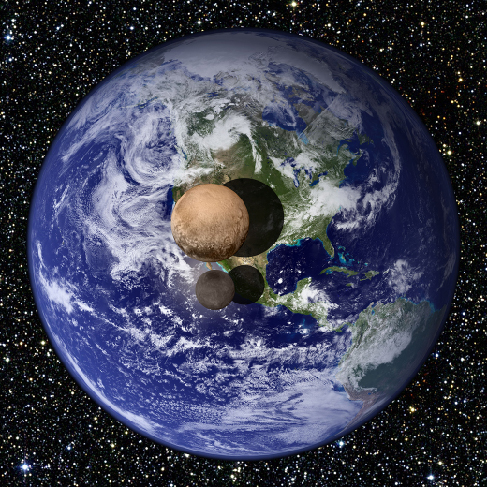 To many astronomers, Pluto seemed like the odd cousin that everyone hopes will not show up at the next family reunion. Neither its path around the Sun nor its size resembles either the giant planets or the terrestrial planets. In the 1990s, astronomers began to discover additional small objects in the far outer solar system, showing that Pluto was not unique. We will discuss these trans-neptunian objects later with other small bodies, in the chapter on Comets and Asteroids: Debris of the Solar System . One of them (called Eris ) is nearly the same size as Pluto, and another ( Makemake ) is substantially smaller. It became clear to astronomers that Pluto was so different from the other planets that it needed a new classification. Therefore, it was called a dwarf planet , meaning a planet much smaller than the terrestrial planets. We now know of many small objects in the vicinity of Pluto and we have classified several as dwarf planet s.
A similar history was associated with the discovery of the asteroids . When the first asteroid ( Ceres ) was discovered at the beginning of the nineteenth century, it was hailed as a new planet. In the following years, however, other objects were found with similar orbits to Ceres. Astronomers decided that these should not all be considered planets, so they invented a new class of objects, called minor planets or asteroids. Today, Ceres is also called a dwarf planet. Both minor planets and dwarf planets are part of a whole belt or zones of similar objects (as we will discuss in Comets and Asteroids: Debris of the Solar System ).
So, is Pluto a planet? Our answer is yes, but it is a dwarf planet , clearly not in the same league with the eight major planets (four giants and four terrestrials). While some people were upset when Pluto was reclassified, we might point out that a dwarf tree is still a type of tree and (as we shall see) a dwarf galaxy is still a type of galaxy.