The surface of Callisto is covered with impact craters, like the lunar highlands. The survival of these craters tells us that an icy object can retain impact craters on its surface. Callisto is unique among the planet-sized objects of the solar system in the apparent absence of interior forces to drive geological change. You might say that this moon was stillborn, and it has remained geologically dead for more than 4 billion years ( [link] ).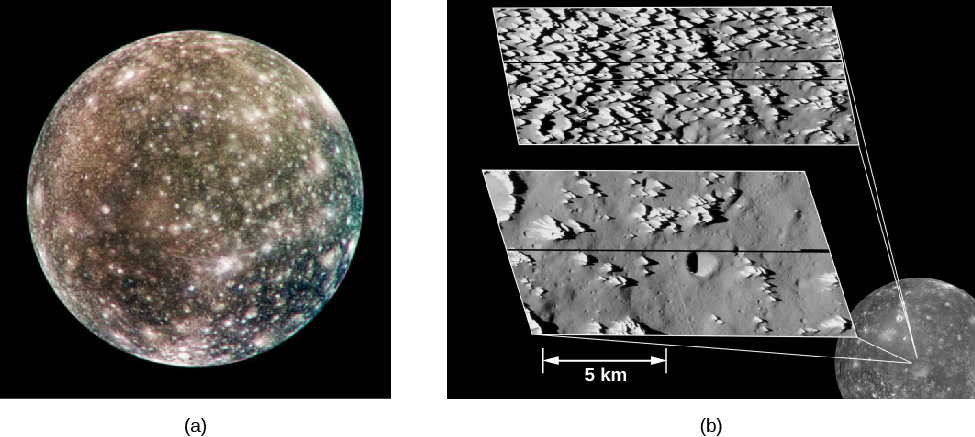 In thinking about ice so far from the Sun, we must take care not to judge its behavior from the much warmer ice we know and love on Earth. At the temperatures of the outer solar system, ice on the surface is nearly as hard as rock, and it behaves similarly. Ice on Callisto does not deform or flow like ice in glaciers on Earth.
Ganymede, the largest moon
Ganymede , the largest moon in the solar system, also shows a great deal of cratering ( [link] ). Recall from Other Worlds: An Introduction to the Solar System ) that we can use crater counts on solid worlds to estimate the age of the surface. The more craters, the longer the surface has been exposed to battering from space, and the older it must therefore be. About one-quarter of Ganymede's surface seems to be as old and heavily cratered as that of Callisto; the rest formed more recently, as we can tell by the sparse covering of impact craters as well as the relative freshness of those craters. If we judge from crater counts, this fresher terrain on Ganymede is somewhat younger than the lunar maria or the martian volcanic plains, perhaps 2 to 3 billion years old.
The differences between Ganymede and Callisto are more than skin deep. Ganymede is a differentiated world, like the terrestrial planets. Measurements of its gravity field tell us that the rock sank to form a core about the size of our Moon, with a mantle and crust of ice "floating" above it. In addition, the Galileo spacecraft discovered that Ganymede has a magnetic field, the sure signature of a partially molten interior. There is very likely liquid water trapped within the interior. Thus, Ganymede is not a dead world but rather a place of intermittent geological activity powered by an internal heat source. Some surface features could be as young as the surface of Venus (a few hundred million years).