By the end of this section, you will be able to:
Compare and contrast the three tunics that make up the walls of most blood vessels
Distinguish between elastic arteries, muscular arteries, and arterioles on the basis of structure, location, and function
Describe the basic structure of a capillary bed, from the supplying metarteriole to the venule into which it drains
Explain the structure and function of venous valves in the large veins of the extremities
Blood is carried through the body via blood vessels. An artery is a blood vessel that carries blood away from the heart, where it branches into ever-smaller vessels. Eventually, the smallest arteries, vessels called arterioles, further branch into tiny capillaries, where nutrients and wastes are exchanged, and then combine with other vessels that exit capillaries to form venules, small blood vessels that carry blood to a vein, a larger blood vessel that returns blood to the heart.
Arteries and veins transport blood in two distinct circuits: the systemic circuit and the pulmonary circuit ( [link] ). Systemic arteries provide blood rich in oxygen to the body's tissues. The blood returned to the heart through systemic veins has less oxygen, since much of the oxygen carried by the arteries has been delivered to the cells. In contrast, in the pulmonary circuit, arteries carry blood low in oxygen exclusively to the lungs for gas exchange. Pulmonary veins then return freshly oxygenated blood from the lungs to the heart to be pumped back out into systemic circulation. Although arteries and veins differ structurally and functionally, they share certain features.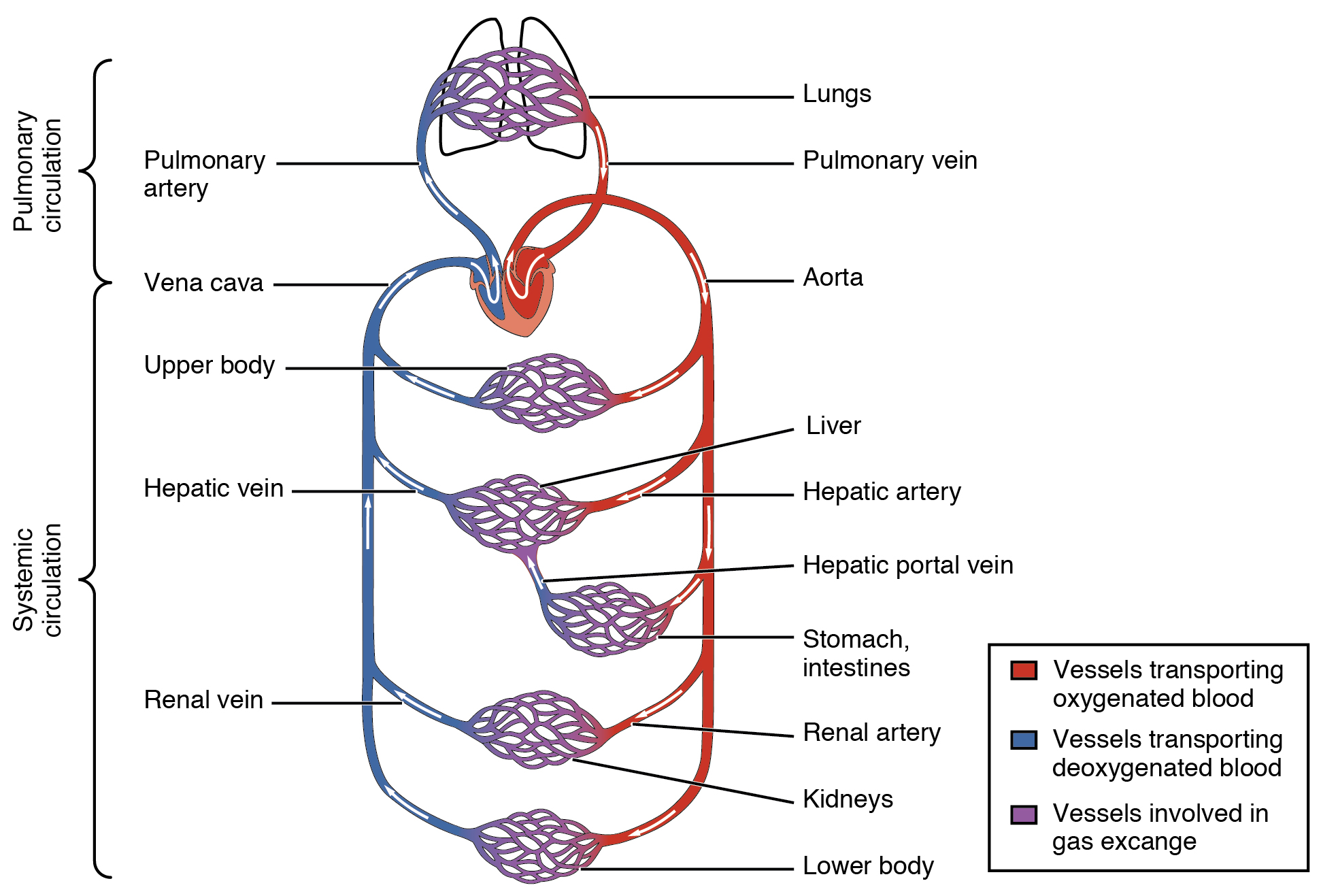 Shared structures
Different types of blood vessels vary slightly in their structures, but they share the same general features. Arteries and arterioles have thicker walls than veins and venules because they are closer to the heart and receive blood that is surging at a far greater pressure ( [link] ). Each type of vessel has a lumen —a hollow passageway through which blood flows. Arteries have smaller lumens than veins, a characteristic that helps to maintain the pressure of blood moving through the system. Together, their thicker walls and smaller diameters give arterial lumens a more rounded appearance in cross section than the lumens of veins.