Once the target cell receives the hormone signal, it can respond in a variety of ways. The response may include the stimulation of protein synthesis, activation or deactivation of enzymes, alteration in the permeability of the cell membrane, altered rates of mitosis and cell growth, and stimulation of the secretion of products. Moreover, a single hormone may be capable of inducing different responses in a given cell.
Pathways involving intracellular hormone receptors
Intracellular hormone receptors are located inside the cell. Hormones that bind to this type of receptor must be able to cross the cell membrane. Steroid hormones are derived from cholesterol and therefore can readily diffuse through the lipid bilayer of the cell membrane to reach the intracellular receptor ( [link] ). Thyroid hormones, which contain benzene rings studded with iodine, are also lipid-soluble and can enter the cell.
The location of steroid and thyroid hormone binding differs slightly: a steroid hormone may bind to its receptor within the cytosol or within the nucleus. In either case, this binding generates a hormone-receptor complex that moves toward the chromatin in the cell nucleus and binds to a particular segment of the cell's DNA. In contrast, thyroid hormones bind to receptors already bound to DNA. For both steroid and thyroid hormones, binding of the hormone-receptor complex with DNA triggers transcription of a target gene to mRNA, which moves to the cytosol and directs protein synthesis by ribosomes.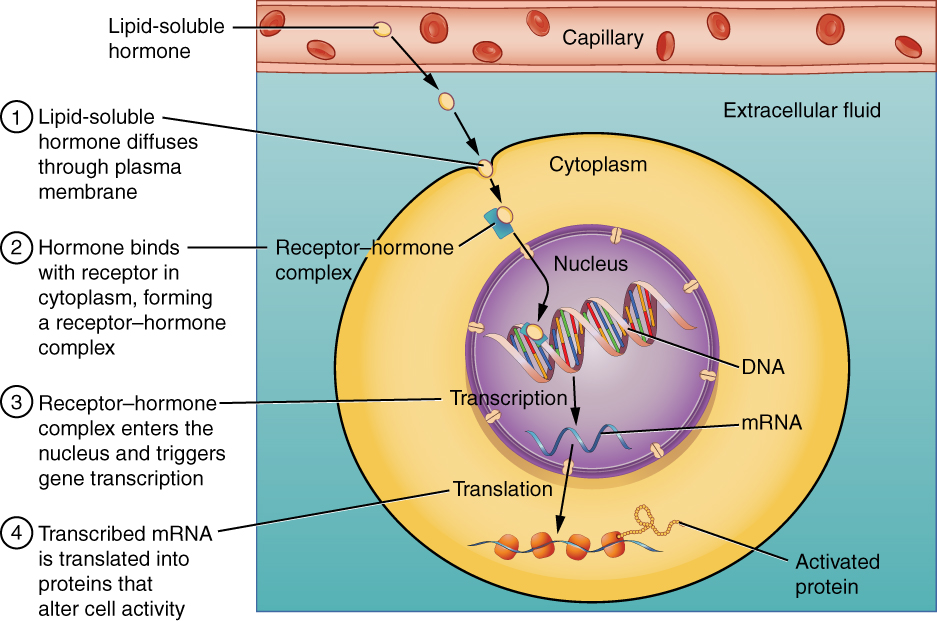 Pathways involving cell membrane hormone receptors
Hydrophilic, or water-soluble, hormones are unable to diffuse through the lipid bilayer of the cell membrane and must therefore pass on their message to a receptor located at the surface of the cell. Except for thyroid hormones, which are lipid-soluble, all amino acid–derived hormones bind to cell membrane receptors that are located, at least in part, on the extracellular surface of the cell membrane. Therefore, they do not directly affect the transcription of target genes, but instead initiate a signaling cascade that is carried out by a molecule called a second messenger . In this case, the hormone is called a first messenger .
The second messenger used by most hormones is cyclic adenosine monophosphate (cAMP) . In the cAMP second messenger system, a water-soluble hormone binds to its receptor in the cell membrane (Step 1 in [link] ). This receptor is associated with an intracellular component called a G protein , and binding of the hormone activates the G-protein component (Step 2). The activated G protein in turn activates an enzyme called adenylyl cyclase , also known as adenylate cyclase (Step 3), which converts adenosine triphosphate (ATP) to cAMP (Step 4). As the second messenger, cAMP activates a type of enzyme called a protein kinase that is present in the cytosol (Step 5). Activated protein kinases initiate a phosphorylation cascade , in which multiple protein kinases phosphorylate (add a phosphate group to) numerous and various cellular proteins, including other enzymes (Step 6).