The blood exiting the systemic capillaries is lower in oxygen concentration than when it entered. The capillaries will ultimately unite to form venules, joining to form ever-larger veins, eventually flowing into the two major systemic veins, the superior vena cava and the inferior vena cava , which return blood to the right atrium. The blood in the superior and inferior venae cavae flows into the right atrium, which pumps blood into the right ventricle. This process of blood circulation continues as long as the individual remains alive. Understanding the flow of blood through the pulmonary and systemic circuits is critical to all health professions ( [link] ).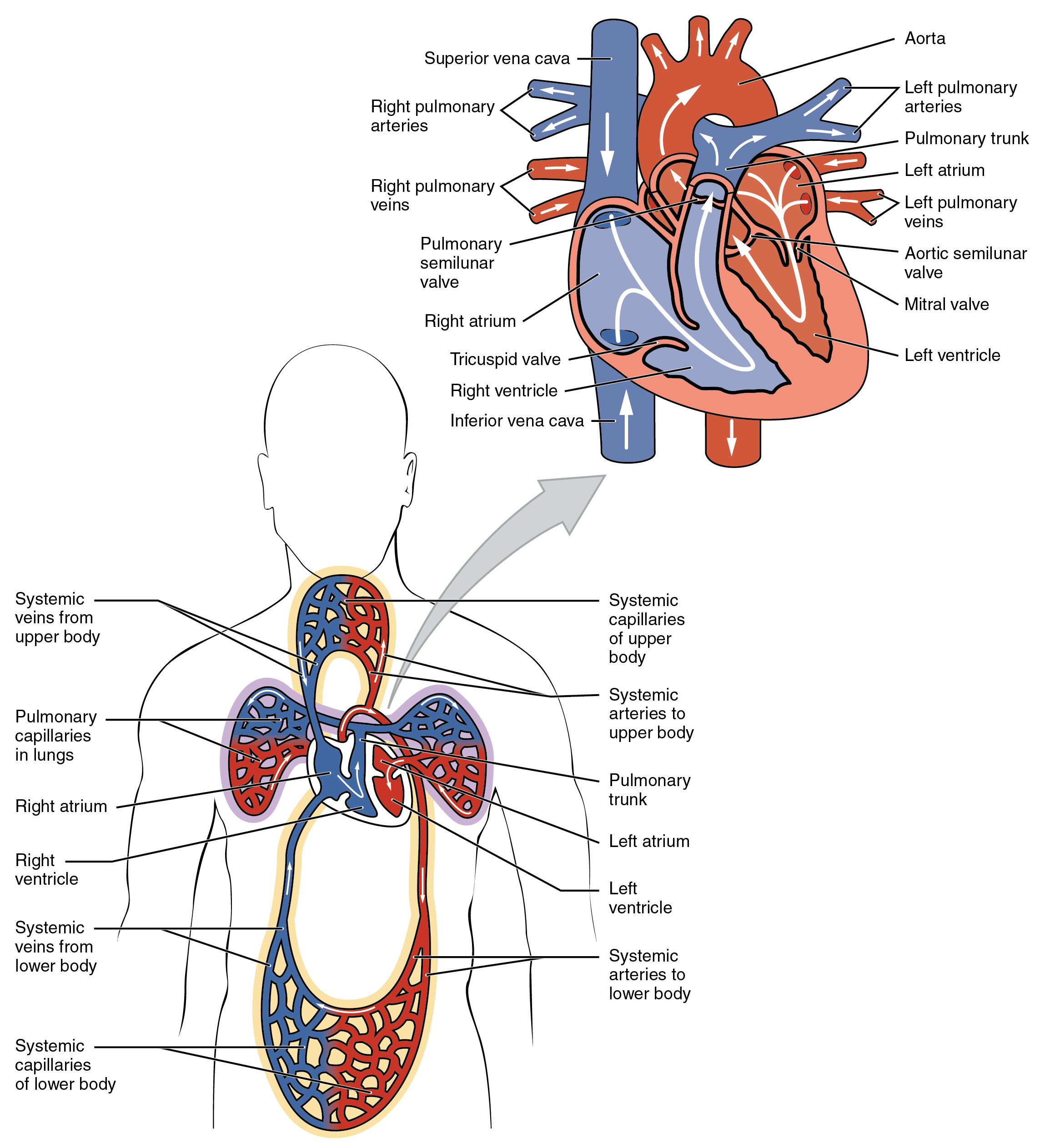 Membranes, surface features, and layers
Our exploration of more in-depth heart structures begins by examining the membrane that surrounds the heart, the prominent surface features of the heart, and the layers that form the wall of the heart. Each of these components plays its own unique role in terms of function.
Membranes
The membrane that directly surrounds the heart and defines the pericardial cavity is called the pericardium or pericardial sac . It also surrounds the "roots" of the major vessels, or the areas of closest proximity to the heart. The pericardium, which literally translates as "around the heart," consists of two distinct sublayers: the sturdy outer fibrous pericardium and the inner serous pericardium. The fibrous pericardium is made of tough, dense connective tissue that protects the heart and maintains its position in the thorax. The more delicate serous pericardium consists of two layers: the parietal pericardium, which is fused to the fibrous pericardium, and an inner visceral pericardium, or epicardium , which is fused to the heart and is part of the heart wall. The pericardial cavity, filled with lubricating serous fluid, lies between the epicardium and the pericardium.
In most organs within the body, visceral serous membranes such as the epicardium are microscopic. However, in the case of the heart, it is not a microscopic layer but rather a macroscopic layer, consisting of a simple squamous epithelium called a mesothelium , reinforced with loose, irregular, or areolar connective tissue that attaches to the pericardium. This mesothelium secretes the lubricating serous fluid that fills the pericardial cavity and reduces friction as the heart contracts. [link] illustrates the pericardial membrane and the layers of the heart.