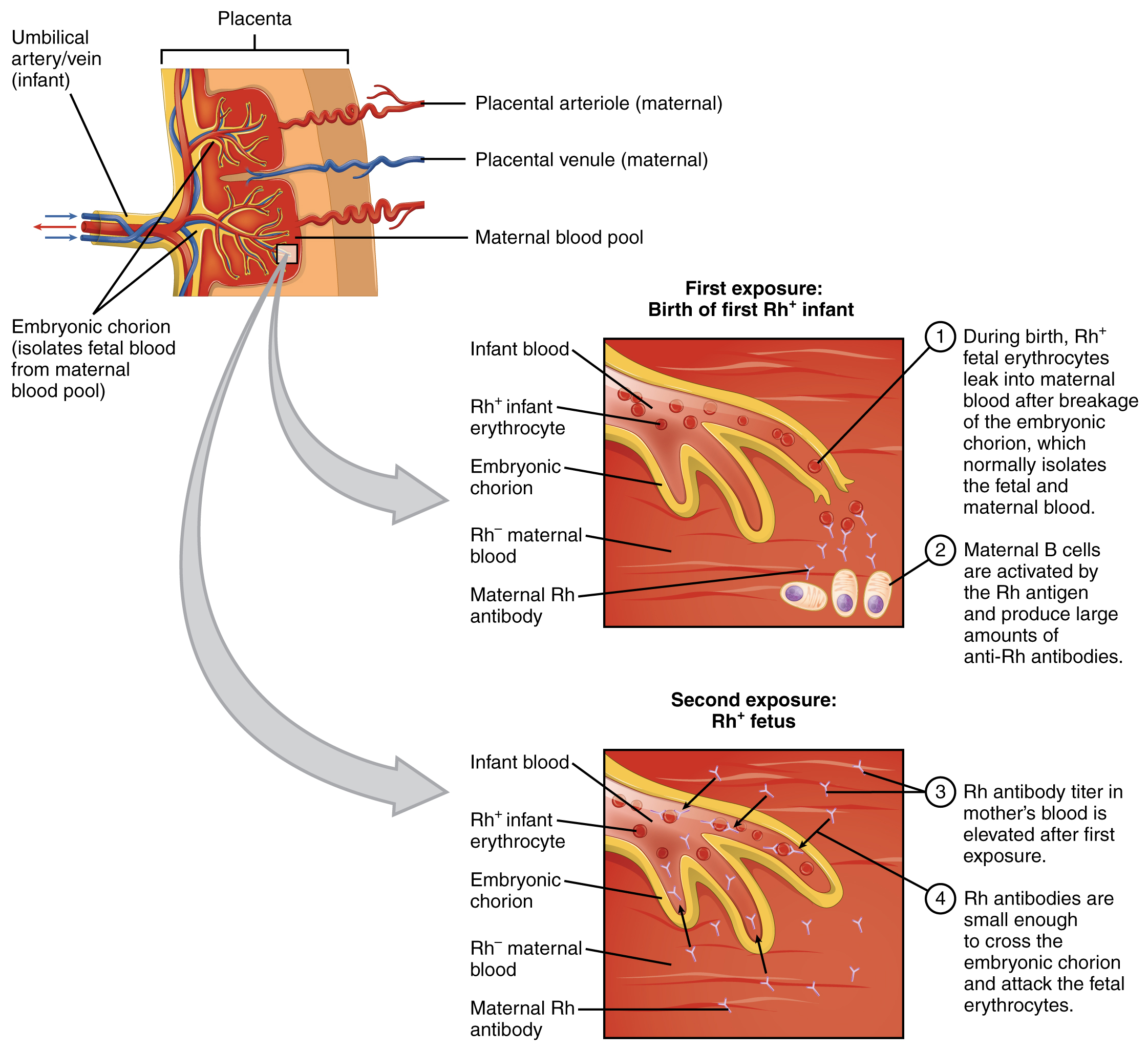 A drug known as RhoGAM, short for Rh immune globulin, can temporarily prevent the development of Rh antibodies in the Rh − mother, thereby averting this potentially serious disease for the fetus. RhoGAM antibodies destroy any fetal Rh + erythrocytes that may cross the placental barrier. RhoGAM is normally administered to Rh − mothers during weeks 26−28 of pregnancy and within 72 hours following birth. It has proven remarkably effective in decreasing the incidence of HDN. Earlier we noted that the incidence of HDN in an Rh + subsequent pregnancy to an Rh − mother is about 13–14 percent without preventive treatment. Since the introduction of RhoGAM in 1968, the incidence has dropped to about 0.1 percent in the United States.
Determining abo blood types
Clinicians are able to determine a patient's blood type quickly and easily using commercially prepared antibodies. An unknown blood sample is allocated into separate wells. Into one well a small amount of anti-A antibody is added, and to another a small amount of anti-B antibody. If the antigen is present, the antibodies will cause visible agglutination of the cells ( [link] ). The blood should also be tested for Rh antibodies.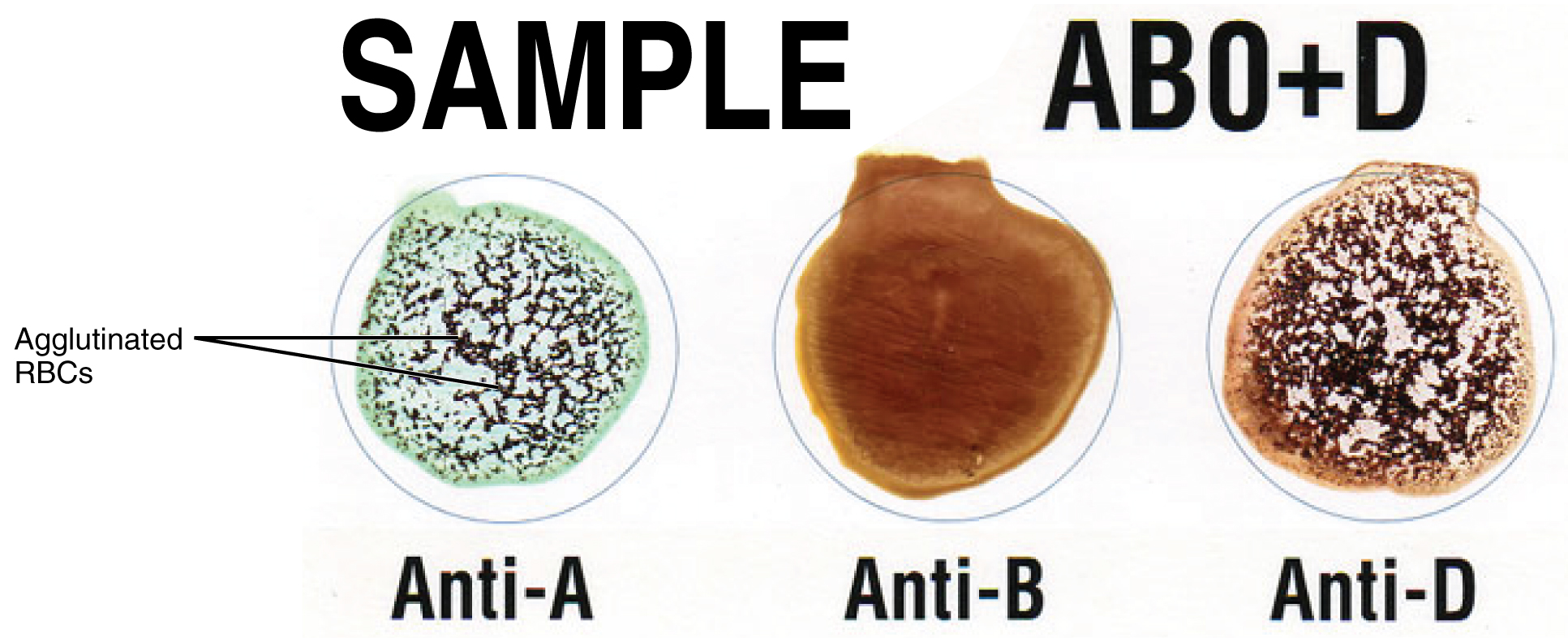 Abo transfusion protocols
To avoid transfusion reactions, it is best to transfuse only matching blood types; that is, a type B + recipient should ideally receive blood only from a type B + donor and so on. That said, in emergency situations, when acute hemorrhage threatens the patient's life, there may not be time for cross matching to identify blood type. In these cases, blood from a universal donor —an individual with type O − blood—may be transfused. Recall that type O erythrocytes do not display A or B antigens. Thus, anti-A or anti-B antibodies that might be circulating in the patient's blood plasma will not encounter any erythrocyte surface antigens on the donated blood and therefore will not be provoked into a response. One problem with this designation of universal donor is if the O − individual had prior exposure to Rh antigen, Rh antibodies may be present in the donated blood. Also, introducing type O blood into an individual with type A, B, or AB blood will nevertheless introduce antibodies against both A and B antigens, as these are always circulating in the type O blood plasma. This may cause problems for the recipient, but because the volume of blood transfused is much lower than the volume of the patient's own blood, the adverse effects of the relatively few infused plasma antibodies are typically limited. Rh factor also plays a role. If Rh − individuals receiving blood have had prior exposure to Rh antigen, antibodies for this antigen may be present in the blood and trigger agglutination to some degree. Although it is always preferable to cross match a patient's blood before transfusing, in a true life-threatening emergency situation, this is not always possible, and these procedures may be implemented.
A patient with blood type AB + is known as the universal recipient . This patient can theoretically receive any type of blood, because the patient's own blood—having both A and B antigens on the erythrocyte surface—does not produce anti-A or anti-B antibodies. In addition, an Rh + patient can receive both Rh + and Rh − blood. However, keep in mind that the donor's blood will contain circulating antibodies, again with possible negative implications. [link] summarizes the blood types and compatibilities.
At the scene of multiple-vehicle accidents, military engagements, and natural or human-caused disasters, many victims may suffer simultaneously from acute hemorrhage, yet type O blood may not be immediately available. In these circumstances, medics may at least try to replace some of the volume of blood that has been lost. This is done by intravenous administration of a saline solution that provides fluids and electrolytes in proportions equivalent to those of normal blood plasma. Research is ongoing to develop a safe and effective artificial blood that would carry out the oxygen-carrying function of blood without the RBCs, enabling transfusions in the field without concern for incompatibility. These blood substitutes normally contain hemoglobin- as well as perfluorocarbon-based oxygen carriers.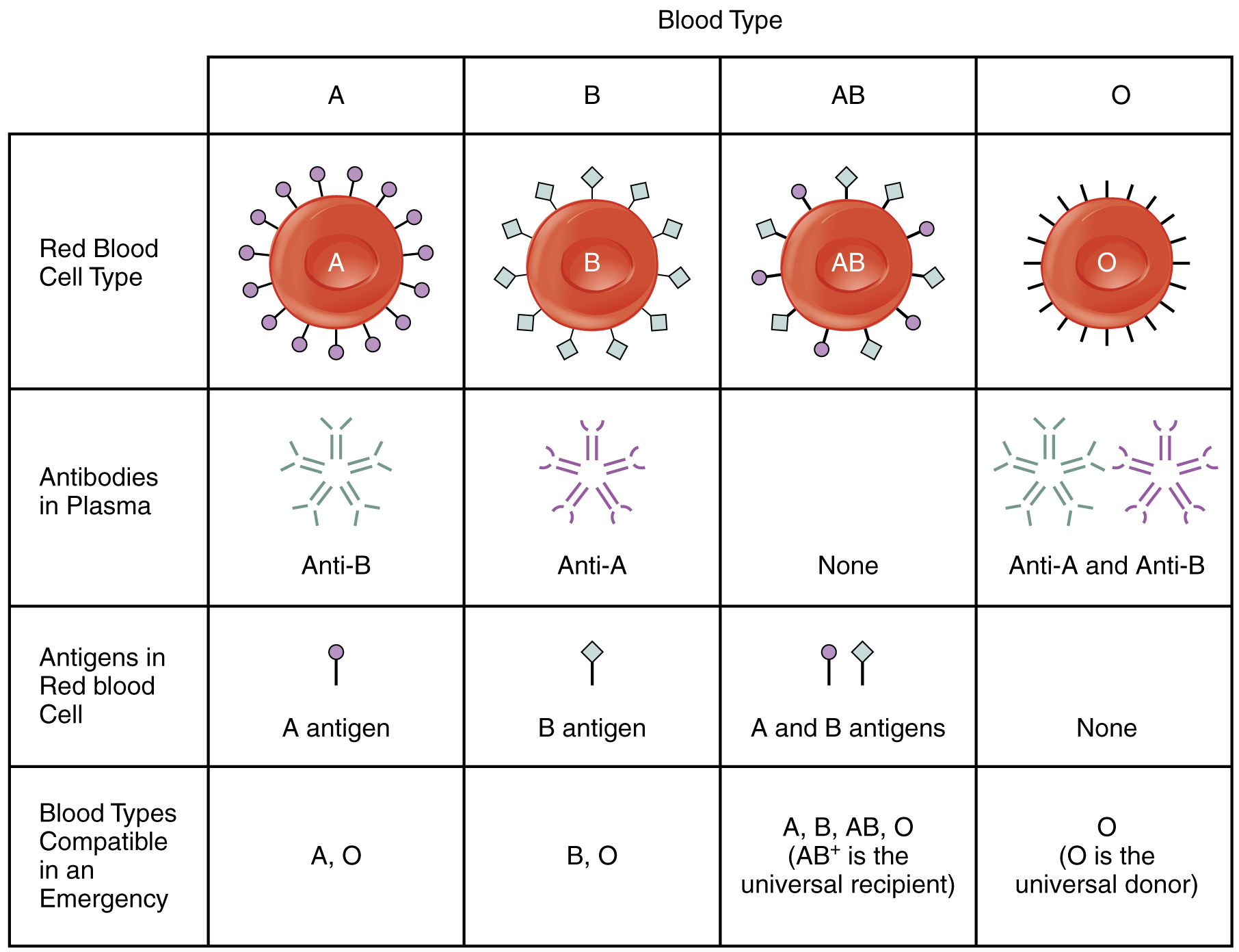 Chapter review
Antigens are nonself molecules, usually large proteins, which provoke an immune response. In transfusion reactions, antibodies attach to antigens on the surfaces of erythrocytes and cause agglutination and hemolysis. ABO blood group antigens are designated A and B. People with type A blood have A antigens on their erythrocytes, whereas those with type B blood have B antigens. Those with AB blood have both A and B antigens, and those with type O blood have neither A nor B antigens. The blood plasma contains preformed antibodies against the antigens not present on a person's erythrocytes.
A second group of blood antigens is the Rh group, the most important of which is Rh D. People with Rh − blood do not have this antigen on their erythrocytes, whereas those who are Rh + do. About 85 percent of Americans are Rh + . When a woman who is Rh − becomes pregnant with an Rh + fetus, her body may begin to produce anti-Rh antibodies. If she subsequently becomes pregnant with a second Rh + fetus and is not treated preventively with RhoGAM, the fetus will be at risk for an antigen-antibody reaction, including agglutination and hemolysis. This is known as hemolytic disease of the newborn.
Cross matching to determine blood type is necessary before transfusing blood, unless the patient is experiencing hemorrhage that is an immediate threat to life, in which case type O − blood may be transfused.
References
American Red Cross (US). Blood types [Internet]. c2013 [cited 2013 Apr 3]. Available from: (External Link) 2013