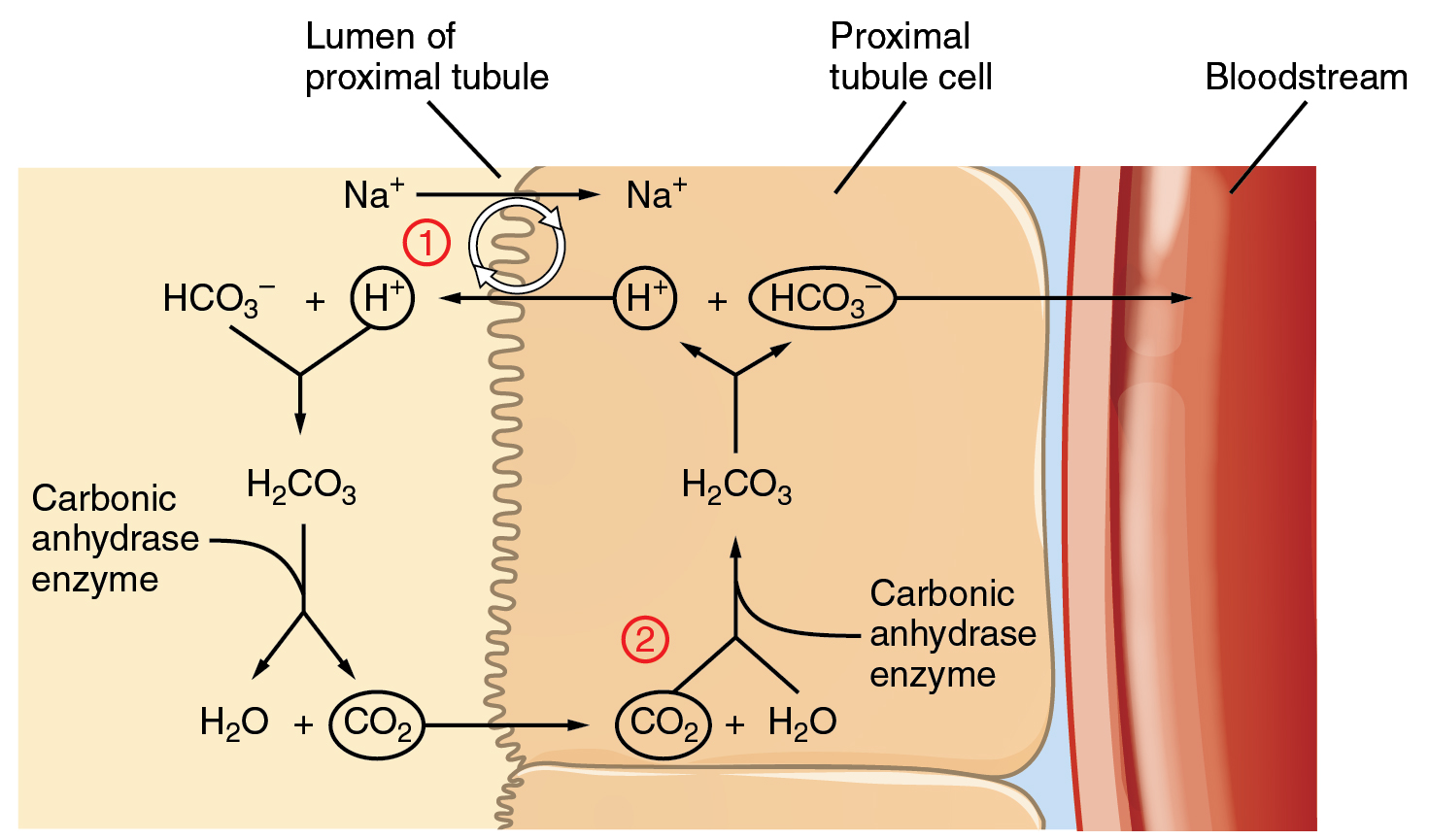 It is also possible that salts in the filtrate, such as sulfates, phosphates, or ammonia, will capture hydrogen ions. If this occurs, the hydrogen ions will not be available to combine with bicarbonate ions and produce CO 2 . In such cases, bicarbonate ions are not conserved from the filtrate to the blood, which will also contribute to a pH imbalance and acidosis.
The hydrogen ions also compete with potassium to exchange with sodium in the renal tubules. If more potassium is present than normal, potassium, rather than the hydrogen ions, will be exchanged, and increased potassium enters the filtrate. When this occurs, fewer hydrogen ions in the filtrate participate in the conversion of bicarbonate into CO 2 and less bicarbonate is conserved. If there is less potassium, more hydrogen ions enter the filtrate to be exchanged with sodium and more bicarbonate is conserved.
Chloride ions are important in neutralizing positive ion charges in the body. If chloride is lost, the body uses bicarbonate ions in place of the lost chloride ions. Thus, lost chloride results in an increased reabsorption of bicarbonate by the renal system.
Disorders of the…
Acid-base balance: ketoacidosis
Diabetic acidosis, or ketoacidosis, occurs most frequently in people with poorly controlled diabetes mellitus. When certain tissues in the body cannot get adequate amounts of glucose, they depend on the breakdown of fatty acids for energy. When acetyl groups break off the fatty acid chains, the acetyl groups then non-enzymatically combine to form ketone bodies, acetoacetic acid, beta-hydroxybutyric acid, and acetone, all of which increase the acidity of the blood. In this condition, the brain isn't supplied with enough of its fuel—glucose—to produce all of the ATP it requires to function.
Ketoacidosis can be severe and, if not detected and treated properly, can lead to diabetic coma, which can be fatal. A common early symptom of ketoacidosis is deep, rapid breathing as the body attempts to drive off CO 2 and compensate for the acidosis. Another common symptom is fruity-smelling breath, due to the exhalation of acetone. Other symptoms include dry skin and mouth, a flushed face, nausea, vomiting, and stomach pain. Treatment for diabetic coma is ingestion or injection of sugar; its prevention is the proper daily administration of insulin.
A person who is diabetic and uses insulin can initiate ketoacidosis if a dose of insulin is missed. Among people with type 2 diabetes, those of Hispanic and African-American descent are more likely to go into ketoacidosis than those of other ethnic backgrounds, although the reason for this is unknown.
Chapter review
A variety of buffering systems exist in the body that helps maintain the pH of the blood and other fluids within a narrow range—between pH 7.35 and 7.45. A buffer is a substance that prevents a radical change in fluid pH by absorbing excess hydrogen or hydroxyl ions. Most commonly, the substance that absorbs the ion is either a weak acid, which takes up a hydroxyl ion (OH - ), or a weak base, which takes up a hydrogen ion (H + ). Several substances serve as buffers in the body, including cell and plasma proteins, hemoglobin, phosphates, bicarbonate ions, and carbonic acid. The bicarbonate buffer is the primary buffering system of the IF surrounding the cells in tissues throughout the body. The respiratory and renal systems also play major roles in acid-base homeostasis by removing CO 2 and hydrogen ions, respectively, from the body.