Atoms and subatomic particles
An atom is the smallest quantity of an element that retains the unique properties of that element. In other words, an atom of hydrogen is a unit of hydrogen—the smallest amount of hydrogen that can exist. As you might guess, atoms are almost unfathomably small. The period at the end of this sentence is millions of atoms wide.
Atomic structure and energy
Atoms are made up of even smaller subatomic particles, three types of which are important: the proton , neutron , and electron . The number of positively-charged protons and non-charged ("neutral") neutrons, gives mass to the atom, and the number of each in the nucleus of the atom determine the element. The number of negatively-charged electrons that "spin" around the nucleus at close to the speed of light equals the number of protons. An electron has about 1/2000th the mass of a proton or neutron.
[link] shows two models that can help you imagine the structure of an atom—in this case, helium (He). In the planetary model, helium's two electrons are shown circling the nucleus in a fixed orbit depicted as a ring. Although this model is helpful in visualizing atomic structure, in reality, electrons do not travel in fixed orbits, but whiz around the nucleus erratically in a so-called electron cloud.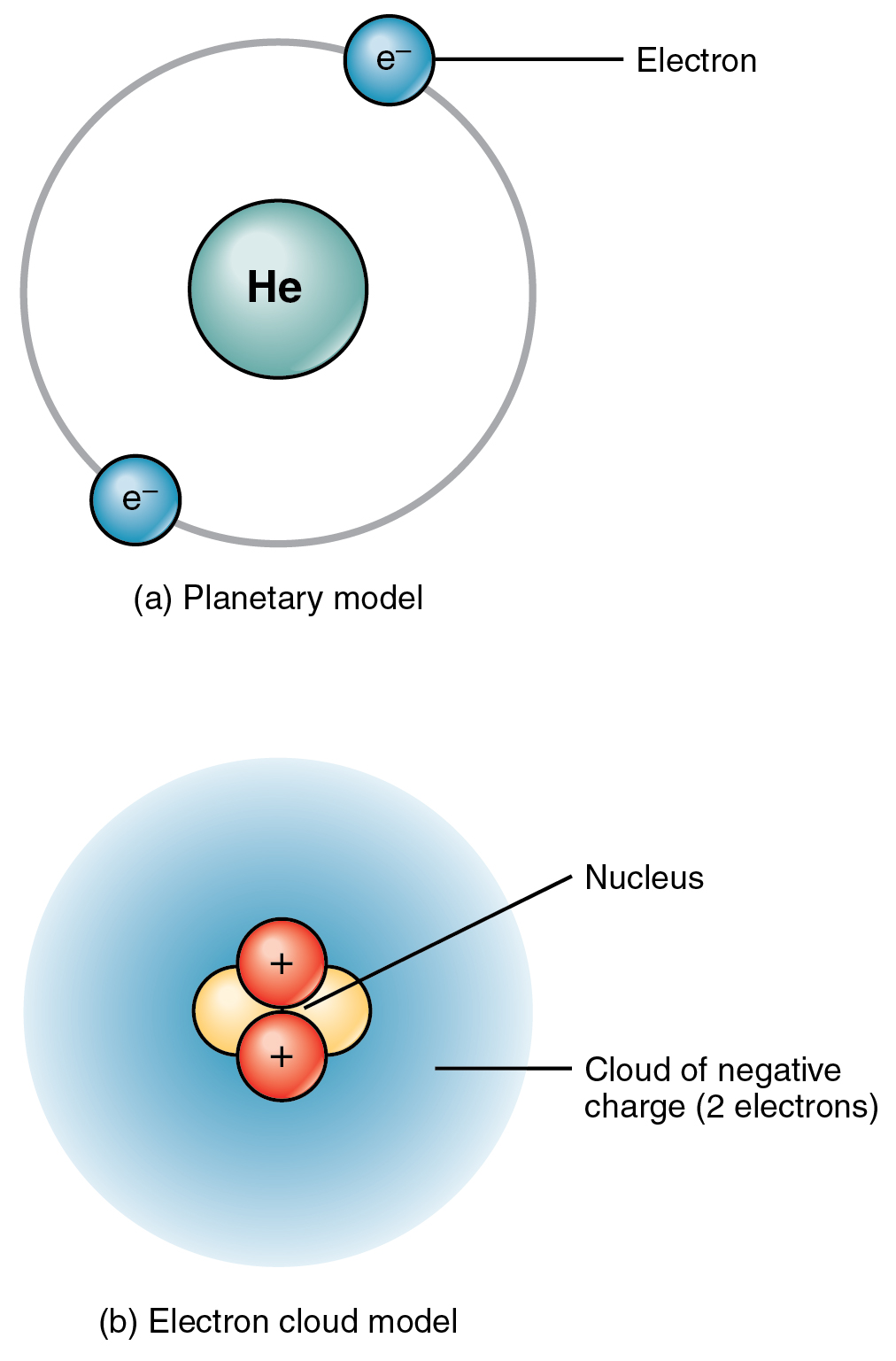 An atom's protons and electrons carry electrical charges. Protons, with their positive charge, are designated p + . Electrons, which have a negative charge, are designated e – . An atom's neutrons have no charge: they are electrically neutral. Just as a magnet sticks to a steel refrigerator because their opposite charges attract, the positively charged protons attract the negatively charged electrons. This mutual attraction gives the atom some structural stability. The attraction by the positively charged nucleus helps keep electrons from straying far. The number of protons and electrons within a neutral atom are equal, thus, the atom's overall charge is balanced.
Atomic number and mass number
An atom of carbon is unique to carbon, but a proton of carbon is not. One proton is the same as another, whether it is found in an atom of carbon, sodium (Na), or iron (Fe). The same is true for neutrons and electrons. So, what gives an element its distinctive properties—what makes carbon so different from sodium or iron? The answer is the unique quantity of protons each contains. Carbon by definition is an element whose atoms contain six protons. No other element has exactly six protons in its atoms. Moreover, all atoms of carbon, whether found in your liver or in a lump of coal, contain six protons. Thus, the atomic number , which is the number of protons in the nucleus of the atom, identifies the element. Because an atom usually has the same number of electrons as protons, the atomic number identifies the usual number of electrons as well.