Although you might expect blood flow through a capillary bed to be smooth, in reality, it moves with an irregular, pulsating flow. This pattern is called vasomotion and is regulated by chemical signals that are triggered in response to changes in internal conditions, such as oxygen, carbon dioxide, hydrogen ion, and lactic acid levels. For example, during strenuous exercise when oxygen levels decrease and carbon dioxide, hydrogen ion, and lactic acid levels all increase, the capillary beds in skeletal muscle are open, as they would be in the digestive system when nutrients are present in the digestive tract. During sleep or rest periods, vessels in both areas are largely closed; they open only occasionally to allow oxygen and nutrient supplies to travel to the tissues to maintain basic life processes.
Venules
A venule is an extremely small vein, generally 8–100 micrometers in diameter. Postcapillary venules join multiple capillaries exiting from a capillary bed. Multiple venules join to form veins. The walls of venules consist of endothelium, a thin middle layer with a few muscle cells and elastic fibers, plus an outer layer of connective tissue fibers that constitute a very thin tunica externa ( [link] ). Venules as well as capillaries are the primary sites of emigration or diapedesis, in which the white blood cells adhere to the endothelial lining of the vessels and then squeeze through adjacent cells to enter the tissue fluid.
Veins
A vein is a blood vessel that conducts blood toward the heart. Compared to arteries, veins are thin-walled vessels with large and irregular lumens (see [link] ). Because they are low-pressure vessels, larger veins are commonly equipped with valves that promote the unidirectional flow of blood toward the heart and prevent backflow toward the capillaries caused by the inherent low blood pressure in veins as well as the pull of gravity. [link] compares the features of arteries and veins.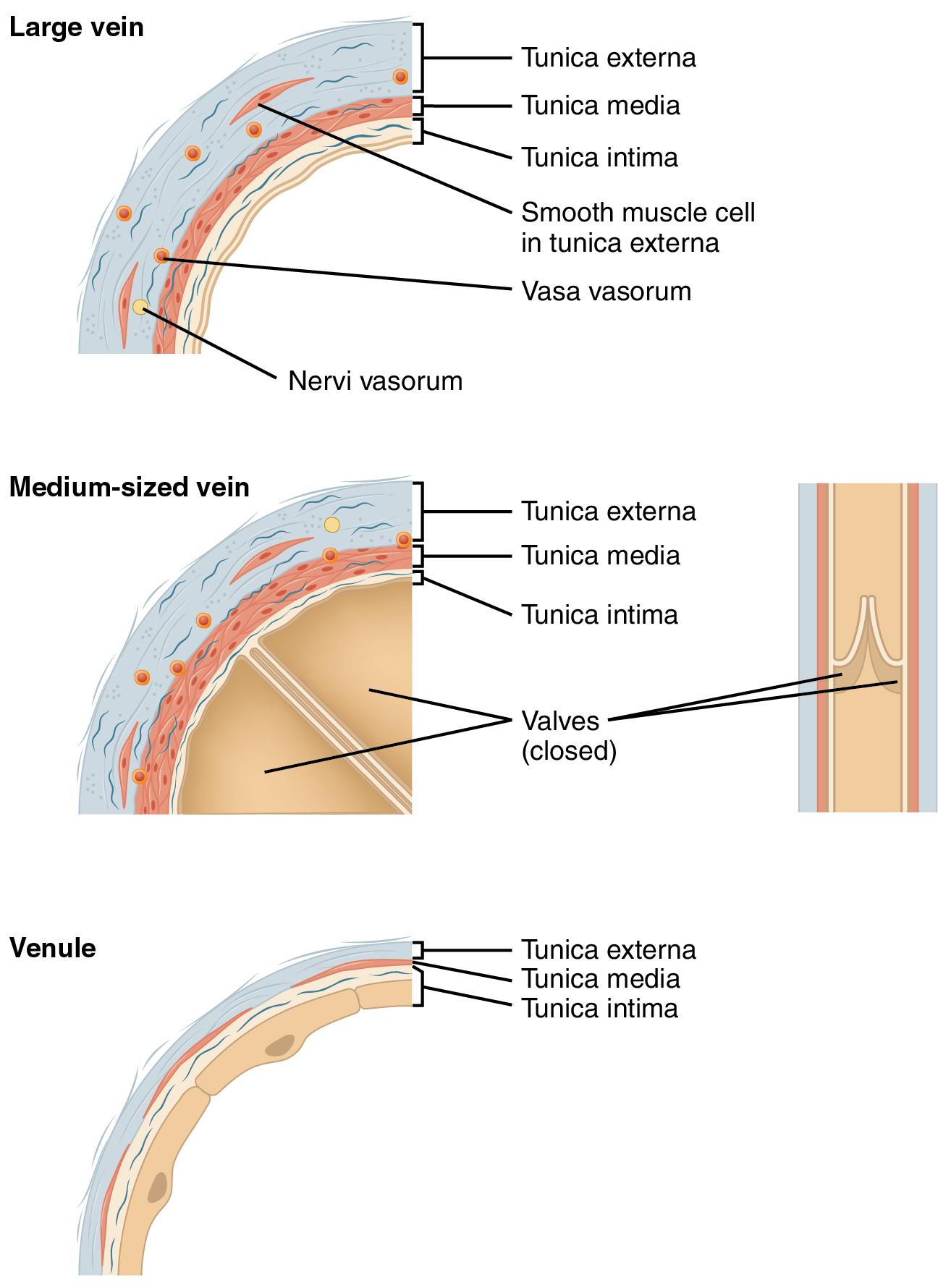 Comparison of Arteries and Veins
Arteries
Veins
Direction of blood flow
Conducts blood away from the heart
Conducts blood toward the heart
General appearance
Rounded
Irregular, often collapsed
Pressure
High
Low
Wall thickness
Thick
Thin
Relative oxygen concentration
Higher in systemic arteries
Lower in pulmonary arteries
Lower in systemic veins
Higher in pulmonary veins
Valves
Not present
Present most commonly in limbs and in veins inferior to the heart
Disorders of the…
Cardiovascular system: edema and varicose veins
Despite the presence of valves and the contributions of other anatomical and physiological adaptations we will cover shortly, over the course of a day, some blood will inevitably pool, especially in the lower limbs, due to the pull of gravity. Any blood that accumulates in a vein will increase the pressure within it, which can then be reflected back into the smaller veins, venules, and eventually even the capillaries. Increased pressure will promote the flow of fluids out of the capillaries and into the interstitial fluid. The presence of excess tissue fluid around the cells leads to a condition called edema.
Most people experience a daily accumulation of tissue fluid, especially if they spend much of their work life on their feet (like most health professionals). However, clinical edema goes beyond normal swelling and requires medical treatment. Edema has many potential causes, including hypertension and heart failure, severe protein deficiency, renal failure, and many others. In order to treat edema, which is a sign rather than a discrete disorder, the underlying cause must be diagnosed and alleviated.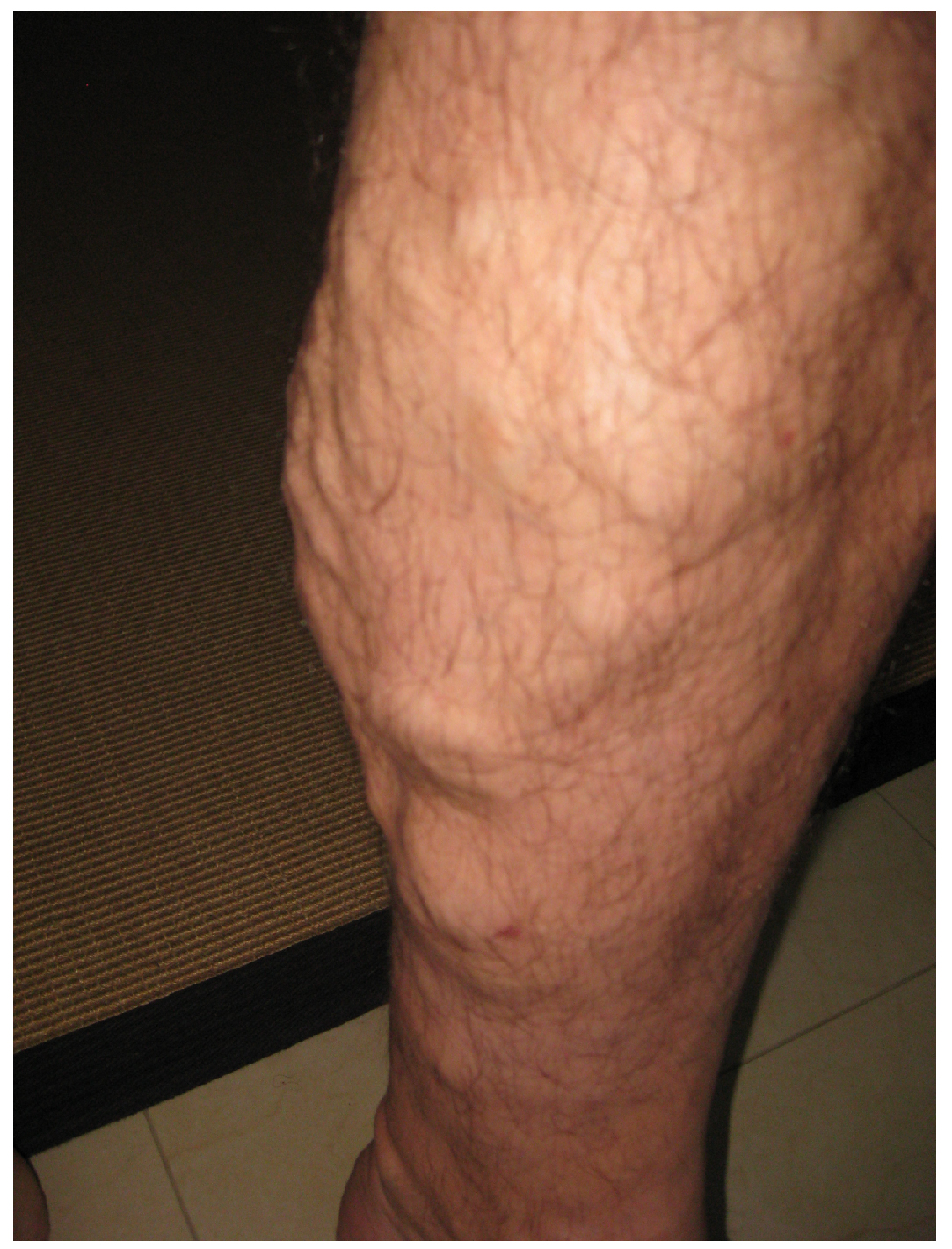 Edema may be accompanied by varicose veins, especially in the superficial veins of the legs ( [link] ). This disorder arises when defective valves allow blood to accumulate within the veins, causing them to distend, twist, and become visible on the surface of the integument. Varicose veins may occur in both sexes, but are more common in women and are often related to pregnancy. More than simple cosmetic blemishes, varicose veins are often painful and sometimes itchy or throbbing. Without treatment, they tend to grow worse over time. The use of support hose, as well as elevating the feet and legs whenever possible, may be helpful in alleviating this condition. Laser surgery and interventional radiologic procedures can reduce the size and severity of varicose veins. Severe cases may require conventional surgery to remove the damaged vessels. As there are typically redundant circulation patterns, that is, anastomoses, for the smaller and more superficial veins, removal does not typically impair the circulation. There is evidence that patients with varicose veins suffer a greater risk of developing a thrombus or clot.