Many axons are wrapped by an insulating substance called myelin, which is actually made from glial cells. Myelin acts as insulation much like the plastic or rubber that is used to insulate electrical wires. A key difference between myelin and the insulation on a wire is that there are gaps in the myelin covering of an axon. Each gap is called a node of Ranvier and is important to the way that electrical signals travel down the axon. The length of the axon between each gap, which is wrapped in myelin, is referred to as an axon segment . At the end of the axon is the axon terminal , where there are usually several branches extending toward the target cell, each of which ends in an enlargement called a synaptic end bulb . These bulbs are what make the connection with the target cell at the synapse.
Visit this site to learn about how nervous tissue is composed of neurons and glial cells. Neurons are dynamic cells with the ability to make a vast number of connections, to respond incredibly quickly to stimuli, and to initiate movements on the basis of those stimuli. They are the focus of intense research because failures in physiology can lead to devastating illnesses. Why are neurons only found in animals? Based on what this article says about neuron function, why wouldn't they be helpful for plants or microorganisms?
Types of neurons
There are many neurons in the nervous system—a number in the trillions. And there are many different types of neurons. They can be classified by many different criteria. The first way to classify them is by the number of processes attached to the cell body. Using the standard model of neurons, one of these processes is the axon, and the rest are dendrites. Because information flows through the neuron from dendrites or cell bodies toward the axon, these names are based on the neuron's polarity ( [link] ).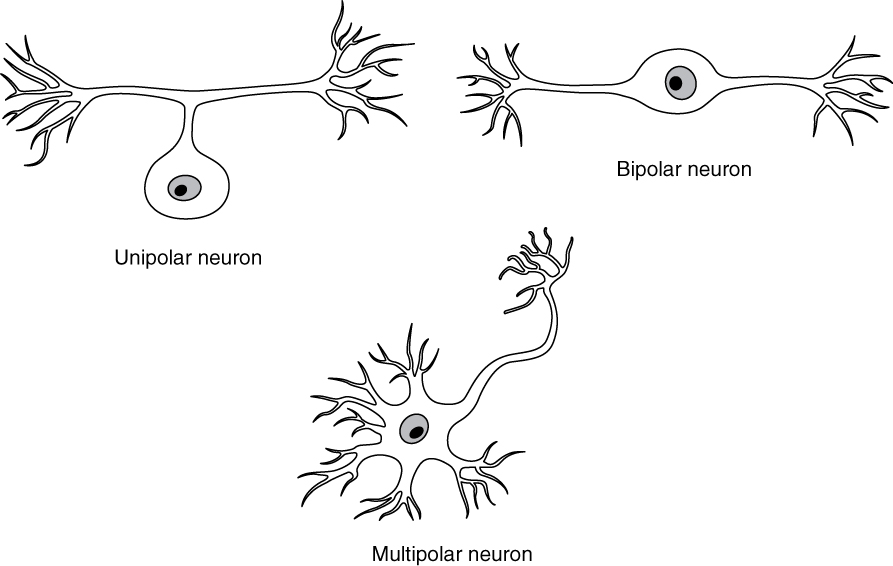 Unipolar cells have only one process emerging from the cell. True unipolar cells are only found in invertebrate animals, so the unipolar cells in humans are more appropriately called "pseudo-unipolar" cells. Invertebrate unipolar cells do not have dendrites. Human unipolar cells have an axon that emerges from the cell body, but it splits so that the axon can extend along a very long distance. At one end of the axon are dendrites, and at the other end, the axon forms synaptic connections with a target. Unipolar cells are exclusively sensory neurons and have two unique characteristics. First, their dendrites are receiving sensory information, sometimes directly from the stimulus itself. Secondly, the cell bodies of unipolar neurons are always found in ganglia. Sensory reception is a peripheral function (those dendrites are in the periphery, perhaps in the skin) so the cell body is in the periphery, though closer to the CNS in a ganglion. The axon projects from the dendrite endings, past the cell body in a ganglion, and into the central nervous system.