Summation
All types of graded potentials will result in small changes of either depolarization or hyperpolarization in the voltage of a membrane. These changes can lead to the neuron reaching threshold if the changes add together, or summate . The combined effects of different types of graded potentials are illustrated in [link] . If the total change in voltage in the membrane is a positive 15 mV, meaning that the membrane depolarizes from -70 mV to -55 mV, then the graded potentials will result in the membrane reaching threshold.
For receptor potentials, threshold is not a factor because the change in membrane potential for receptor cells directly causes neurotransmitter release. However, generator potentials can initiate action potentials in the sensory neuron axon, and postsynaptic potentials can initiate an action potential in the axon of other neurons. Graded potentials summate at a specific location at the beginning of the axon to initiate the action potential, namely the initial segment. For sensory neurons, which do not have a cell body between the dendrites and the axon, the initial segment is directly adjacent to the dendritic endings. For all other neurons, the axon hillock is essentially the initial segment of the axon, and it is where summation takes place. These locations have a high density of voltage-gated Na + channels that initiate the depolarizing phase of the action potential.
Summation can be spatial or temporal, meaning it can be the result of multiple graded potentials at different locations on the neuron, or all at the same place but separated in time. Spatial summation is related to associating the activity of multiple inputs to a neuron with each other. Temporal summation is the relationship of multiple action potentials from a single cell resulting in a significant change in the membrane potential. Spatial and temporal summation can act together, as well.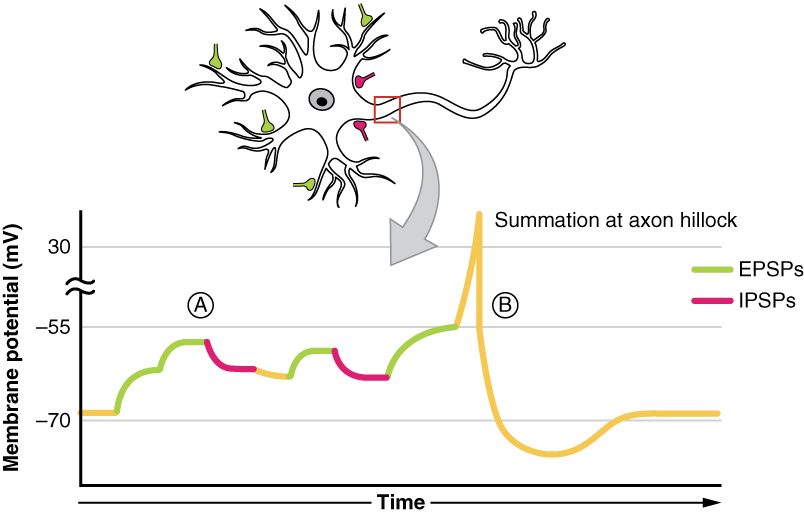 Watch this video to learn about summation. The process of converting electrical signals to chemical signals and back requires subtle changes that can result in transient increases or decreases in membrane voltage. To cause a lasting change in the target cell, multiple signals are usually added together, or summated. Does spatial summation have to happen all at once, or can the separate signals arrive on the postsynaptic neuron at slightly different times? Explain your answer.
Synapses
There are two types of connections between electrically active cells, chemical synapses and electrical synapses. In a chemical synapse , a chemical signal—namely, a neurotransmitter—is released from one cell and it affects the other cell. In an electrical synapse , there is a direct connection between the two cells so that ions can pass directly from one cell to the next. If one cell is depolarized in an electrical synapse, the joined cell also depolarizes because the ions pass between the cells. Chemical synapses involve the transmission of chemical information from one cell to the next. This section will concentrate on the chemical type of synapse.