Venous system
The pumping action of the heart propels the blood into the arteries, from an area of higher pressure toward an area of lower pressure. If blood is to flow from the veins back into the heart, the pressure in the veins must be greater than the pressure in the atria of the heart. Two factors help maintain this pressure gradient between the veins and the heart. First, the pressure in the atria during diastole is very low, often approaching zero when the atria are relaxed (atrial diastole). Second, two physiologic "pumps" increase pressure in the venous system. The use of the term "pump" implies a physical device that speeds flow. These physiological pumps are less obvious.
Skeletal muscle pump
In many body regions, the pressure within the veins can be increased by the contraction of the surrounding skeletal muscle. This mechanism, known as the skeletal muscle pump ( [link] ), helps the lower-pressure veins counteract the force of gravity, increasing pressure to move blood back to the heart. As leg muscles contract, for example during walking or running, they exert pressure on nearby veins with their numerous one-way valves. This increased pressure causes blood to flow upward, opening valves superior to the contracting muscles so blood flows through. Simultaneously, valves inferior to the contracting muscles close; thus, blood should not seep back downward toward the feet. Military recruits are trained to flex their legs slightly while standing at attention for prolonged periods. Failure to do so may allow blood to pool in the lower limbs rather than returning to the heart. Consequently, the brain will not receive enough oxygenated blood, and the individual may lose consciousness.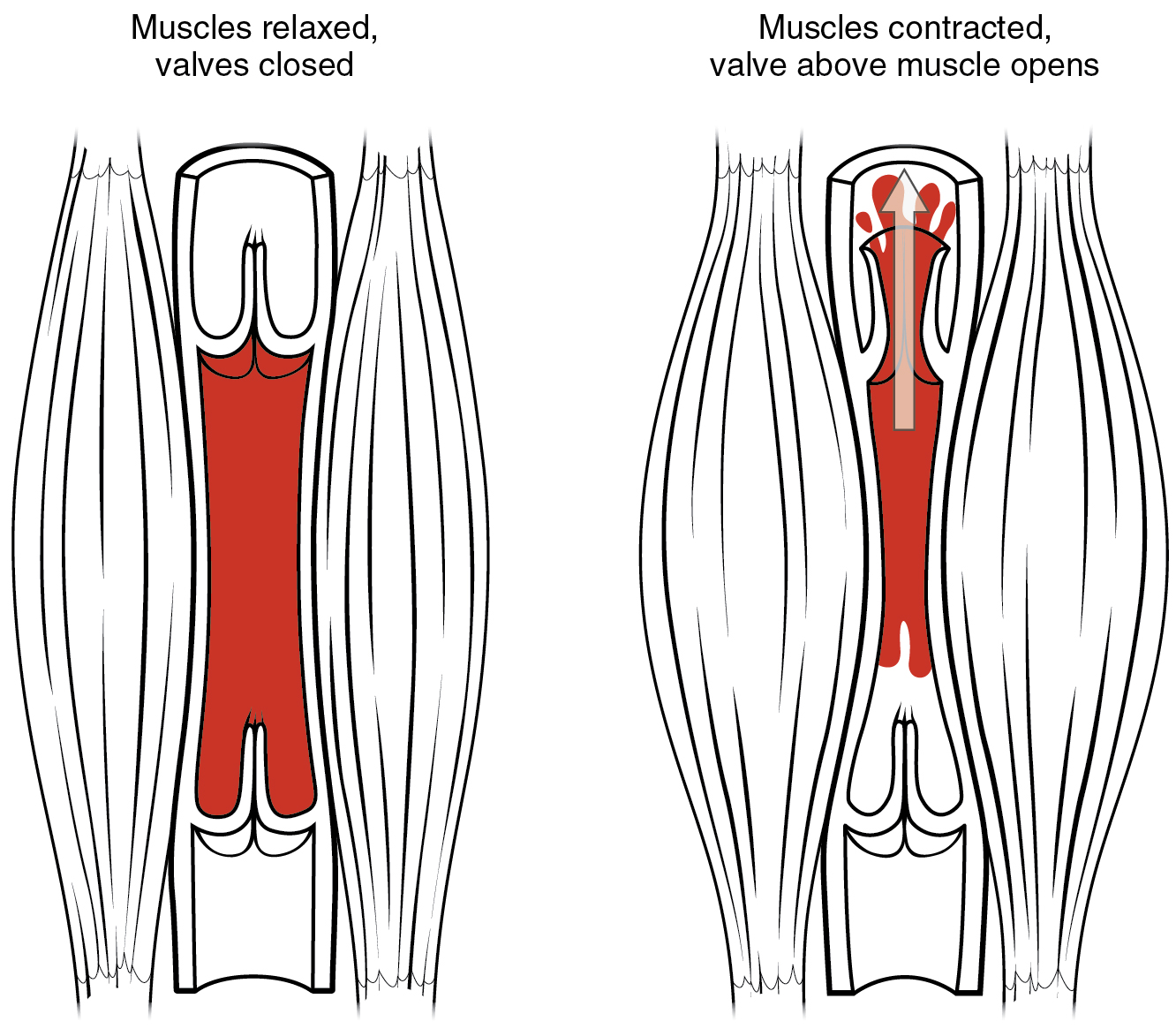 Respiratory pump
The respiratory pump aids blood flow through the veins of the thorax and abdomen. During inhalation, the volume of the thorax increases, largely through the contraction of the diaphragm, which moves downward and compresses the abdominal cavity. The elevation of the chest caused by the contraction of the external intercostal muscles also contributes to the increased volume of the thorax. The volume increase causes air pressure within the thorax to decrease, allowing us to inhale. Additionally, as air pressure within the thorax drops, blood pressure in the thoracic veins also decreases, falling below the pressure in the abdominal veins. This causes blood to flow along its pressure gradient from veins outside the thorax, where pressure is higher, into the thoracic region, where pressure is now lower. This in turn promotes the return of blood from the thoracic veins to the atria. During exhalation, when air pressure increases within the thoracic cavity, pressure in the thoracic veins increases, speeding blood flow into the heart while valves in the veins prevent blood from flowing backward from the thoracic and abdominal veins.