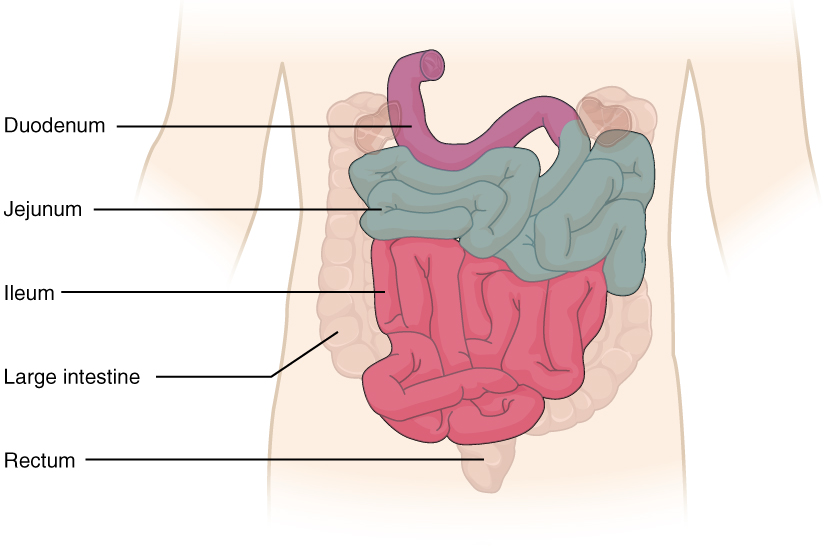 The jejunum is about 0.9 meters (3 feet) long (in life) and runs from the duodenum to the ileum. Jejunum means "empty" in Latin and supposedly was so named by the ancient Greeks who noticed it was always empty at death. No clear demarcation exists between the jejunum and the final segment of the small intestine, the ileum.
The ileum is the longest part of the small intestine, measuring about 1.8 meters (6 feet) in length. It is thicker, more vascular, and has more developed mucosal folds than the jejunum. The ileum joins the cecum, the first portion of the large intestine, at the ileocecal sphincter (or valve). The jejunum and ileum are tethered to the posterior abdominal wall by the mesentery. The large intestine frames these three parts of the small intestine.
Parasympathetic nerve fibers from the vagus nerve and sympathetic nerve fibers from the thoracic splanchnic nerve provide extrinsic innervation to the small intestine. The superior mesenteric artery is its main arterial supply. Veins run parallel to the arteries and drain into the superior mesenteric vein. Nutrient-rich blood from the small intestine is then carried to the liver via the hepatic portal vein.
Histology
The wall of the small intestine is composed of the same four layers typically present in the alimentary system. However, three features of the mucosa and submucosa are unique. These features, which increase the absorptive surface area of the small intestine more than 600-fold, include circular folds, villi, and microvilli ( [link] ). These adaptations are most abundant in the proximal two-thirds of the small intestine, where the majority of absorption occurs.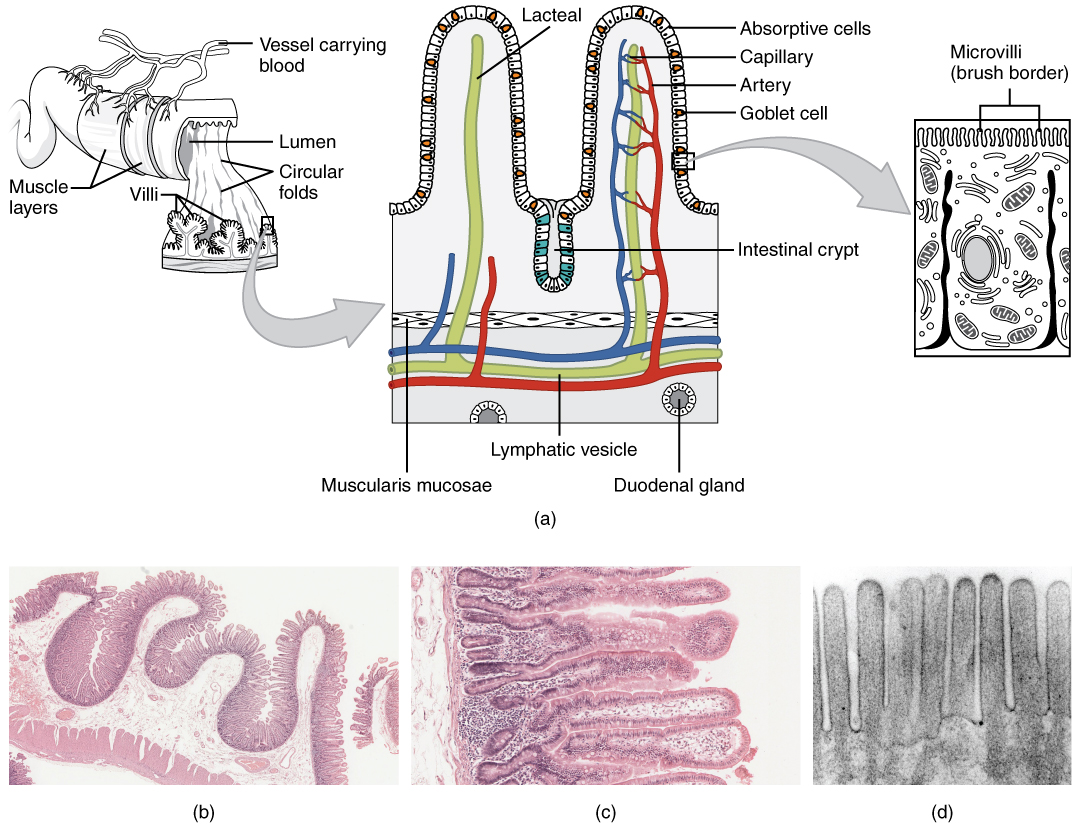 Circular folds
Also called a plica circulare, a circular fold is a deep ridge in the mucosa and submucosa. Beginning near the proximal part of the duodenum and ending near the middle of the ileum, these folds facilitate absorption. Their shape causes the chyme to spiral, rather than move in a straight line, through the small intestine. Spiraling slows the movement of chyme and provides the time needed for nutrients to be fully absorbed.
Villi
Within the circular folds are small (0.5–1 mm long) hairlike vascularized projections called villi (singular = villus) that give the mucosa a furry texture. There are about 20 to 40 villi per square millimeter, increasing the surface area of the epithelium tremendously. The mucosal epithelium, primarily composed of absorptive cells, covers the villi. In addition to muscle and connective tissue to support its structure, each villus contains a capillary bed composed of one arteriole and one venule, as well as a lymphatic capillary called a lacteal . The breakdown products of carbohydrates and proteins (sugars and amino acids) can enter the bloodstream directly, but lipid breakdown products are absorbed by the lacteals and transported to the bloodstream via the lymphatic system.