Histology
The wall of the small intestine is composed of the same four layers typically present in the alimentary system. However, three features of the mucosa and submucosa are unique. These features, which increase the absorptive surface area of the small intestine more than 600-fold, include circular folds, villi, and microvilli ( [link] ). These adaptations are most abundant in the first two-thirds of the small intestine, where the majority of absorption occurs.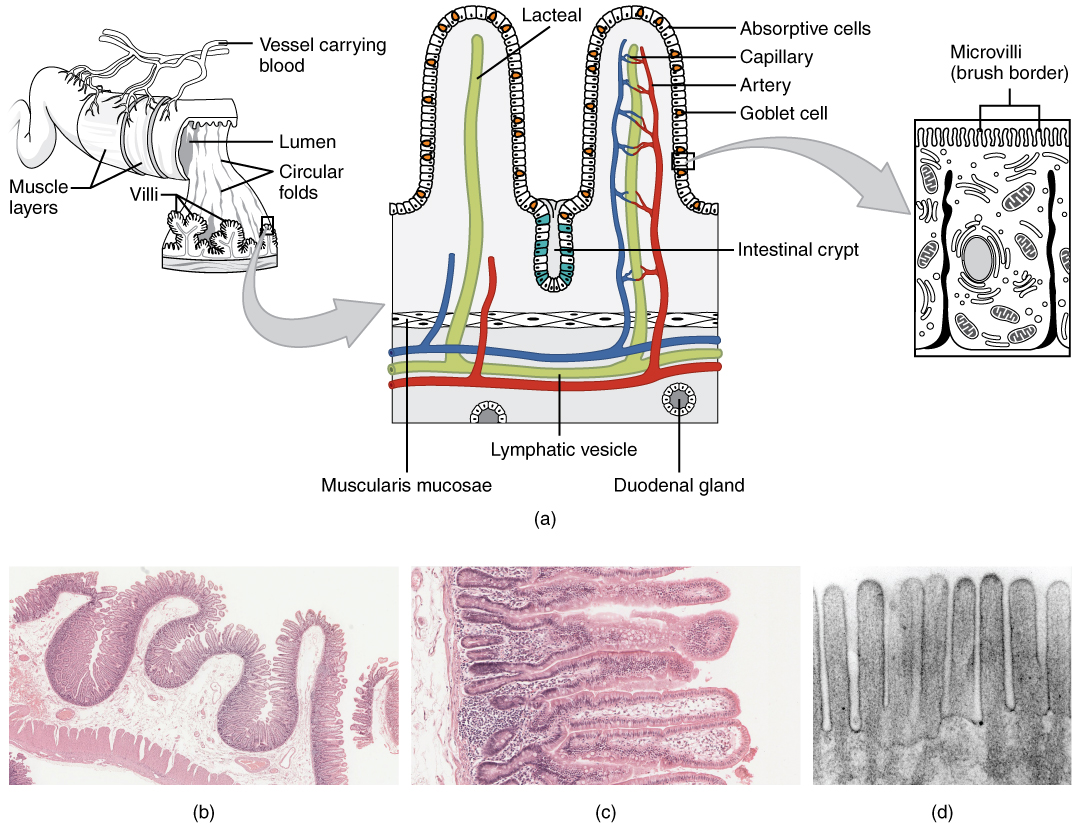 Adaptations to increase surface area
There are three structural adaptations to the small intestine that increase the amount of area for food to be absorbed. A circular fold is a deep ridge in the mucosa and submucosa. Beginning near the first part of the duodenum and ending near the middle of the ileum, these folds increase absorption. Their shape causes the chyme to spiral, rather than move in a straight line, through the small intestine. Spiraling slows the movement of chyme and provides the time needed for nutrients to be fully absorbed. Within the circular folds are small (0.5–1 mm long) hairlike projections called villi (singular = villus) that give the mucosa a furry texture. There are about 20 to 40 villi per square millimeter, increasing the surface area of the epithelium tremendously. Microvilli (singular = microvillus) are much smaller (1 µm) than villi. They are surface extensions of the plasma membrane of the mucosa's epithelial cells. Although their small size makes it difficult to see each microvillus, their combined microscopic appearance suggests a mass of bristles, which is termed the brush border . There are an estimated 200 million microvilli per square millimeter of small intestine, greatly expanding the surface area of the plasma membrane and thus greatly enhancing absorption.
Mechanical digestion in the small intestine
The movement of intestinal smooth muscles includes both segmentation and a form of peristalsis called migrating motility complexes. The kind of peristaltic mixing waves seen in the stomach are not observed here.
The smooth muscle layer of the small intestine is responsible for segmentation .If you could see into the small intestine when it was going through segmentation, it would look as if the contents were being shoved incrementally back and forth. It combines the chyme with digestive juices and pushes food particles against the intestinal wall to be absorbed.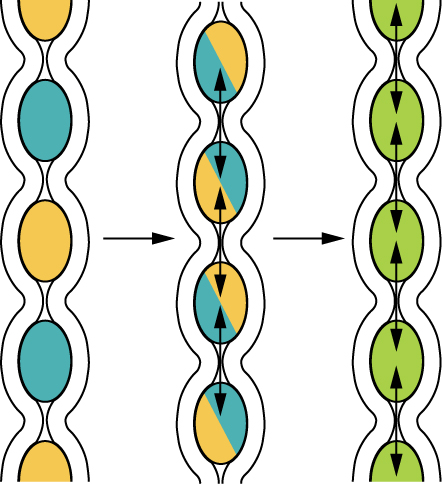 Chemical digestion in the small intestine
The digestion of proteins and carbohydrates, which partially occurs in the stomach, is completed in the small intestine with the aid of intestinal and pancreatic juices. Lipids arrive in the intestine largely undigested, so much of the focus here is on lipid digestion, which is facilitated by bile. Moreover, intestinal juice combines with pancreatic juice to provide a liquid medium that facilitates absorption. The intestine is also where most water is absorbed, via osmosis. The small intestine's absorptive cells also produce digestive enzymes.