Many epithelial cells are capable of secretion and release mucous and specific chemical compounds onto their apical surfaces. The epithelium of the small intestine releases digestive enzymes, for example. Cells lining the respiratory tract secrete mucous that traps incoming microorganisms and particles. A glandular epithelium contains many secretory cells.
The epithelial cell
Epithelial cells are typically characterized by the polarized distribution of organelles and membrane-bound proteins between their basal and apical surfaces. Particular structures found in some epithelial cells are an adaptation to specific functions. Certain organelles are segregated to the basal sides, whereas other organelles and extensions, such as cilia, when present, are on the apical surface.
Cilia are microscopic extensions of the apical cell membrane that are supported by microtubules. They beat in unison and move fluids as well as trapped particles. Ciliated epithelium lines the ventricles of the brain where it helps circulate the cerebrospinal fluid. The ciliated epithelium of your airway forms a mucociliary escalator that sweeps particles of dust and pathogens trapped in the secreted mucous toward the throat. It is called an escalator because it continuously pushes mucous with trapped particles upward. In contrast, nasal cilia sweep the mucous blanket down towards your throat. In both cases, the transported materials are usually swallowed, and end up in the acidic environment of your stomach.
Cell to cell junctions
Cells of epithelia are closely connected and are not separated by intracellular material. Three basic types of connections allow varying degrees of interaction between the cells: tight junctions, anchoring junctions, and gap junctions ( [link] ).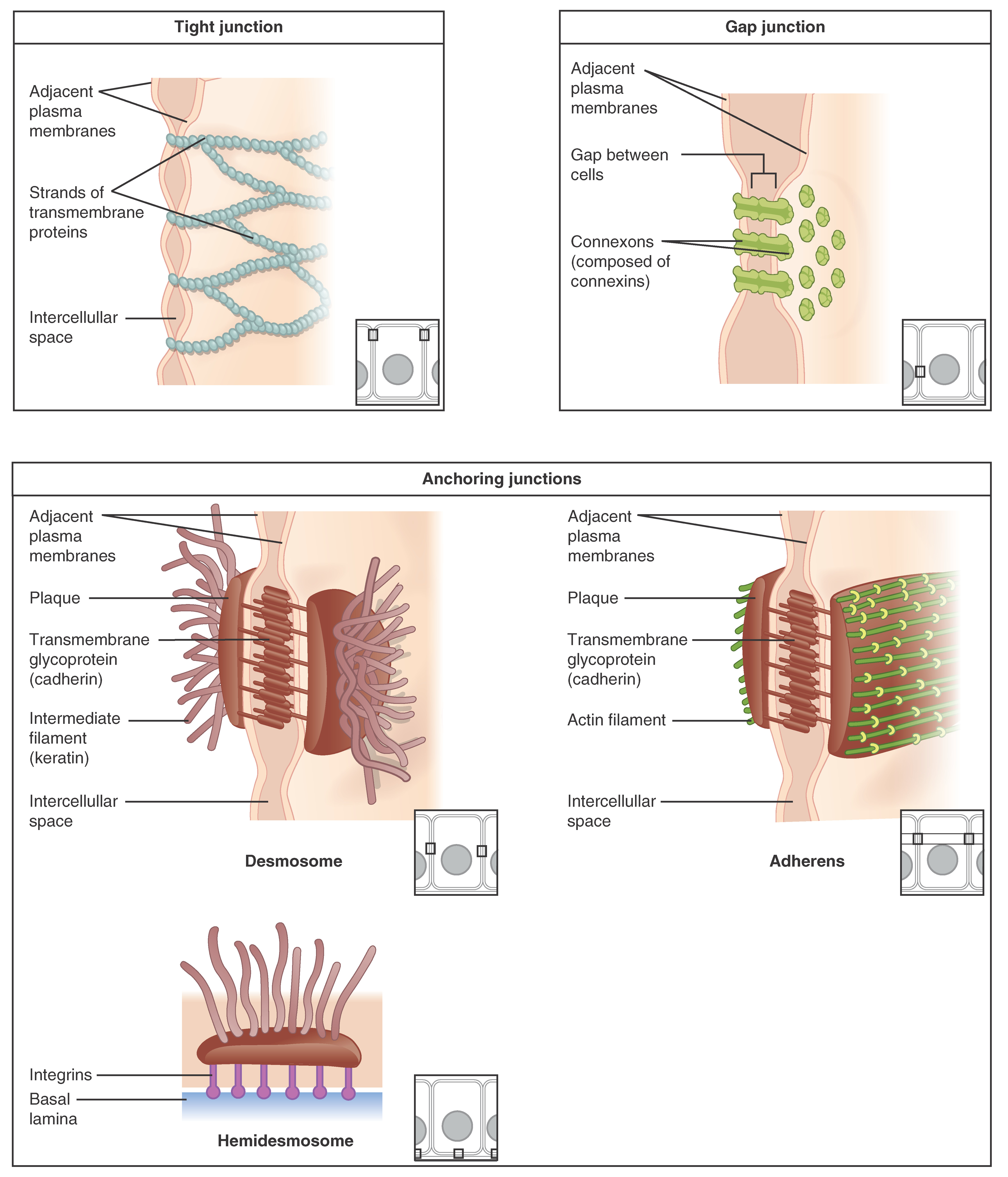 At one end of the spectrum is the tight junction , which separates the cells into apical and basal compartments. An anchoring junction includes several types of cell junctions that help stabilize epithelial tissues. Anchoring junctions are common on the lateral and basal surfaces of cells where they provide strong and flexible connections. There are three types of anchoring junctions: desmosomes, hemidesmosomes, and adherens. Desmosomes occur in patches on the membranes of cells. The patches are structural proteins on the inner surface of the cell's membrane. The adhesion molecule, cadherin, is embedded in these patches and projects through the cell membrane to link with the cadherin molecules of adjacent cells. These connections are especially important in holding cells together. Hemidesmosomes, which look like half a desmosome, link cells to the extracellular matrix, for example, the basal lamina. While similar in appearance to desmosomes, they include the adhesion proteins called integrins rather than cadherins. Adherens junctions use either cadherins or integrins depending on whether they are linking to other cells or matrix. The junctions are characterized by the presence of the contractile protein actin located on the cytoplasmic surface of the cell membrane. The actin can connect isolated patches or form a belt-like structure inside the cell. These junctions influence the shape and folding of the epithelial tissue.