Antidiuretic hormone
Antidiuretic hormone (ADH), also known as vasopressin, is secreted by the cells in the hypothalamus and transported via the hypothalamic-hypophyseal tracts to the posterior pituitary where it is stored until released upon nervous stimulation. The primary trigger prompting the hypothalamus to release ADH is increasing osmolarity of tissue fluid, usually in response to significant loss of blood volume. ADH signals its target cells in the kidneys to reabsorb more water, thus preventing the loss of additional fluid in the urine. This will increase overall fluid levels and help restore blood volume and pressure. In addition, ADH constricts peripheral vessels.
Renin-angiotensin-aldosterone mechanism
The renin-angiotensin-aldosterone mechanism has a major effect upon the cardiovascular system ( [link] ). Renin is an enzyme, although because of its importance in the renin-angiotensin-aldosterone pathway, some sources identify it as a hormone. Specialized cells in the kidneys found in the juxtaglomerular apparatus respond to decreased blood flow by secreting renin into the blood. Renin converts the plasma protein angiotensinogen, which is produced by the liver, into its active form—angiotensin I. Angiotensin I circulates in the blood and is then converted into angiotensin II in the lungs. This reaction is catalyzed by the enzyme angiotensin-converting enzyme (ACE).
Angiotensin II is a powerful vasoconstrictor, greatly increasing blood pressure. It also stimulates the release of ADH and aldosterone, a hormone produced by the adrenal cortex. Aldosterone increases the reabsorption of sodium into the blood by the kidneys. Since water follows sodium, this increases the reabsorption of water. This in turn increases blood volume, raising blood pressure. Angiotensin II also stimulates the thirst center in the hypothalamus, so an individual will likely consume more fluids, again increasing blood volume and pressure.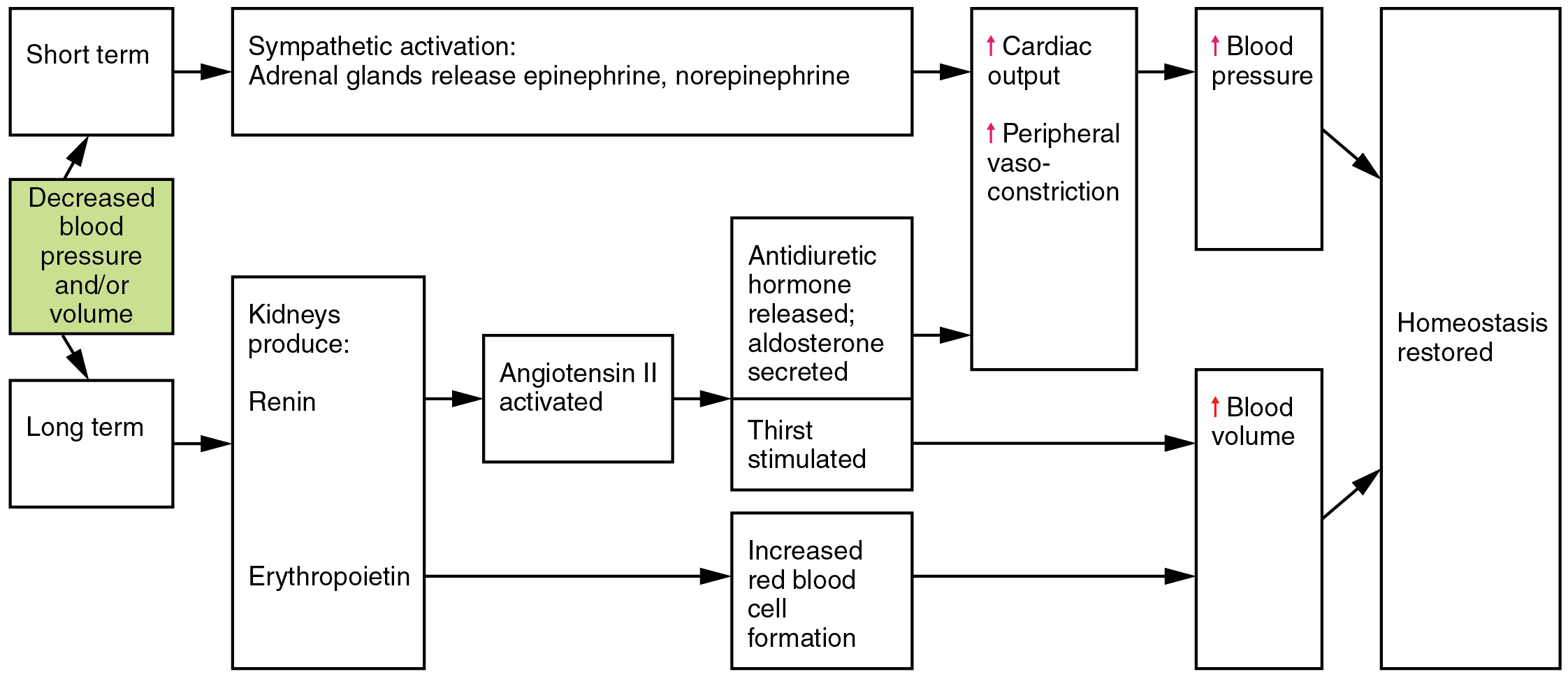 Erythropoietin
Erythropoietin (EPO) is released by the kidneys when blood flow and/or oxygen levels decrease. EPO stimulates the production of erythrocytes within the bone marrow. Erythrocytes are the major formed element of the blood and may contribute 40 percent or more to blood volume, a significant factor of viscosity, resistance, pressure, and flow. In addition, EPO is a vasoconstrictor. Overproduction of EPO or excessive intake of synthetic EPO, often to enhance athletic performance, will increase viscosity, resistance, and pressure, and decrease flow in addition to its contribution as a vasoconstrictor.
Atrial natriuretic hormone
Secreted by cells in the atria of the heart, atrial natriuretic hormone (ANH) (also known as atrial natriuretic peptide) is secreted when blood volume is high enough to cause extreme stretching of the cardiac cells. Cells in the ventricle produce a hormone with similar effects, called B-type natriuretic hormone. Natriuretic hormones are antagonists to angiotensin II. They promote loss of sodium and water from the kidneys, and suppress renin, aldosterone, and ADH production and release. All of these actions promote loss of fluid from the body, so blood volume and blood pressure drop.