As exterior signs of aging increase, so do the interior signs, which are not as noticeable. The incidence of heart diseases, respiratory syndromes, and type 2 diabetes increases with age, though these are not necessarily age-dependent effects. Wound healing is slower in the elderly, accompanied by a higher frequency of infection as the capacity of the immune system to fend off pathogen declines.
Aging is also apparent at the cellular level because all cells experience changes with aging. Telomeres, regions of the chromosomes necessary for cell division, shorten each time cells divide. As they do, cells are less able to divide and regenerate. Because of alterations in cell membranes, transport of oxygen and nutrients into the cell and removal of carbon dioxide and waste products from the cell are not as efficient in the elderly. Cells may begin to function abnormally, which may lead to diseases associated with aging, including arthritis, memory issues, and some cancers.
The progressive impact of aging on the body varies considerably among individuals, but Studies indicate, however, that exercise and healthy lifestyle choices can slow down the deterioration of the body that comes with old age.
Homeostatic imbalances
Tissues and cancer
Cancer is a generic term for many diseases in which cells escape regulatory signals. Uncontrolled growth, invasion into adjacent tissues, and colonization of other organs, if not treated early enough, are its hallmarks. Health suffers when tumors "rob" blood supply from the "normal" organs.
A mutation is defined as a permanent change in the DNA of a cell. Epigenetic modifications, changes that do not affect the code of the DNA but alter how the DNA is decoded, are also known to generate abnormal cells. Alterations in the genetic material may be caused by environmental agents, infectious agents, or errors in the replication of DNA that accumulate with age. Many mutations do not cause any noticeable change in the functions of a cell. However, if the modification affects key proteins that have an impact on the cell's ability to proliferate in an orderly fashion, the cell starts to divide abnormally. As changes in cells accumulate, they lose their ability to form regular tissues. A tumor, a mass of cells displaying abnormal architecture, forms in the tissue. Many tumors are benign, meaning they do not metastasize nor cause disease. A tumor becomes malignant, or cancerous, when it breaches the confines of its tissue, promotes angiogenesis, attracts the growth of capillaries, and metastasizes to other organs ( [link] ). The specific names of cancers reflect the tissue of origin. Cancers derived from epithelial cells are referred to as carcinomas. Cancer in myeloid tissue or blood cells form myelomas. Leukemias are cancers of white blood cells, whereas sarcomas derive from connective tissue. Cells in tumors differ both in structure and function. Some cells, called cancer stem cells, appear to be a subtype of cell responsible for uncontrolled growth. Recent research shows that contrary to what was previously assumed, tumors are not disorganized masses of cells, but have their own structures.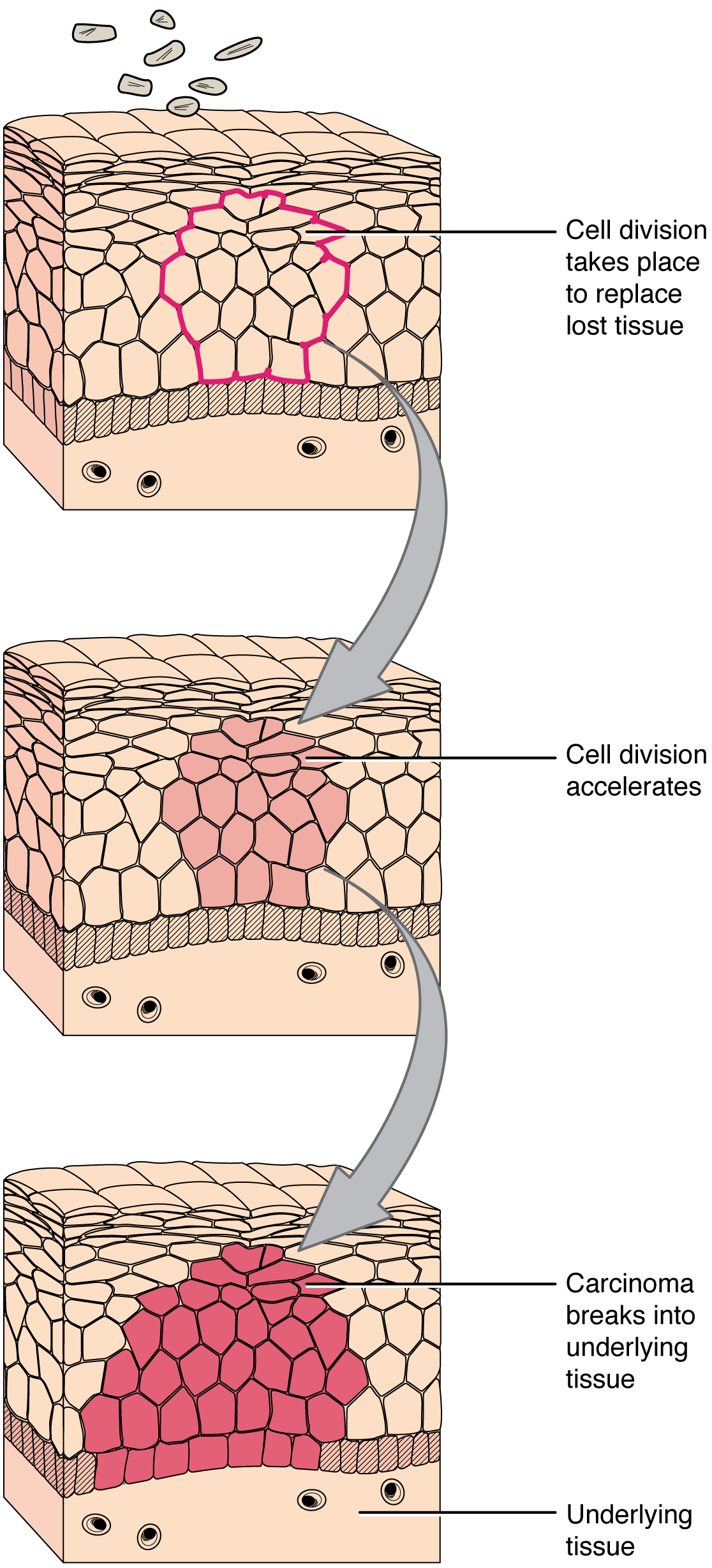 Watch this video to learn more about tumors. What is a tumor?
Cancer treatments vary depending on the disease's type and stage. Traditional approaches, including surgery, radiation, chemotherapy, and hormonal therapy, aim to remove or kill rapidly dividing cancer cells, but these strategies have their limitations. Depending on a tumor's location, for example, cancer surgeons may be unable to remove it. Radiation and chemotherapy are difficult, and it is often impossible to target only the cancer cells. The treatments inevitably destroy healthy tissue as well. To address this, researchers are working on pharmaceuticals that can target specific proteins implicated in cancer-associated molecular pathways.
Chapter review
Inflammation is the classic response of the body to injury and follows a common sequence of events. The area is red, feels warm to the touch, swells, and is painful. Injured cells, mast cells, and resident macrophages release chemical signals that cause vasodilation and fluid leakage in the surrounding tissue. The repair phase includes blood clotting, followed by regeneration of tissue as fibroblasts deposit collagen. Some tissues regenerate more readily than others. Epithelial and connective tissues replace damaged or dead cells from a supply of adult stem cells. Muscle and nervous tissues undergo either slow regeneration or do not repair at all.
Age affects all the tissues and organs of the body. Damaged cells do not regenerate as rapidly as in younger people. Perception of sensation and effectiveness of response are lost in the nervous system. Muscles atrophy, and bones lose mass and become brittle. Collagen decreases in some connective tissue, and joints stiffen.
Interactive link questions
References
Emerson, RW. Old age. Atlantic. 1862 [cited 2012 Dec 4]; 9(51):134–140.