By the end of this section, you will be able to:
Describe the structure and features of the nuclear membrane
List the contents of the nucleus
Explain the organization of the DNA molecule within the nucleus
Describe the process of DNA replication
The nucleus is the largest and most prominent of a cell's organelles ( [link] ). The nucleus is generally considered the control center of the cell because it stores all of the genetic instructions for manufacturing proteins. Interestingly, some cells in the body, such as muscle cells, contain more than one nucleus ( [link] ), which is known as multinucleated. Other cells, such as mammalian red blood cells (RBCs), do not contain nuclei at all. RBCs eject their nuclei as they mature, making space for the large numbers of hemoglobin molecules that carry oxygen throughout the body ( [link] ). Without nuclei, the life span of RBCs is short, and so the body must produce new ones constantly.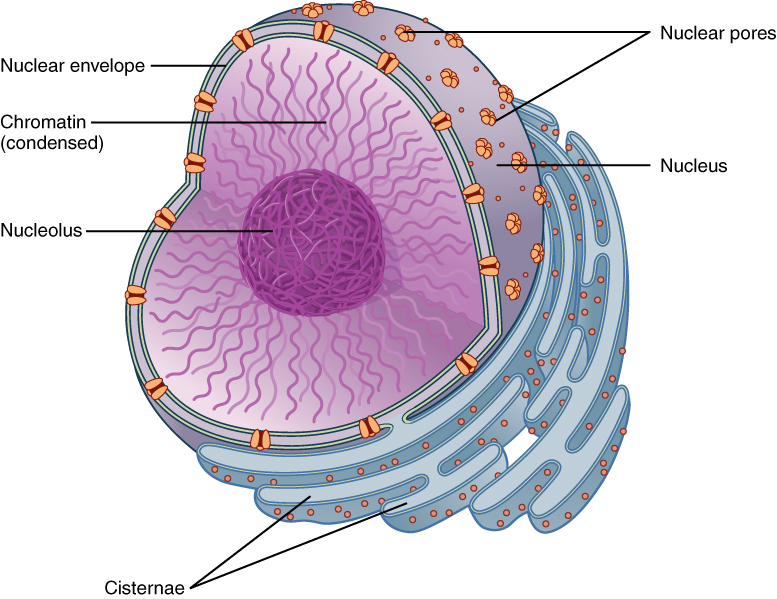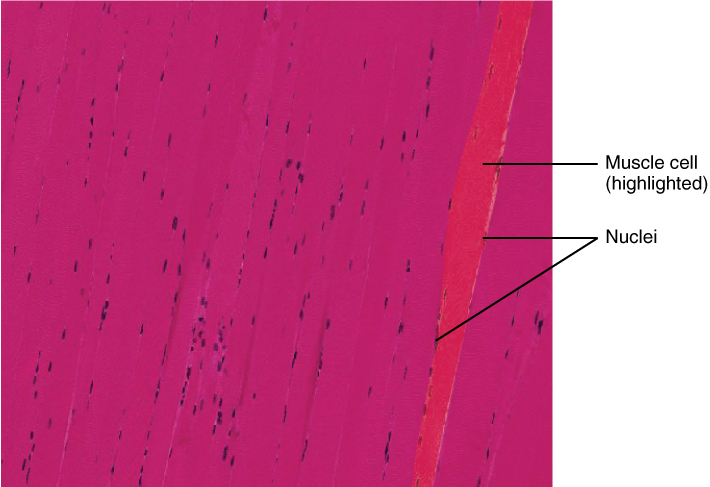 View the University of Michigan WebScope at (External Link) to explore the tissue sample in greater detail.

View the University of Michigan WebScope at (External Link) to explore the tissue sample in greater detail.
Inside the nucleus lies the blueprint that dictates everything a cell will do and all of the products it will make. This information is stored within DNA. The nucleus sends "commands" to the cell via molecular messengers that translate the information from DNA. Each cell in your body (with the exception of germ cells) contains the complete set of your DNA. When a cell divides, the DNA must be duplicated so that the each new cell receives a full complement of DNA. The following section will explore the structure of the nucleus and its contents, as well as the process of DNA replication.
Organization of the nucleus and its dna
Like most other cellular organelles, the nucleus is surrounded by a membrane called the nuclear envelope . This membranous covering consists of two adjacent lipid bilayers with a thin fluid space in between them. Spanning these two bilayers are nuclear pores. A nuclear pore is a tiny passageway for the passage of proteins, RNA, and solutes between the nucleus and the cytoplasm. Proteins called pore complexes lining the nuclear pores regulate the passage of materials into and out of the nucleus.