By the end of this section, you will be able to:
Describe the structure and function of the cellular organelles associated with the endomembrane system, including the endoplasmic reticulum, Golgi apparatus, and lysosomes
Describe the structure and function of mitochondria and peroxisomes
Explain the three components of the cytoskeleton, including their composition and functions
Now that you have learned that the cell membrane surrounds all cells, you can dive inside of a prototypical human cell to learn about its internal components and their functions. All living cells in multicellular organisms contain an internal cytoplasmic compartment, and a nucleus within the cytoplasm. Cytosol , the jelly-like substance within the cell, provides the fluid medium necessary for biochemical reactions. Eukaryotic cells, including all animal cells, also contain various cellular organelles. An organelle ("little organ") is one of several different types of membrane-enclosed bodies in the cell, each performing a unique function. Just as the various bodily organs work together in harmony to perform all of a human's functions, the many different cellular organelles work together to keep the cell healthy and performing all of its important functions. The organelles and cytosol, taken together, compose the cell's cytoplasm . The nucleus is a cell's central organelle, which contains the cell's DNA ( [link] ).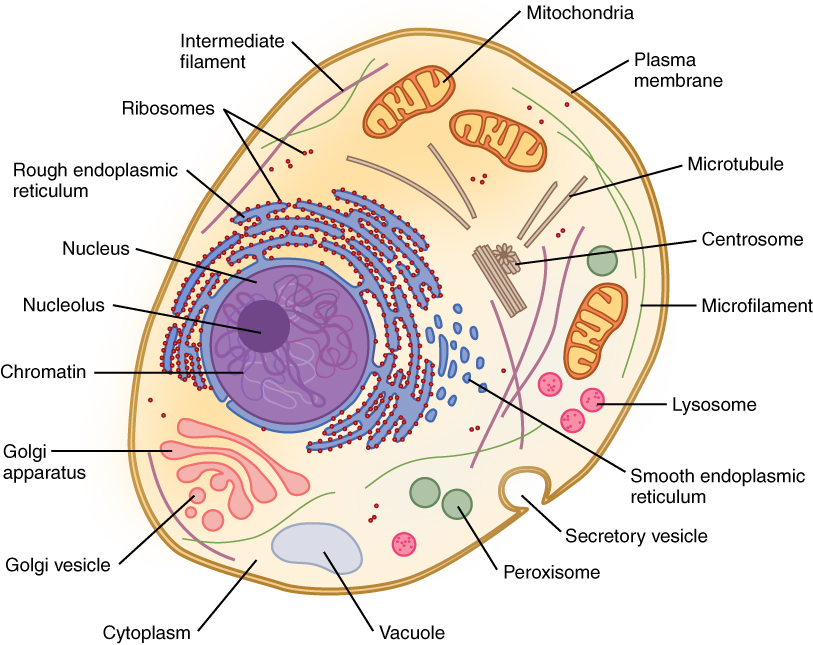 Organelles of the endomembrane system
A set of three major organelles together form a system within the cell called the endomembrane system. These organelles work together to perform various cellular jobs, including the task of producing, packaging, and exporting certain cellular products. The organelles of the endomembrane system include the endoplasmic reticulum, Golgi apparatus, and vesicles.
Endoplasmic reticulum
The endoplasmic reticulum (ER) is a system of channels that is continuous with the nuclear membrane (or "envelope") covering the nucleus and composed of the same lipid bilayer material. The ER can be thought of as a series of winding thoroughfares similar to the waterway canals in Venice. The ER provides passages throughout much of the cell that function in transporting, synthesizing, and storing materials. The winding structure of the ER results in a large membranous surface area that supports its many functions ( [link] ).