By the end of this section, you will be able to:
Identify the three blood variables considered when making a diagnosis of acidosis or alkalosis
Identify the source of compensation for blood pH problems of a respiratory origin
Identify the source of compensation for blood pH problems of a metabolic/renal origin
Normal arterial blood pH is restricted to a very narrow range of 7.35 to 7.45. A person who has a blood pH below 7.35 is considered to be in acidosis (actually, "physiological acidosis," because blood is not truly acidic until its pH drops below 7), and a continuous blood pH below 7.0 can be fatal. Acidosis has several symptoms, including headache and confusion, and the individual can become lethargic and easily fatigued ( [link] ). A person who has a blood pH above 7.45 is considered to be in alkalosis, and a pH above 7.8 is fatal. Some symptoms of alkalosis include cognitive impairment (which can progress to unconsciousness), tingling or numbness in the extremities, muscle twitching and spasm, and nausea and vomiting. Both acidosis and alkalosis can be caused by either metabolic or respiratory disorders.
As discussed earlier in this chapter, the concentration of carbonic acid in the blood is dependent on the level of CO 2 in the body and the amount of CO 2 gas exhaled through the lungs. Thus, the respiratory contribution to acid-base balance is usually discussed in terms of CO 2 (rather than of carbonic acid). Remember that a molecule of carbonic acid is lost for every molecule of CO 2 exhaled, and a molecule of carbonic acid is formed for every molecule of CO 2 retained.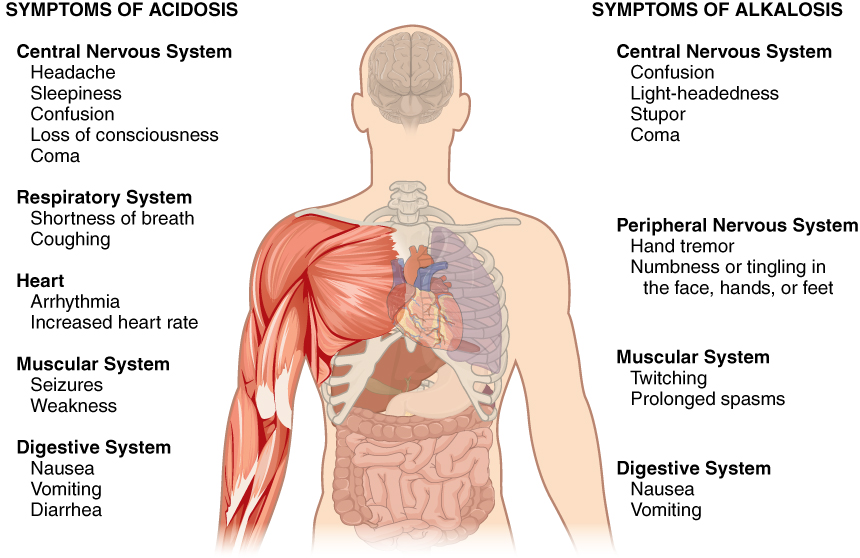 Metabolic acidosis occurs when the blood is too acidic (pH below 7.35) due to too little bicarbonate, a condition called primary bicarbonate deficiency. At the normal pH of 7.40, the ratio of bicarbonate to carbonic acid buffer is 20:1. If a person's blood pH drops below 7.35, then he or she is in metabolic acidosis. The most common cause of metabolic acidosis is the presence of organic acids or excessive ketones in the blood. [link] lists some other causes of metabolic acidosis.
Common Causes of Metabolic Acidosis and Blood Metabolites
Cause
Metabolite
Diarrhea
Bicarbonate
Uremia
Phosphoric, sulfuric, and lactic acids
Diabetic ketoacidosis
Increased ketones
Strenuous exercise
Lactic acid
Methanol
Formic acid*
Paraldehyde
β-Hydroxybutyric acid*
Isopropanol
Propionic acid*
Ethylene glycol
Glycolic acid, and some oxalic and formic acids*
Salicylate/aspirin
Sulfasalicylic acid (SSA)*

*Acid metabolites from ingested chemical.
The first three of the eight causes of metabolic acidosis listed are medical (or unusual physiological) conditions. Strenuous exercise can cause temporary metabolic acidosis due to the production of lactic acid. The last five causes result from the ingestion of specific substances. The active form of aspirin is its metabolite, sulfasalicylic acid. An overdose of aspirin causes acidosis due to the acidity of this metabolite. Metabolic acidosis can also result from uremia, which is the retention of urea and uric acid. Metabolic acidosis can also arise from diabetic ketoacidosis, wherein an excess of ketones is present in the blood. Other causes of metabolic acidosis are a decrease in the excretion of hydrogen ions, which inhibits the conservation of bicarbonate ions, and excessive loss of bicarbonate ions through the gastrointestinal tract due to diarrhea.