By the end of this section, you will be able to:
Explain the development of immunological competence
Describe the mucosal immune response
Discuss immune responses against bacterial, viral, fungal, and animal pathogens
Describe different ways pathogens evade immune responses
Now that you understand the development of mature, naïve B cells and T cells, and some of their major functions, how do all of these various cells, proteins, and cytokines come together to actually resolve an infection? Ideally, the immune response will rid the body of a pathogen entirely. The adaptive immune response, with its rapid clonal expansion, is well suited to this purpose. Think of a primary infection as a race between the pathogen and the immune system. The pathogen bypasses barrier defenses and starts multiplying in the host's body. During the first 4 to 5 days, the innate immune response will partially control, but not stop, pathogen growth. As the adaptive immune response gears up, however, it will begin to clear the pathogen from the body, while at the same time becoming stronger and stronger. When following antibody responses in patients with a particular disease such as a virus, this clearance is referred to as seroconversion (sero- = "serum"). Seroconversion is the reciprocal relationship between virus levels in the blood and antibody levels. As the antibody levels rise, the virus levels decline, and this is a sign that the immune response is being at least partially effective (partially, because in many diseases, seroconversion does not necessarily mean a patient is getting well).
An excellent example of this is seroconversion during HIV disease ( [link] ). Notice that antibodies are made early in this disease, and the increase in anti-HIV antibodies correlates with a decrease in detectable virus in the blood. Although these antibodies are an important marker for diagnosing the disease, they are not sufficient to completely clear the virus. Several years later, the vast majority of these individuals, if untreated, will lose their entire adaptive immune response, including the ability to make antibodies, during the final stages of AIDS.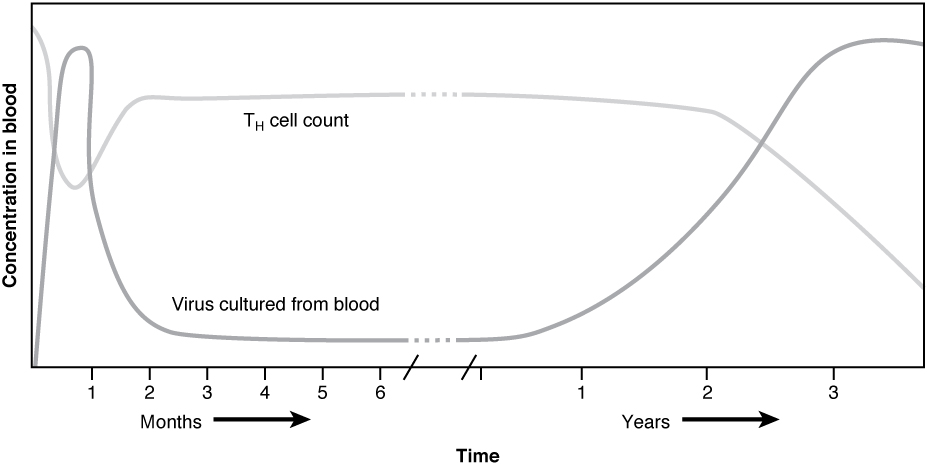 Everyday connection
Disinfectants: fighting the good fight?
"Wash your hands!" Parents have been telling their children this for generations. Dirty hands can spread disease. But is it possible to get rid of enough pathogens that children will never get sick? Are children who avoid exposure to pathogens better off? The answers to both these questions appears to be no.
Antibacterial wipes, soaps, gels, and even toys with antibacterial substances embedded in their plastic are ubiquitous in our society. Still, these products do not rid the skin and gastrointestinal tract of bacteria, and it would be harmful to our health if they did. We need these nonpathogenic bacteria on and within our bodies to keep the pathogenic ones from growing. The urge to keep children perfectly clean is thus probably misguided. Children will get sick anyway, and the later benefits of immunological memory far outweigh the minor discomforts of most childhood diseases. In fact, getting diseases such as chickenpox or measles later in life is much harder on the adult and are associated with symptoms significantly worse than those seen in the childhood illnesses. Of course, vaccinations help children avoid some illnesses, but there are so many pathogens, we will never be immune to them all.
Could over-cleanliness be the reason that allergies are increasing in more developed countries? Some scientists think so. Allergies are based on an IgE antibody response. Many scientists think the system evolved to help the body rid itself of worm parasites. The hygiene theory is the idea that the immune system is geared to respond to antigens, and if pathogens are not present, it will respond instead to inappropriate antigens such as allergens and self-antigens. This is one explanation for the rising incidence of allergies in developed countries, where the response to nonpathogens like pollen, shrimp, and cat dander cause allergic responses while not serving any protective function.